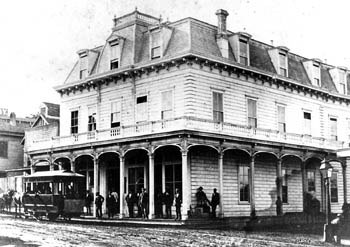 Covello & Covello Historical Photo Collection

St. Charles Hotel, 1890: This three-story masterpiece stood at the corner of Mission and North Pacific Avenue. That horsecar/trolley goes up the hill to Holy Cross Church. The Bavaria Brewery is on the left. One Santa Cruz horsecar line carried 170,000 passengers in 1891!

Bruce Bratton

ABOUT THAT CITY ELECTION. As a reaction to my mentioning City Council candidates in last week's column, one rumor became true. Katherine Beiers is not going to run; she's enjoying her life as it is, which makes many of her supporters very sad. But she's happy. As of Monday, Mayor Christopher Krohn hadn't made his final decision about running. He said he'll announce it no later than Aug. 8. Running and serving on the Santa Cruz City Council is no bed of roses. Incredibly long hours, very poor pay and such disrespect from the street people makes it a true test of civic pride. People who have served on the council before have a personal advantage--they know how to balance council duties with family, privacy and personal finances. No city actions ever seem to come easy in Santa Cruz, everything is an argument. That's the good news and the bad news about a democracy. Maybe we need to consider a direct election of a mayor? Maybe we need to change the city manager or the role he plays more often? Our city has grown in every direction. It's time to re-examine how it's being run.

'CORIOLANUS,' GREAT PLAY. Coriolanus is one of Shakespeare's finest, most interesting plays. How it got a reputation in the U.S. for being a difficult or problem play is beyond me. Shakespeare Santa Cruz does a magnificent production and you should hurry and see it, because you'll probably never get a chance to see it again. The only problem I had with the play is the silly insertion of an American Protestant hymn "In the Sweet Bye and Bye," at the end. It takes place sometime in Italy, when kids are playing with Game Boys, soldiers are wearing antique armor breastplates, and people are making the sign of the cross. Why any music has to be sung at the end is odd, but "Sweet Bye And Bye"? Because I'd never seen it before, I downloaded a seven-page synopsis, not a script, from www.gradesaver.com and enjoyed this production as much as, maybe more than, any Shakespeare I'd seen up there. Coriolanus is as deep and interesting a character as any Shakespeare created--go see it and see if you don't agree. I'm going again, it's so good. Call 459.2159 for tickets.

MERRY WIVES OF WINDSOR AGAIN. Aside from Theodore Swetz, who makes an excellent Falstaff, most of this Shakespeare Santa Cruz production is about-average. Most of the play is played beyond comedy and farce into clown material and Shakespeare's ideas are lost. But if you've never seen Merry Wives, go for it. Shakespeare Santa Cruz is doing so well it needs volunteers to assist at the performances. So if you want to go for free and have some good fun doing it, get a friend and call 459.4075 to help out.

DARK PLEASURES. If you've seen one Austin Powers film you haven't seen them all, but you should certainly know what to expect--and that's what you get with Goldmember. More of Mike Myers' loony, gross, clever and disgusting fun. Hurry and see Fellini's 1965 color masterpiece Juliet of the Spirits. It's only at the Nick for one week. If you've forgotten what a forceful, gutsy genius Fellini was, don't miss Juliet, it ends Thursday. Gangster No. 1 stars Malcolm McDowell and is bloody, cruel and excellently put together; go see it. My Wife Is an Actress is also a very fine film. It's a 100 percent French romantic comedy and Terence Stamp is great as a bigger-than-life film star.

COMING ATTRACTIONS. Joan Baez will be at the Rio Theatre Thursday, Aug. 8; tickets at the Book Loft next door to the Rio or at 429.1812. The Players Group who brought us the amazing Black Eyes and the miserable Marco Polo plays is doing faceSong, a dramatic play set in Santa Cruz and San Francisco. It plays at UCSC's Barn Theatre Aug 5, 6, 8, 9 and 10 at 8pm. Tickets at the door or go to [email protected]. The Jazz Birds, Santa Cruz' famed women's quartet, will appear at Peachwood's Aug. 10, Sep. 28 and Oct. 12. The Museum of Art and History (MAH) presents an installation by Bubu Alvarez titled "Labor and Repose." Inside sources tell me that this is a very big deal and that we're lucky to be able to see it. It opens Aug. 3 and runs through Sep. 29. Go see the Capitola Museum's current exhibit, "Capitola In Full Bloom." It's a history of the bulb and flower industry in Capitola. Carolyn Swift, director of the Capitola Museum, asks if we were all aware that the Dutch windmill on East Cliff Drive was the office for the Las Robles flower growers at Twin Lakes before it became Buckhardt's candies.

UP AT BIG BASIN. I saw the Kaisahan Filipino Company perform at one of the Saturday shows in the outdoor 700-seat amphitheater in Big Basin State Park. Not only was the dance company wonderful, but the outdoor stage and the atmosphere is just about perfect for performances. Each Saturday at 4pm there's a performance by some great group. This Saturday is the San Jose Multicultural Artist Guild doing Latino/Chicano, women's and African American music, plays, and stories. The next Saturday is the Mission Chamber Orchestra and the hits just keep on coming. It's the perfect place to bring your visitors, after you've taken them for a stroll down Pacific Avenue. It's only $3 per car, plus there are History Walks and campfire programs and even a memory wall. There are not a lot of parking spaces, so carpool or get there early. Call 335.3174 or go to www.mountainparks.org for more complete information.
---
Bruce critiques films every other Thursday on KUSP-FM (88.9). Reach Bruce at [email protected]
---
[ Santa Cruz | Metroactive Central | Archives ]