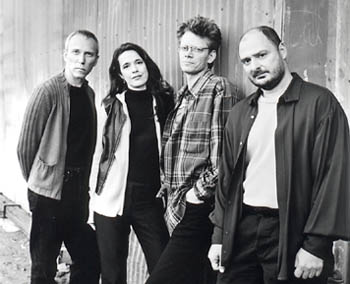 Photograph by Carolinne Freyshock

Super Strings: The Kronos Quartet performs Aug. 9 as part of the Cabrillo Music Festival.

Alive and Kicking

How Cabrillo Music Festival has beaten the odds for four decades with daring and innovation

By Scott MacClelland

ANYONE WHO GOES to the symphony can see the problem. Two generations of young adults, in their 20s, 30s and 40s, are staying away in droves. The handwriting is on the wall, and many research studies have concluded that it's not a matter of if, but when the symphony orchestras of America will disappear.

Some "experts" proclaim that any symphony orchestra association with an endowment of less that $50 million is ultimately doomed. That would include most regional orchestras, like those of Santa Cruz and Monterey counties. Symphony boards of directors, of course, don't want to hear about it, even as their efforts at attracting younger subscribers have come up empty. In some desperate attempts to forestall the inevitable, some symphony associations have spent themselves to death, recently the San Jose Symphony, and before it the Sacramento Symphony.

But the Cabrillo Music Festival, now at the beginning of its fifth decade, will not face the same fate. This is not to say that its survival is necessarily guaranteed, but simply that it has found innovative ways to deal with some of the biggest threats.

Most important among them is Cabrillo's dedication to new music, a commitment that generations of 20th-century American orchestra audiences elsewhere have been allowed to reject. This was largely the fault of orchestral programming and presentation. When music directors ventured down the path for which the Cabrillo Festival is famous, traditional symphony audiences howled. Their boards then got nervous. But instead of also getting smart about mixing the new with the old, they leaned on their conductors to return to the tried and true. Big mistake.

Meanwhile, the founders of the Cabrillo Festival seem more prescient than ever as their formula is now flourishing in ways most American symphony orchestras are not.

Sticky Start

Cabrillo began inauspiciously in 1961 at a roadhouse in Aptos, the Sticky Wicket, when bassoonist Robert Hughes arrived from Italy to begin studying composition with Lou Harrison. At that time, Harrison was touring with a program of Chinese music, lately having turned his gaze to Asia and learning to play Chinese traditional instruments. What started loosely as the Sticky Wicket concert series would turn into the Cabrillo Music Festival following the opening of Cabrillo College a year later. In addition to Harrison and Hughes, festival pioneers included Sticky Wicket owners Vic and Sidney Jowers, faculty choral director Ted Toews, soprano Alyce Vestal, and Bud Kretschmer, a music-crazed scion of the wheat germ family.

Gerhard Samuel was engaged as music director in 1963 and held the post through 1968. Richard Williams filled the role in 1969 and was succeeded by the great Mexican composer Carlos Chavez, then in his early 70s, who presided over four seasons. Next, a young lion, Dennis Russell Davies, rode in on a Harley (as the photographic record shows) and, over 16 years, grew the festival into a world-class tradition, hosting such elder statesmen of American music as Aaron Copland, Virgil Thomson and John Cage. Davies also attracted prominent jazz pianist Keith Jarrett, who was then immersed in his own crossover into classical music.

San Francisco composer John Adams stepped in for one season following Davies' departure, then handed over the reins to Marin Alsop, a fiery protégé of Leonard Bernstein, who is now beginning her 11th season. Like Davies before her, Alsop directing the Cabrillo Festival has played host to the leading composers of recent decades, including Adams, John Corigliano, Christopher Rouse, James MacMillan, the ghost of Bernstein, Aaron Jay Kernis, Michael Daugherty and Philip Glass. With rare exceptions, Lou Harrison has enjoyed an ongoing composer-residency at the festival, perhaps most brilliantly during Davies' later years, which included the premiere of Harrison's piano concerto written for and performed by Keith Jarrett. (in a large tent on the UC Santa Cruz campus).

Success Story

Those who go back to the festival's early years will remember its transition from a grassroots neighborhood beginning to its shift up to the likes of Carlos Chavez, still regarded by many as the most important Mexican composer of the 20th century. Guest artists included violinist Jaime Laredo and pianist Maria Teresa Rodriguez, both of whom went on to enjoy world-class careers.

While parading new and unfamiliar music carries risks, abandoning it in deference to the conservative tastes of existing subscribers is tantamount to ingesting a slow-acting poison pill. As recently as 20 years ago, most patrons would have thought the opposite. (Indeed, the future of traditional classical music is dire if sales of classical CDs are any indication.) No symphony association will ever be free from hazards, some potentially life-threatening. The Cabrillo Festival found itself dangerously disconnected from the greater Santa Cruz community at the start of Alsop's tenure, and was brought back from the brink by the current administration. Even so, it has not shown overwhelming success at attracting younger ticket-buyers. Regardless, the Festival--especially with its firebrand conductor--seems better positioned to survive where others will fail.
---
The Cabrillo Music Festival's 40th season runs Aug. 2 through Aug. 11. Visit www.cabrillomusic.org or call 831.426.6966 for information.
---
[ Santa Cruz | Metroactive Central | Archives ]