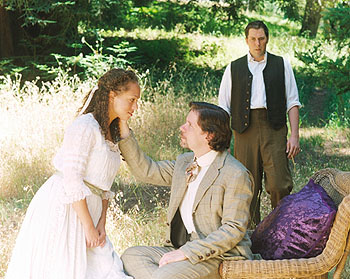 'Gull' Tending: Noel True, (left) Thomas Ryan and Ryan Artzberger in 'The Sea Gull.'

Vodka, No Tonic

Ironic lack of irony in SSC's eclectic interpretation of Chekhov's 'The Sea Gull'

By Christina Waters

RUSSIAN PLAYWRIGHT Anton Chekhov indulges in more than a little self-referential musing in his late-19th-century tragicomedy The Sea Gull. The subject is the theater, the subtext is fame, and each character we meet in Shakespeare Santa Cruz' new production of this play is obsessed with being memorialized.

Fame, and its surrogate dream of permanence, be it through love or children or art, is the point worn down to a nub by this uneven drama. Set in a summer house on a lake, the play peels back the self-deceptive core of artistic pretensions. People at their worst posing as people at their best populate Chekhov's early postmodern effort at breaking theatrical rules. However, director Risa Brainin has mysteriously chosen to play this one straight--from the handsome period costumes, to the hand-wringing acting styles. The mordant irony of sarcastic asides and bemused wisdom has been extracted. What is left is a play that is far better read than deadened. Each actor appears to act next to, rather than with, any other. That no one appears to communicate would have been refreshingly apt, had it been intended.

Arkadina, a famous diva of a certain age, arrives at the vacation compound with her young lover Trigorin, a famous writer. For the occasion, Arkadina's son Constantine--an aspiring playwright of possible genius but little artistic discipline--has written a play to impress his beloved but haughty mama, and presents it to the assembled guests with his girlfriend Nina in the starring role. Naturally, Nina (Noel True) is a budding actress who immediately falls for the famous writer. Sensing the attraction between her lover and the ingenue, Arkadina (played with glorious vitality by Alma Martinez) is so absorbed in keeping them apart that she insults her son's attempts to attract her emotional attention.

This blackly comic study of unhappy people and their absurdly desperate pretentions is laced with wry observations about the human condition. As bored celebrity writer Trigorin, Thomas Jay Ryan has some of the best, and presumably Chekhov's most autobiographical, lines. Admitting that he'd rather fish than write, he makes notes on the behavior around him as food for future scenarios, rather than actually living in the moment. Nice stuff. Too bad Ryan delivers it as if it were the afternoon mail. Constantine, wanly portrayed with a full arsenal of amateur acting gestures by Ryan Artzberger, is the complete opposite of his literary idol. Whiny and brooding, he knows he'll never get the girl--"women can never forgive failure"--or find success. While Chekhov's wit manages to pull the material out of anything like an Ingmar Bergman tailspin, it rarely prevents that famous Russian self-torture (and self-loathing) from permeating even the most innocuous moments.

Chekhov himself has written the last word on this play. At its best, it is "charming and clever--but a long way from Tolstoy." Fine-tuning will doubtless bring tighter performances. Otherwise, Merry Wives looks like the summer ticket this year.
---
The Sea Gull, by Anton Chekhov, runs at SSC through Aug. 31 in the Stanley-Sinsheimer Festival Glen. Ticket info:831.459.2159.
---
[ Santa Cruz | Metroactive Central | Archives ]