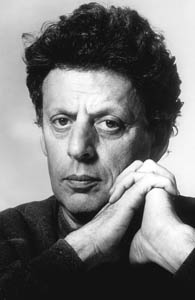 Mr. Glass: Superhero or supervillain of modern music? Audiences are divided on their opinion of the minimalist master.





Glass Plates

Philip Glass' minimalist musical setting for the early photos of Eadweard Muybridge forms centerpiece of Cabrillo Music Festival

By Scott MacClelland

WHILE PHILIP GLASS established himself as a force in the music world decades ago, his local profile remains fairly thin. Although he was composer in residence at the 1990 Cabrillo Music Festival, the composer/performer only appeared for the first time in Carmel, with fellow composer and West African griot Foday Musa Suso, in April of this year.

Some Cruzans attended that event, and a few journeyed over the hill in February for Ballet San Jose Silicon Valley's California premiere of Phaedra, with a newly commissioned orchestration by Glass of his original synthesizer score. Although Cabrillo audiences have encountered a few works by Glass over the last decade, this weekend will see the first large-scale Glass piece to be produced locally.

Called The Photographer, it will occupy the complete Friday opening-night program, with a repeat on Sunday. That's a whole lot of Glass to see and hear through.

When Glass and Foday made their Carmel appearance, it was to feature music co-composed originally for Jean Genet's last film, The Screens. What audiences, including the one in Carmel, have discovered is that Glass' music loses much of its power when taken out of context. That should come as no surprise. These days, for example, movie music is specifically composed so as not to call attention to itself. Soundtrack CDs are marketed on the strength of the movie, not the music.

Indeed, more often than not, music composed in the service of another medium does not hold up well on its own. But given the original context, Glass can deliver with great force. Translated for the ballet Phaedra, music that was originally composed for the documentary about the ultranationalist Japanese playwright Mishima became a vortex of inexorable death and destruction altogether fitting for a Greek tragedy. Its impact was made the more potent through Glass' colorful orchestration and the San Jose Ballet orchestra's live performance of it.

GLASS HAS NO delusions of grandeur. He does not regard himself as the great composer of his age. During a recent interview, Glass gave us the opinion that a new style that pulls others into its orbit "will become apparent when a man or woman of tremendous talent leads the way and articulates his or her own ideas in a powerful language. We don't know what that will be, or when. Stockhausen and Boulez believed theirs would be that music. I can see how others believed it so long as they wanted it to be true."

The he added, with a twinkle, "But it wasn't the only music people were listening to."

In the meantime, he hunkers down with such focus and ongoing creativity that he often loses track of which of his dozens of works is in production at any given time or place. When he made his appearance in Carmel, he was unable to recall that Alsop and Cabrillo were committed to a major work of his this summer.

Indeed, Glass spins at such a pace that, somehow, no two productions of The Photographer have been exactly alike, forcing Alsop to make a variety of creative decisions for "her" version. At least Glass slowed down enough to compose some additional music and to consult with Cabrillo director Michael Scarola on various production points.

As festival co-executive Ellen Primack explains it, Act 1 is a play about the murder trial of Eadweard Muybridge, the pioneering photographer of nude men, women and animals walking and running. Act 2 is a video montage of Muybridge's work, with Alsop leading the orchestra from the solo violin. Act 3 continues the visual imagery with dance in the foreground.

On paper, the 1982 work is a compendium of every kind of multimedia work Glass has done, except opera. As pure music, the score is minimalistic, with surprising rhythmic illusions, exotic instrumentation and seemingly contradictory melodies. A chorus participates throughout, often in minimal patterns as well.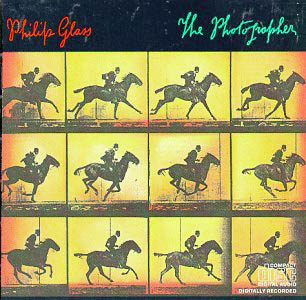 Hot to Trot: Eadweard Muybridge's pioneering pictures broke down the mechanics of movement into discrete, visible elements.
THE FESTIVAL opens on Saturday (Aug. 4), with John Adams' "aerobic" Fearful Symmetries giving the program its title. The San Francisco composer says of the piece, "It mixes the weight and bravura of a big band with the glittering sheen of techno pop and the facility and finesse of a symphony orchestra."
Another gleaming light among American composers, Christopher Rouse, is represented through his Violin Concerto, featuring festival concertmaster Yumi Hwang-Williams as soloist.
Lou Harrison's opera Rapunzel takes the stage at Santa Cruz Civic on Aug. 11, with Jennifer Foster as Rapunzel and Gwendolen, Wendy Hillhouse as the Witch, and Sanford Sylvan as the Prince and King Sebald. During the last three weeks, Sylvan emerged as the star of the Carmel Bach Festival. He won kudos from everyone for his appearances in Bach's St. Matthew Passion and in the title role of Mendelssohn's oratorio Elijah.
Harrison's 1954 opera plumbs the psychological depths of the legend, as recounted by the Brothers Grimm. Companion to the Harrison is the award-winning Pare Lorentz documentary The River, with narrator Milton Williams and the great original score by Virgil Thomson, which, of course, will be played live during the screening.
The festival finale, Aug. 12, with afternoon and evening performances at Mission San Juan Bautista, is titled Angel of Light after its closing work, Einojuhani Rautavaara's Symphony no. 7.
An angelic spirit also infuses Christopher Rouse's Rapture (in its West Coast premiere) and James MacMillan's Symphony no. 2 (in its U.S. premiere). Anyone who attended last year's festival finale had best be prepared for at least a partial repeat of that shrieking symphonic onslaught that literally caused some audience members to flee the room.
Regardless of occasional moments of sensory overload, the Cabrillo Music Festival under Alsop has tapped into a growing appetite among concertgoers and converts alike to be present for the new classical music. While that includes works that might not stand the test of time, the process of discovery is almost always worth the price of admission.
---
The Cabrillo Music Festival takes place Aug. 3-5 and 11 at the Santa Cruz Civic Auditorium (8pm) and Aug. 12 at Mission San Juan Bautista (4 and 8pm). Special events include the Music, Art & Wine Festival on Aug. 4, 11am-8pm, outside the Civic; and the Music at the Millpond benefit on Aug. 10 in Soquel. Call 831.420.5260 for ticket information.
---
[ Santa Cruz | Metroactive Central | Archives ]