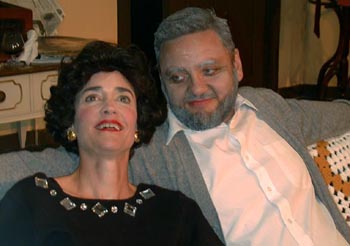 Photograph by Ron Skelton

Sparring Spouses: Paul Collett and Susan Jackson square off as George and Martha in Edward Albee's marital showdown, 'Who's Afraid of Virginia Woolf?'

Scarred for Married Life

Bay Shore's 'Woolf' gets dysfunctional, and not without a few rough edges

By Rob Pratt

PSYCHOTHERAPY teaches several points about the nature of human emotion. One is that character flaws and emotional problems don't manifest themselves in straightforward ways. Another is that all people have to face their character flaws and emotional problems at one point or another.

Both themes resonate loudly in Edward Albee's landmark of the American theater, Who's Afraid of Virginia Woolf?, and the Bay Shore Lyric Opera production of the play, which runs through Aug. 12, zings them head-on. A talented quartet of actors renders Albee's thicket of emotional dysfunction with overall clarity and precision, but the production doesn't bring into focus the full force of Albee's harrowing, intense script. The reason it doesn't get there? Another point taught in psychotherapy: Dysfunction that cuts deeply often leaves smooth edges.

Woolf opens with George and Martha, a fortysomething married couple, returning home after a September faculty party at a New England college. At the urging of her father, who is president of the college, Martha invites a young couple over for a nightcap after the party. During the span from midnight to morning, the foursome, led by George and Martha, drink and descend into sick emotional game-playing.

Paul Collett brings an acute sense of dramatic timing to George, a middle-aged history professor who hasn't lived up to his wife's expectations. With a cunning and calculating wit, George manipulates every conversation he joins. Collett, however, lets emotions rule George during a few scenes, and the outbursts don't play as well as when Collett seethes with contained tension.

Actors playing George's wife, Martha, must not only cope with the character's emotional dysfunction but also reconcile the part to the sexual revolution of the 1970s. Albee wrote the play during the 1960s, when sexual predators like Martha earned scorn among New England towns. Contemporary audiences don't bring those dated social mores to the theater, so Susan Jackson wisely plays Martha as an emotional ninja who can strike for her husband's heart with a quick and effortless turn of phrase.

As the young couple entertained and ensnared by George and Martha, Nick (Joel Bischoff) and Honey (Renee Racan) are initiated into the fighting rites between married partners. While discomfort is fitting for the circumstance Nick finds himself in, Bischoff rarely allows for other emotions. The notable exception is at the third-act climax when Nick utters, with horror, "Jesus Christ, I think I understand this." He musters a tremble in his voice that rattles an audience that's thinking exactly the same words.

Racan hardly registers among the others. The deep emotional flaws of the characters in the play draw sympathy from the audience. Honey lives with shame and insecurity, which she hides under a veneer of respectability. But Racan plays Honey with too much veneer, never revealing the complex clutch of adequacy issues Honey faces.

The play has few technical requirements since it's entirely set in the living room of George and Martha's house. Bay Shore Lyric Opera presents Woolf amid a great-looking set by Rick Stroup and Paul Collett, and Jessica Sage's direction keeps the action lively and without undue, fussy stage business.
---
Who's Afraid of Virginia Woolf? runs Saturday-Sunday at 7:30pm through Aug. 12 at the Capitola Theater, 120 Monterey St., Capitola. Tickets are $15-$20. (462.3131)
---
[ Santa Cruz | Metroactive Central | Archives ]