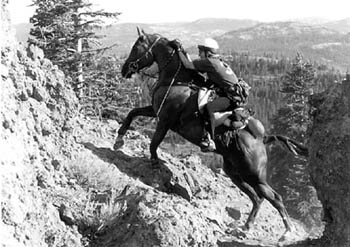 Extreme Sports Is One Thing, But This Is Ridiculous: Davenport's answer to Seabiscuit, Butter Bea, on the move.

Nüz

Dark Horses

Every day there's a new surprise," said county elections officer Gail Pellerin, when reached the day Gov. Gray Davis announced he's suing to postpone the recall until the March 2 presidential primary.

"At this point, it's anybody's guess whether there's going to be an election in October, but as far as I'm concerned, the train's already left the station," said Pellerin, noting that the county has already spent a lot of time and money preparing for the Oct. 7 event, but that elections departments across the state are facing a ton of legal and procedural questions, since Davis is the first governor in the history of the state to actually face a recall.

"It's uncharted territory, and it's frustrating to figure it out, but we're stumbling along with the support of our fellow counties," she said.

Nüz recommends visiting www.votescount.com, the county election's website, for answers to frequently asked questions, including the names of the proponents behind the recall, plus arguments for and against Prop. 53, which deals with funds dedicated for state and local infrastructure, and Prop. 54, which would prohibit classification by race, ethnicity, color or national origin.

So far, 11 locals are collecting signatures to run as Davis' replacement, should he lose, and Pellerin anticipates that three or four will qualify. Those lucky few will be added to a list that includes everyone from porn king Larry Flynt to right-wing millionaire Darrell Issa, who used a lot of his own money to trigger the recall, plus bunches of dark--and possibly not so well-shod--horses.

Davenport's Seabiscuit

Speaking of dark horses, in an uncanny parallel to the recently released Seabiscuit, award-winning endurance horse rider and multiple sclerosis patient Alexandra North and her Arabian mare Butter Bea will compete in the 21st Swanton Pacific endurance race to raise funds for the Multiple Sclerosis Quality of Life Project, which serves Santa Cruz, San Benito and Monterey counties.

As North explains, both Seabiscuit and Butter Bea are physically atypical for their chosen sports.

"The typical thoroughbred racehorse is tall, graceful, with correct conformation, but Seabiscuit was a rough-hewn, undersized horse, with crooked legs and large knees. The typical Arabian endurance horse is small, and fine boned with a graceful head, large eyes, and a small thin rear end, but Butter Bea is large and raw boned, has a large head, big legs, a huge rear end--and is sculpted like Arnold Schwarzenegger."

According to North--who's been riding since she was 8, and competing in endurance races since 1995, the same year she was diagnosed with MS--popular opinion was that neither Seabiscuit nor Bea would be successful.

"Seabiscuit was way too small, and for two years he fought his trainers and floundered at the lowest level of racing, and was misunderstood and mishandled, but ended up beating the Triple Crown winner, War Admiral, in a match race."

As for Butter Bea, North says trainers told her that "a plastic horse from Wal-Mart would be better," while vets said the mare "would never be able to crack the Top 10 at a ride."

"She was a fence-crashing fool, known for teeth-gnashing, foot-stomping, outlandish behavior," recalls North, who entered Butter Bea in her first endurance race in 1999, and last year saw this unlikely champion make the Top 10 in 21 out of 27 races, winning five out of six races in less than one month.

"She has turned into an Endurance Machine. At the end of even a 100-mile race, if there's someone within sight of her, she will commit Armageddon to catch them," jokes North, who in spite of unpredictable and sporadic MS symptoms, continues to pursue her passion for riding because of "its healing effects."

Recently, North was nominated for the September 2003 Pan American Endurance Championships, participation in which brings her one step closer to the U.S. Equestrian Team that goes to the 2004 World Endurance Cup in Dubai, United Arab Emirates.

Everyone who sponsors the plucky pair will raise funds to help some of the 1,200 identified homebound MS sufferers in the tricounty area--and will receive an autographed photo of North and Butter Bea. Call 831.457.7786 or write MSQLP at PO Box 223537, Carmel, 93922.

Sour on Bruce

Despite the sweet spin that state Sen. Bruce McPherson has been trying to put on his recent voting record, half a dozen protesters prepared a sour Aug. 1 treat for the man who claims he only voted to disband the California Coastal Commission, abolish the school-to-career program and remove the Early Mental Health initiative for K-3 children because he knew the Dems would never let it happen.

Members of the county's Democratic Central Committee pinned their complaints to lemons, citing unresponsiveness to phone calls and a breach of covenant with the Dems who he'd promised to represent with his votes--an indifference they claim parallels a major shift to the right in the voting record of the Republican Brewster, who claims to be a moderate who supports education and the environment.

According to Santa Cruz County DCC chair Darrell Darling, McPherson's support of the gubernatorial recall and slashes to the California Coastal Commission place him with the right-wingers.

"A Democrat would be opposed to these things in principle," said Darling. "He is simply in the wrong party."

DDC supporter Barbara Graves says repeated attempts to lodge complaints with the senator's office were ignored. The senator's office was closed during the lemon delivery, and though Graves emailed McPherson's staff, asking that someone meet the group, she received no response.

"This is exactly representative of what we've been getting," she remarked, "A closed door."

McPherson's assistant Kathryn Nation returned after the protesters were gone and acknowledged receiving the email, but said she hadn't had time to respond to the note, which was sent July 30, and that the office frequently closes for lunch.

As of presstime, the senator had not responded to the event, and the lemons will likely meet the same fate as a similar basket of apples delivered last week, which were sent to a food bank.

Night Out

Care about keeping downtown weird and vibrant? Then check out the Santa Cruz Night Out series, which takes place the next three Tuesday nights, beginning Aug. 12 with Dancing in the Streets, when Pacific Avenue will be closed to traffic between Lincoln and Cathcart from 5 to 8pm, to showcase a salsa band, tango dancers and the Goddess of Funk Samba dancers.

"Santa Cruz Night Out is an all-volunteer, locally sponsored event that highlights our diverse community while experimenting with increased public space downtown," says Greg Kindig, co-director of the newly formed Coalition for Community Commons, which would like to see the event--and a pedestrian mall or plaza--become a downtown mainstay--"but not until the whole community desires it."
---
Nüz just loves juicy tips: Drop a line to 115 Cooper St, Santa Cruz, 95060, email us at , or call our hotline at 457.9000, ext 214.
---
[ Santa Cruz | Metroactive Central | Archives ]