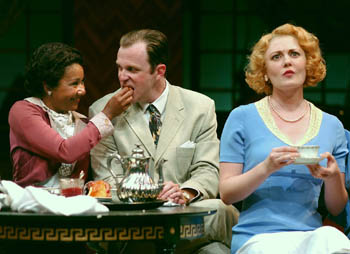 Photograph by Steve DiBartolomeo

It's All Fun and Games Until Someone Loses a Finger: Gina Daniels (left), John G. Preston and Jacqueline van Bennen in 'Private Lives.'

Apocalypse Noel

The battle of the sexes goes nuclear in Shakespeare Santa Cruz's lively production of Noel Coward's 'Private Lives'

By Christina Waters

Armed with the ultimate "talent to amuse," Noel Coward single-handedly invented romantic comedy in the years between the world wars.

In addition to countless witty cocktail tunes--"Mad Dogs and Englishmen," "If Love Were All," "A Room With a View"--Coward gave us Private Lives, the delicious deconstruction of conjugal chemistry and one of this season's offerings at Shakespeare Santa Cruz.

Cunningly designed, lusciously costumed (kudos to Christine Dougherty) and briskly directed by Kent Gash, "Lives" provides a two-hour romp through the bedroom of the Western mind. Our foursome includes Elyot and Amanda--once married to each other, now divorced and spending their honeymoons with new partners, Sibyl and Victor, at (gasp!) the very same Riviera resort.

Since most contemporary audiences already know the scenario, the fun begins at once. The SSC production is elegantly propelled by the urbane musical gifts of Jonathan Brody, who as a Noel Coward surrogate entertains us at the grand piano before and in between performance acts with a medley of aching, madcap Coward tunes. Famously gay, Coward knew every nuance of folly and rapture involved in the battle between the sexes, and brought his unerring and ironic eye to this vivid portrait of true love's mercurial mood swings.

Festival veteran John G. Preston brings endless comic resourcefulness to his Elyot, a big, gorgeous, self-indulgent bon vivant still carrying a torch for Amanda (Gina Daniels), even though he's just wedded sweet young airhead Sibyl (Jacqueline van Bennen in a spot-on performance). Moving with muscular grace, Preston reacts inventively. and of the onstage company he makes us most believe in Coward's ironic brand of romantic optimism. Were there any chemistry between Preston and Daniels, we would come closer to believing in their on-again, off-again romantic destiny. But there is none. A jaunty and energetic actress, Daniels relies too much on repetitive gesture and a one-note tone of jaded insouciance to allow us into her true feelings. Even Cowardesque heroines such as Bette Davis and Katherine Hepburn showed us flashes of pain, insecurity and wistfulness underneath their breezy exteriors.

But then, perhaps the direction intends to emphasize Coward's deeper subtext--"Let's be superficial and enjoy the party as long as we can." We the audience certainly enjoyed the smashingly choreographed and wildly physical spats played out by the two couples. Given the casting, we end up wishing, however, that a different duo ended up together in the end. Carl Cofield, playing Sibyl's feckless new hubby Victor, is a handsome package of stilted shouting, and seems out of place on the stage with the other more physically supple actors. A deliciously stylized "dumb blonde," van Bennen brings split-second timing and bold comedic energy to the vapid, spoiled Sibyl. Her candy-box face could be as easily loved by Sophocles as by Charlie Chaplin.

During the second act of the play, van Bennen and Preston between them pull out all the stops and deftly generate some true belly laughs. Gash's direction moves confidently through most of this delightfully swift-moving production, and at their best the sparkling one-liners and saucy physical business owe as much to Jackie Gleason and Audrey Meadows of TV's The Honeymooners as they do to Oscar Wilde. In Private Lives, the ups and downs of the "nasty little matrimonial battle" gush across the stage, often all at the same time. Fraught with elegant, politically incorrect repartee, Private Lives is a glib, worldly bonbon. Good enough to eat--and not to be missed.
---
Private Lives by Noel Coward, a Shakespeare Santa Cruz production, runs through Aug. 24 at UCSC Theater Arts Center. For ticket information, 831.459.2159; www.shakespearesantacruz.com.
---
[ Santa Cruz | Metroactive Central | Archives ]