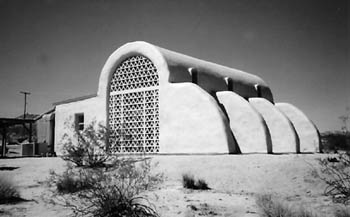 Lou Harrison's Straw Bale House: This is the first time I've ever used a new photo in the column. I thought you'd like to see what composer Lou Harrison's straw bale house looks like. The house is in Yucca Valley between Twentynine Palms and Joshua Tree. The vaulted roof is supported only by buttressed walls and a structural arch. (Photo by Judy MacClelland)

Bruce Bratton

CAB MU FEST HISTORY. One thing not mentioned in our recent story about the early years of the Cabrillo Festival of Contemporary Music is the enormous contributions over its 40-year history from Manny and Alice Santana. Manny is the only person to have been president of the board in two separate terms. He was also president longer than anyone else. Alice and Manny hosted numerous meetings, parties and fundraisers over the years, and Manny continues this tradition this year, too. It was Alice and Manny who traded their family church bell to the Mission San Juan Bautista so the festival could hold annual concerts there way back in 1974. Marion Taylor has provided musical advice and direction to the festival's last four music directors since 1971 and has helped maintain the high musical standard of the festival. It also isn't true that Dennis Russell Davies rode a motorcycle. He had his picture taken sitting on one once, that's all.

'RIVERS AND TIDES,' SPECIAL CRITIQUE. This film is a documentary about environmental artist Andy Goldsworthy. Goldsworthy usually creates sculptures from nature that nature also pulls apart in time. He also does museum/gallery installations as he did in San Jose a few years ago. This documentary by filmmaker Thomas Riedelsheimer, with music by composer Fred Frith, contains some of the most beautiful and moving images ever captured on film. The film can literally change the way you look at your surroundings. If a human had never seen art before, this would be the first film to see--it's that impressive. Goldsworthy as a person is as impressive as his art. Reviewers are saying things like "You must go see it, really" or "Please go see it," that's how excellent a film it is. Riedelsheimer is in Santa Cruz now working on a film about Grammy Award-winning percussionist Evelyn Glennie, who'll be performing at the Cabrillo Music Festival Saturday and Sunday. Rivers and Tides opens at the Nickelodeon Friday. Go see it; then go see Siddhartha--you'll be glad you did. Next week, I'll be critiquing Goldsworthy's constructions from an entirely different point of view.

OTHER FILMS. Stephen Soderbergh's Full Frontal is like Lovely & Amazing II. We've watched Woody Allen's films about New Yorkers for years--now we're seeing films about L.A. types. Full Frontal is supposed to be clever, witty and full of inside-film humor, but who cares? Wait and rent it. Speaking of Hollywood, Mel Gibson's Signs is Hollywood. A little tension, but really just another space invaders flick. Rent it along with Full Frontal. Tadpole is another of the aforementioned New York clever films and stars Sigourney Weaver. Actually, you should rent all three and save a ton of money.

CAB MU FEST CONCERTS. Mark Adamo's opera Little Women is worth all the attention and performances it's been getting. The voices, the acting, the music were all brilliant, and the second act was even better than the first. Like any opera, especially those sung in English, it needed supertitles. Too many of us couldn't understand the subtle plot. Supertitles were a financial problem for CabMuFest, and they were missed. A full evening of Christopher Rouse's music on Sunday night gave us a chance to hear and appreciate the very wide range of his composing. We're very fortunate that Marin Alsop has been bringing Rouse and his music to our attention over the years. There are three Cabrillo Music Festival concerts left, including tonight's Kronos Quartet performance; go hear them all and see why music critics and musicians all over the world think so highly of our festival. Go to the Civic box office or call 420.5260 very quickly.

HAL HYDE IS HERE. UCSC just published a biography of this amazing fifth-generation Santa Cruz County resident. Hal was instrumental in establishing many of the county's institutions, such as the Cultural Council, UCSC, Cabrilho College and the Community Foundation. The volume is titled Harold A. Hyde: Recollections of Santa Cruz County, and Randall Jarrell did the oral history interviews and edited the book. Not only that, but Hal's getting married in 2 1/2 weeks, so congratulations are definitely in order.

JOHN TUCK IS GONE. Tuck, a longtime Santa Cruz resident and child placement specialist for the county, has left for a six-month work program in Dar es Salaam in Tanzania with the Crisis Corps, which is an offshoot of the Peace Corps. He'll be working as a training counselor with street kids and prostitutes in an AIDS education program. Santa Cruz will not be the same without John, and don't even think of a clever comment.

COUNTERPART INTERNATIONAL. Our sister city Alushta over in the Ukraine needs some humanitarian assistance. That means medicine, bandages, furniture, medical instruments and equipment. More specifically, they need a washing machine, computer, calculator, electric stove, dental drill, filing cabinets, desks, canes, crutches, first-aid kits, paint, school furniture, notebooks and school equipment in general. International members of Counterpart International will be in Santa Cruz next Monday. Our goal should be to fill a few shipping containers with these wish list items as soon as possible. They get placed directly, with no interference from any administration, in places of residence of scouts, children and teenagers in and around Alushta. Tarps, jackets, sleeping bags, tents, rope and boats are all necessary. If you have any of these items or know how to contact folks who are willing to provide stuff for our overseas families, call 420.5022 and leave a message.
---
Bruce critiques films every other Thursday on KUSP-FM (88.9). Reach Bruce at [email protected]
---
[ Santa Cruz | Metroactive Central | Archives ]