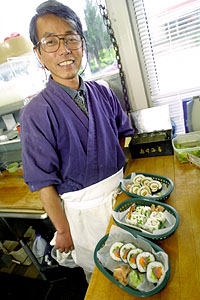 Rolling On: Chef Masayuki brings his slicing skills to Sushi on the Run in Aptos.





Sushi in Record Time

Take-out Sushi on the Run provides sensational treats in a hurry

By Christina Waters

EVERY SANTA CRUZ-area sushi lover remembers the late, great Masayuki's in Capitola. For about a decade, it held down the turf devoted to some of the finest sushi in the Bay Area. Early this spring, Masayuki took over the space formerly occupied by Jory's turkey sandwich works across from Rancho del Mar center in Aptos. The result? Sushi on the Run, a compact little base camp for sushi lovers who want it all and want it pronto.

"I was amazed to hear so many people say what a great idea it was," Masa told me last week. And boy were they right. I ran on over last week to pick up a couple of bento boxes from Masa and paused to consider the glittering possibilities. In addition to freshly packed little boxes filled with a huge variety of Masa's greatest hits--including the sensational tempura rolls, myriad inventive vegetarian rolls and traditional nigiri sushi--Masa is on hand to thrill fans of fine sashimi with his custom slicing. The charming little shop comes decorated with various "Hello Kitty" shrines, ample indoor and outdoor seating and a major "to-go" list.

At home, we opened our bento boxes, mixed up some dipping sauce bowls for the wasabi and soy sauce provided, cleansed our palates with pickled ginger and dove into the gorgeous sushi rolls. Everything was unbelievably fresh and exploding with flavor. Jack liked Masa's Tempura Roll #3 ($5.50). These huge rolls, cut into beautiful cross sections, were filled with cooked albacore, lots of sticky rice and studded with carrot and asparagus. Delish.

But even better, I thought, was the June Roll combo. Along with one of those sweet aga-dashi tofu pockets, stuffed with rice and toasted sesame seeds, were fat rolls succulent with faux crab, bay shrimp, tobiko, some crisp cucumbers and a hit of mayo ($5.25). Fabulous and surprisingly filling, this is serious gourmet fast food that won't destroy your diet or your arteries. Aptos is lucky. If I lived in the southern part of the county, I'd be at Sushi on the Run every day for lunch, and that's the truth. Get on over there and just say "Arigato!" Sushi on the Run is located at 7957 Soquel Dr. (688.3690) and stays open Monday-Saturday from 11am to 7pm. Closed Sunday.

Ginger Quest: Part III

Back in 1924, a diehard root beer lover named Frank Stewart made old-fashioned root beer at his own one-man stand. One thing led to another, and the Stewart's brand was born, makers of fine cream sodas, root beer and (here's where we get interested) ginger beer. Well, Stewart's isn't a small operation any longer. As of last year, the line of premium sodas is owned by giant Cadbury Schweppes Inc. The good news is that Stewart's Ginger Beer is available at lots more places, like Cost Plus, which is where we picked up a four-pack to try at our gingerphiliac household. We tried it, and frankly, it just about answered all our ginger drink needs. It's a dark, earthy ale, with a huge gingery nose and a slightly but just slightly sweet finish. The balance between ginger and sweet is much better than in any other ginger ale we've sampled. It delivers the ginger punch we craved and makes a lovely accompaniment to lunch foods, from salads to sushi.

The Sea Star goat cheese brand has now switched over to Harley Farms, reflecting the sole proprietorship of Dee Harley, now that Nancy Gafney has retired from the chèvre biz. The move from Davenport to Pescadero, according to a spokesperson, has allowed the cheese makers more room to expand their herd. Harley Farms goat cheese--we love their basil-enhanced spread--is available now all over the United States, including New Leaf markets right here in the Monterey Bay area.
---
Email me your hot food tips, new favorite restaurants, discoveries, gripes and sudden culinary insights. You tell me--I'll tell everybody: [email protected]
---
[ Santa Cruz | Metroactive Central | Archives ]