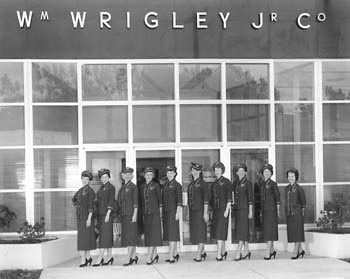 Covello & Covello Historic Photo Collection

Wrigley's Smiling Tour Guides? April 26,1955. Newcomers may not know we had a Wrigley plant here a while back, and a Lipton tea plant too. These women were on hand to lead tours, I guess, although in later years neither Wrigley nor Lipton allowed public tours. I'm assuming that some of these smiling faces are still around town and would love to tell more about these uniforms and what these women did for Wrigley.




Bruce Bratton

BORDERS AND DAMAGE. Harry Domash, high-tech investor columnist for the San Francisco Chronicle and that local daily and soon-to-be author of a new book, emailed to ask if I "supported" the protest damage Borders has received lately. Of course I don't "support" such an action. To be more clear, it's misguided, probably not doing much good for the cause, and that energy and protest could be put to more effective use. I also wonder why more hasn't been made of the considerable damage done to Bookshop Santa Cruz over the years. They've endured two smashed windows, continual destruction to the bathrooms they still provide to the community, and books on controversial topics are still being stuffed with hate literature or otherwise ruined. What does all this mean? I suppose we have to say that Santa Cruzans take bookstores very seriously.

SCHEIE'S SCINTILLATING CYMBELINE. Full disclosure again. I can't remember ever liking any Shakespeare Santa Cruz play directed by Danny Scheie. (I was happy he succeeded in presenting The Merchant of Venice, but it was a dumber-than-dumb production.) His need to shock and otherwise make pee pee jokes and men in drag a necessary Shakespeare ingredient got really tiring. Cymbeline is a wonderful production, and everybody should go see it. Scheie's left out all his old tricks, and has created a play full of fun and yet has vintage Shakespeare material. I can't list enough actors credits, but Stephen Grenley deserves special notice for his many roles and great delivery. Go see Cymbeline. It's this seasons' surprise hit.

A CURIOUS COLUMN? Members of Writers Union Local 7 were surprised, mystified and angry when a columnist for that Santa Cruz daily stated she was looking for area writers "ticked at local bookstores" because they wouldn't carry their books or host a reading. She also wanted to hear from local authors who found that chains "like Borders" are willing to host them. She offered to make it all anonymous in her weekly book column. Now, I've written a few subtle words against Borders before, and columns are after all only humble opinions, but to go to such lengths to focus anger at all local bookstores and support chains like Borders doesn't do a lot of good for anybody. Unless maybe you want to say it certainly helps the relationship between Borders and that daily.

A MESS OF MOVIES. Yes, Coyote Ugly is a terrible movie, and yes, the coyote title does refer to that old biting-off-your-arm joke. You could call it Flashdance Ugly; it was done by the same director. Clint Eastwood's Space Cowboys has some cute geezer jokes, is very predictable and shallow, and will never be entered into any cinema achievement book, but there are laughs here and there. The new documentary The Eyes Of Tammy Faye will show you sides of Tammy Faye Bakker you never knew existed. You may not care about her other sides, but it's still a fascinating story of survival. Speaking in Strings, the documentary on Nadja Salerno-Sonnenberg, the violinist appearing at the Cabrillo Music Festival Wednesday (Aug. 9), tells of Nadja's troubled past and her struggle to survive against heavy psychological problems. It's almost embarrassing to watch how she dealt with life's problems, but I guess she wanted us to know about it. Then there's Shower. Shower won five awards so far and will undoubtedly go on to win more. The film is from Beijing and takes place there. Parts (just parts) of it are as touching as Bicycle Thief or Pather Panchali. It's a Chinese feel-good film and well worth seeing.

SPEAKING OF BORDERS. John Livingston, owner of Logos, opined the other day during a conversation in front of the House Of Bread that Borders hasn't hurt Logos. He also explained how Logos works with all local bookstores in recovering stolen books and how Logos and Borders already have worked out a system. John believes that, like restaurants and antique stores near each other, Borders will attract book-buying folks from the community who otherwise might not come downtown. An interesting point.

CABMUFEST, FIRST WEEKEND. The production of Aaron Copland's The Tender Land was incredible. To realize what the festival had to overcome to present Copland's only opera should make us appreciate the Cabrillo Music Festival even more. The tenor should get a full-time job in Borders--but enough of that. Copland was an excellent composer and almost single-handedly created what is "an American sound" in music, but his sense of drama, plots and theatre wasn't so hot. This only opera of his was dull, but CabMuFest accomplished much with what they had to work with. On the other hand, what the Cabrillo Music Festival has always done best is premiere and play new music, and the concert Aug. 6 at the Civic was one of the very best. Christopher Rouse's Der gerettete Alberich or Alberich Saved (a California premiere) received a long and standing ovation, and deserved every minute of it. If you like Wagner, Rouse's contemplation on Alberich is funny, it's possible, and if Wagner heard it he'd probably love it, but I wouldn't want to be sitting next to him just in case he didn't. Rouse won a Pulitzer for his Trombone Concerto, and this is his third visit to Santa Cruz. We should make him an honorary surfer or give him free rides on the Giant Dipper. There are probably tickets left for the remaining four concerts. Call 420-5260 ext. 5 about tickets. Don't wait until next year.

DOUG RAND ACTION FUND AWARDS. Mayor Keith Sugar started the program, saluted the Doug Rand Action Fund and welcomed the audience of 60 or more folks at the E.A. Chase Collateral Damage statue on the morning of Aug. 6. Four community organizations received the first Doug Rand Action Award grants. The awards, presented by Mathilde Rand, went to the Santa Cruz Community Currencies Project, which is a community-based trading network designed to keep our money in our community. Call 429-2232. Earth First! received an award, and the group is in the midst of a "West Coast Rendezvous," supporting the tree-sitting in South County and also protesting Trader Joe's in Capitola over genetic engineering of our edibles. Call 425-3205. Art and Revolution Street Theatre Collective got an award; it's doing protest theatre about genetic engineering of foods too. Residentes Unidos received an award for the work it's doing in organizing the Mexican Community.

ODDS AND ADDENDUM. I'm sure we all know that Ralph Nader is returning to the Civic on Aug. 23. It's a free event sponsored by the Green Party, and of course every forthright decent person has decided to be true to their inner selves and will vote for him instead of Al Gore, right? Thanks to the Santa Cruz Coffee Roasting Company I've learned that the darker the roast, the less the amount of caffeine. That means that ounce for ounce, espresso has less caffeine than a regular cup of coffee. I'll be in L.A. visiting grandchildren again this weekend. Last time I was there I visited the new Getty Museum--what an uninspired mess of unrelated buildings, great and timeless art inside. Those buildings are as bad as our new downtown Santa Cruz structures, and the museum didn't have a budget to blame.

BUMPER STICKERS, SON OF. Tom Nawalinski sent in "Earth First! Then we log the other planets," which he saw at New Leaf Market. I don't imagine it was on a Big Creek Lumber truck, but after Big Creek's latest statements on logging in our county I wouldn't be surprised. Then again, there are some commercial-type palindromes (read backwards) like "lonely Tylenol," "Pepsi is pep." I almost included "ah, May a Yahama," but it doesn't quite work out, as you can tell.
---
Bruce critiques films every other Thursday on KUSP (88.9FM) at 12:50pm. Reach Bruce at [email protected] or leave messages at 457-5814, ext. 400.
---
[ Santa Cruz | MetroActive Central | Archives ]