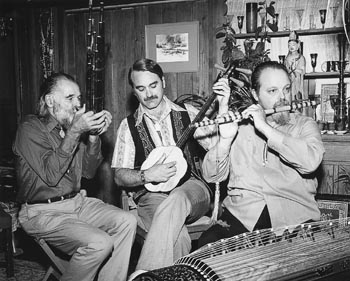 Melodic Moods: A composer of staggeringly divergent visions, Lou Harrison crafts works defined by a sense of beauty delicate and transparent.

The Many Faces Of Lou

With a landmark tribute concert, Michael Tilson Thomas and the San Francisco Symphony reveal Lou Harrison as a composer of divergent interests

By Scott MacClelland

THE INSTANT RECOGNITION some artists enjoy depends on the clarity of their fingerprints. Consider, for example, the giveaway shape of a Bach fugue subject, the brush strokes of Van Gogh, the performance intensity of Leonard Bernstein.

Often, however, these telltales of greatness take on exaggerated significance when set against the underlying simplicity of creative expression. Put another way, creativity does not have to be great, or even aspire to greatness, in order to fulfill a promise of excellence.

More than any other single thing, what validates a work of art is the integration of its materials. This integrity engages impulse, form, imagination, risk, spontaneity, sensation and emotion. Whether a Beethoven seizes you by the throat or a Delius seduces your senses with glowing colors soft-spoken, each is equally capable of converting you to the composer's artistic vision.

Lou Harrison's methods of musical seduction are more protean than those of either Beethoven or Delius. And therein lies a puzzle. I took lunch the other day with a nonagenarian, a retired commercial artist, who declared, "I've always felt that the creative individual would be creative in any medium available." The implication is that a poet would be a painter would be a composer.

Harrison could hardly be better proof of the theory. Creativity is Harrison's way of making sense of the world. It is his food and drink and the air he breathes. So ubiquitous are his creative outlets, that he is still not entirely convinced that his reputation as a composer is properly balanced. Every Harrison biography includes mention of those early years when he arranged floral bouquets. Anyone responsive to Harrison's other artistic expressions can only wonder at what magic he must have made with flowers.

Dennis Russel Davies Conducts Works by Harrison

MICHAEL TILSON THOMAS recently chose to dedicate one of his "American Mavericks" programs to works by Lou Harrison. Of all the composers selected for the San Francisco Symphony series, only four were dedicated to single composers. Of them, the only two living are Harrison and Steve Reich.
For all 23 composers Tilson Thomas included (among them Charles Ives, Aaron Copland, John Antheil, Duke Ellington and John Adams), he could have selected others. His criteria were composers "who worked resolutely, aggressively, independently outside the mainstream, and whose expressive goals were to explore the unknown musical and psychological territories." Further, "When these mavericks looked at established musical taste, they saw polite rituals that reconfirmed society's high opinion of itself. They wanted to give voice to what they thought were rawer, truer, more fundamental relationships between people and music."
As with any generality, the descriptive words don't fit all named composers equally well. In Harrison's case, Tilson Thomas opted to play three works in divergent styles. Those who attended the performance (on June 15) heard three different Lou Harrisons--extremely different, in fact.
For the occasion, Davies Symphony Hall was outfitted with two huge video screens, hanging above stage left and right. From the podium, Tilson Thomas spoke briefly about Harrison, praising him for his "continuous melody," a musical promise which few composers can keep. Then he pointed out Harrison, sitting in a box above stage right, and the venerable composer's image suddenly filled the video screens. In his introductory remarks about the first piece, Harrison lauded Tilson Thomas for creating the "Mavericks" series, to which Tilson Thomas, without microphone, bellowed back, "Talk about you, not me."
Reversing the printed program, Tilson Thomas and his orchestra opened the program with the Symphony no. 3, a work of lush sonorities, sounding in turns like Hovhaness and Brahms, two composers Harrison is known to admire. The work follows the classical model with bold, declamatory outer allegros framing a scherzo and a largo. The scherzo is in three parts, including a reel in honor of Henry Cowell (Harrison's most influential teacher), a waltz for Evelyn Hinrichsen and an estampie for Susan Summerfield. The two allegros are fully symphonic, the first of them quieting down for some beguiling concertante solos. The largo enfolded like the start of day over an undulating ostinato figure not unlike a gentle ocean swell. Harrison remarked that the finale made him think of launching a ship, and indeed it developed some leviathan energies. Its last pages also seemed to linger, as if regretful, or not quite sure when to end. Indeed, Harrison observed that he often had second thoughts about his works, and learned to leave unanswered questions open for possible further consideration.
(These particular doubts have tended to pester his large, Western-style symphonies, concertos and suites more than his Asian works.)
A goodly number of friends, fans and fellow musicians attended the concert at Davies. These included a considerable contingent of Cabrillo Music Festival activists. When the spotlight first found Harrison, a lusty cheer rose from the full-house audience. On the video screens, the 83-year-old composer looked as strong and triumphant as his voice sounded through the loudspeakers. Only two months before, his life-companion, Bill Colvig, had died after a long illness, leaving Harrison a burden of loss and grief. Moreover, his exposure at the Cabrillo Festival, which he co-founded, has dwindled under current music director Marin Alsop. There may be no link, but plainly the man was delighted by the totality of the event. By his side sat Richard Dee, a colleague from decades ago, back when they toured programs of Chinese instruments and music.
FOLLOWING INTERMISSION, Harrison introduced Dee as a co-composer of the Suite for Violin with American Gamelan. The work uses the first gamelan Colvig built, a metalophone of bronze slabs positioned over resonating tubes, held in red lacquered frames. Now affectionately called "old granddad," its timbral compass is more consistent than coloristic, from celestial highs to profound depths. Six musicians created a unique world of sonorities and hues. But the star was violinist Chee-Yun, a perfect choice for both the technical demands and expressive nuances of the work. Not only did the Denon recording artist completely conquer the part's nonstop virtuosity, but she did so with voluptuous tone and expression. At the end of the long first movement, Threnody, she reduced her dynamic down to a whisper and drew everyone present into the palm of her hand. She sustained that quality of playing through the succeeding Estampie, Air and final Chaconne. (The intervening Jahla I, II and III were played on gamelan only.)
From the audience perspective, the concluding Concerto for Organ with Percussion Orchestra was the most aggressive of the three works on display. In composing it, Harrison explained that he had simply combined two requests into one. The "orchestra" used eight players and included several instruments made by Colvig, notably the cut-off oxygen cylinders and the cube-shape plywood drums. Harrison added piano and celesta to give the organ part some pitch support in the face of a largely pitchless percussion show.
Eruption, actually, is a better word. The third movement (largo) and final allegro built up colossal climaxes of sound and fury that left the most indelible impressions of the piece. Organist John Walker, for all the weight and sonority at his disposal, got a better deal when the percussion weren't pouring it on. The second and fourth movements (canons and "choruses") gave the work its moments of circumspection. But its episodes of thrilling violence made up the larger impact on the audience, which jumped to its feet like one person at the final volley.
What this concert did not do was disclose Harrison as the master of intimate expression. In countless of his works, delicacy and transparency define the beauty of his world. Especially in his music for small gamelan forces, and solo instruments, Harrison seems more at ease, more spontaneous and less constrained. For those who know him personally, who have taken the pleasure of visits to his home and of private conversation, it is this quieter, less "public" music that seems more at home as well. What Harrison knows about music would send most musicologists scurrying back to their books. At home, Harrison's music cohabits with his paintings, poetry, calligraphy, and other ongoing adventures of discovery that reveal themselves uniquely to the creative mind.
[ Santa Cruz | MetroActive Central | Archives ]