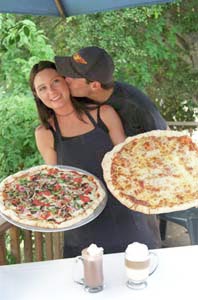 Pizza Love: Maicee Thompson (left) shows off California-style pizza specialties that have earned Coffee 9 Pizza 9 at least one devoted admirer.

Photograph by Ivan Kashinsky





Pizza Latte

New Ben Lomond cafe serves up caffeine jolts in the morning and pizza with a California flair in the evening

By Janet Blaser

MY NEW MOTOWN FOREVER CD contains 40 old school hits from the likes of Smokey Robinson, the Temptations, Jimmy Ruffin, Rockwell, and the Commodores. One of my favorites, though, is a song by Today called "Him or Me" that sounds like how I felt walking through the double doors of Coffee 9 Pizza 9 in Ben Lomond. Do I want pizza? Coffee? Pizza? Coffee? Hey, what the heck, how about both?

Owner Debbie Sanchez' concept is not really a new one for the cute little building perched on the edge of Highway 9 in the center of town; she's just taken the idea and, um, consolidated it under the one roof. Previously one person ran the pizza place in the evenings; someone else had a donut shop on the other side, open in the mornings. About two and a half years ago Debbie took over the morning side and turned it into a "real" coffee shop, with espresso drinks, gourmet pastries and bagels, etc. The pizza lady stayed on till January, when she moved on to bigger and better things elsewhere. Debbie turned the whole thing into espresso heaven.

But customers wanted their pizza fix, and finally, about a month ago, Debbie reopened the pizza side, adding a contemporary California flair with combos like smoked salmon, cream cheese, spinach and red onion, and roasted garlic with basil and tomato. She added half a dozen hot sandwiches, too ($4.75&-$5.50), including a melange of portobello, pesto, provolone and habanero cheese sausage with black beans on a bun, and says the whole shebang seems to be working quite well. "Everybody likes to have their own stuff in their own town," she says.

Debbie, who's often the bright-eyed one opening the coffee counter at the ungodly hour of 4:30am on weekdays, credits her early morning good spirits to a simple premise: "We have great people coming through here."

Lots of people live in the valley and commute to the Bay Area, Debbie says, and Coffee 9's early-bird hours and easy-in, easy-out setup make it a favorite "quick grab" spot. She keeps the place stocked with bagels, pastries and other baked goods, delivered fresh daily, and trains the staff to pay extra-close attention to exactly how everyone wants their coffee drinks made. "We always welcome suggestions," she says. "This is truly a place where you can get what you want."
---
Coffee 9 Pizza 9 is at 9505 Highway 9 in Ben Lomond. Coffee hours are 4:30am to 9pm weekdays, opening at 6am on weekends. Pizza 9 is open from 11:30am to 9pm Monday through Saturday, and till 7pm Sunday. The number for both is 336.4521.
---
Appetizer Alert
Clouds Downtown chef Anthony Schwartz has come up with an unbelievably wonderful appetizer of black mission figs stuffed with a blend of cream cheese and toasted almonds, wrapped in prosciutto and drizzled with a port balsamic reduction. The rolls are baked and served warm, becoming scrumptious melt-in-your-mouth morsels that are out of this world. These are definitely a seasonal item, and I'd advise you all to get down there and try them. Clouds Downtown is at 110 Church St., Santa Cruz. Tell them I sent you.
[ Santa Cruz | MetroActive Central | Archives ]