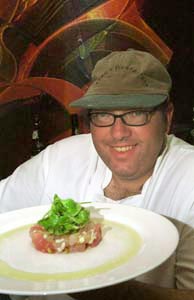 Big Bang Theory: Chef Pete Dressen of Theo's knows how to stand back and let a dish--like albacore tossed with olive oil, fennel and green olives--go supernova.

Photograph by Ivan Kashinsky





View From The Top

Armed with a stellar staff, graceful attitude and the expertise of chef Pete Dressen, Theo's remains astonishing

By Christina Waters

VIBRANT conversation, impeccable service and culinary joie de vivre--these are the elements of everyone's dream dinner. And we found them last week at Theo's. The rollicking reminiscences of companions Jocelyn and David powered the repartee--the cuisine was thanks to Pete Dressen, one of the most consistent chefs in the Bay Area. Always on the forefront, Theo's was firmly on top from the minute Dressen stepped into the kitchen. Sensitive to the seasons, his dishes are bold without boasting, beautiful without fetishism. Most of all, they're committed to the idea that fine dining can be fairly priced and taste as good as it looks.

Our waiter confidently responded to white wine inquiries with a Macon-Chardonnay 1989 from Domaine Talmard ($42)--Theo's wine list is legendary, and we were in the mood for surprises. David and I agreed on a well-made 1995 Pinot Noir from Martin Ray ($35) to go with entrees. Into the lovely crystal stemware went the crisp white Burgundy, in which Jack detected tones of green apple and minerals. Like the thick white linens, heavy tableware and jazz pitched at exactly the right level, all the serving details at Theo's are perfect--so perfect that they make you feel pampered, and then they recede, as they should, into the background.

Appetizers arrived shortly--and all at once--after we'd settled into some fragrant soft rolls. David's platter of thinly sliced Kobe beef was enchanting, the buttery beef arranged in a crimson mosaic precisely dotted with bright green fava beans ($10). A piquant ponzu sauce and a bouquet of onion sprouts inflamed the delicate beef. Jack's gnocchi--all tangy with Sea Stars ricotta--were denser than the traditional cloud-soft variety ($7). Heady with fresh basil, the emerald bites were made transcendent by the presence of an underlying tomato confit, intensely flavored--enough to embody an entire summer.

Another appetizer of foie gras, creamily sliced from a freshly made terrine and joined by a relish of tiny black lentils and sprigs of purslane, arrived with four toasted brioche points ($15). We all happily shared this melt-in-your mouth luxury. But my starter of marinated albacore, involving a field of tiny sashimi squares tossed with olive oil, lemon, fennel and green olives, was ravishing ($9). One of the knockouts of the entire meal, the dish played the pristine freshness of the fish against the unexpected flavors of olive and licoricey fennel--accented by crystals of sea salt. I believe Jocelyn threw sophistication aside and actually moaned.

Next came three entrees we shared, including a textbook fan of duck breast and leg confit ($24), a rack of oversized and supernaturally tender lamb with a micro-chopped ratatouille ($29), and the big star, a filet of beef with homemade plum sauce that could have converted any vegetarian in the solar system ($26).

Utterly tender, yet brimming with primal flavor, the beef absolutely knocked us out as did its hearty accompaniments of ethereal spatzle (yes, it is possible), fresh spinach and bracing horseradish. Dressen, armed with the finest possible ingredients, knows when to stand back and let the dish go supernova. I especially loved the pepper-crusted lamb--made opulent by sensuous herbes de Provence--with the graceful pinot. The baby turnips, radishes and potatoes surrounding the excellent duck were easily the match for the rare game and its inventive sweet/tart kumquat glaze.

Theory and actuality met in every dish, the chef's instincts in each case matched by the resulting flavor orchestration.

And desserts continued this subtle seduction.

The big hits here were Jack's pink custard parfait, perfumed with rosewater, surrounded by a pool of raspberries and a knob of whipped cream. Also miraculous was a deep dish of summer figs, blueberries and peaches, all topped with a voluptuous late harvest zinfandel sabayon ($7 each).

Theo's, where the gods dine when they're in town.
---
Theo's
Address: 3101 N. Main St., Soquel
Phone: 831.462.3657
Hours: Dinner Tues&-Sat from 5:30pm
Chef: Pete Dressen
Ambience: ***1/2 Cozily spacious seating and discreet jazz preserve the welcome of this bungalow-turned-dinner-house.
Service: **** Skilled, precise without fuss, warmly attentive--this staff has been expertly trained to represent the management with style, intelligence and integrity.
Cuisine: **** Arguably the finest dining room on the Central Coast.
Overall: Theo's offers the sort of deeply satisfying experience that only skill, quality and devotion can achieve.
---
[ Santa Cruz | MetroActive Central | Archives ]