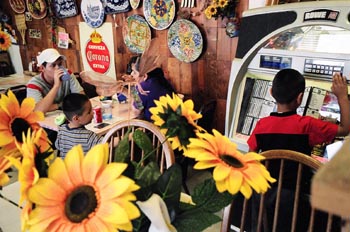 Lime-Spritzed History: Ancient dishes get a new twist at Tepa-Sahuayo.

Culinary Crusade

Tepa-Sahuayo's cuisine is a journey through central Mexico and the history of its people

By Zoe Elizabeth

Jorge H. Rivas is a culinary crusader. His Watsonville restaurant, Fiesta Tepa-Sahuayo, is his battleground, tortillas, chiles and salsas his weapons. His mission: to change the way we think about Mexican food. Before you open Tepa-Sahuayo's storefront door, the scent of roasted chiles and sizzling onions dares you to enter. If you cross the threshold, you will know something different is going on in this room that is bombastically decorated with Mexican kitsch. I sat down with Rivas last week in hopes of learning not only the secret of his immaculate mole but also why hoards of plastic fruit are glued to his walls. The answer to the latter was simple: The cluttered collage of Frida Kahlo portraits and ceramic tea cups is meant to evoke the feeling of eating in a Mexican market. The more complicated aspects of Tepa-Sahuayo's story unfolded more slowly during a leisurely conversation that was punctuated by the rhythmic patting of flour into tortillas and Rivas' abundant greeting of each entering customer.

The inspiration for Tepa-Sahuayo began when Rivas was a boy making regular trips from Guadalajara, Mexico, to visit his father in Watsonville. On these visits he was continually surprised that the only examples of Mexican food were crunchy beef tacos and sour cream-laden burritos. Ten years ago he returned to Watsonville, this time for good, to set the record straight and broaden our epicurean horizons. With him he brought his wife, children and the handwritten recipes of his mother. The menu at Fiesta Tepa-Sahuayo continues to feature the wholesome country recipes of Rivas's mother as well as others, gathered from Mexico City's most upscale restaurants. This unique blend of old and new, country and city turns a meal at Tepa-Sahuayo into a journey. It is a journey from the dense jungles of Chiapas to the cool coasts of Michoacan, from the dirt-floor, starlit kitchens of the campo to the urban sprawled, stainless steel nights of el district federal. A meal at Tepa-Sahuayo is a journey through central Mexico and it is also a journey through the history of a people.

At the table, this journey translates into dishes such as white enchiladas filled with Mexican black fungus. The roots of this hard-to-find food can be traced back thousands of years. This "simple food of the poor people," as Rivas calls it, may delightfully surprise your palate, but Rivas's intentions go beyond pleasure. Throughout our conversation he often lamented that most people know more about the ancient Egyptians than the ancient Mayan, Aztec or Incas, whose legacies are just an arm's reach across our border. I could hear the triumph in his voice as he reminded me, "In Italy they are very proud of pizza, but the main ingredient, the tomato, is from Mexico ... the potato is from Peru. ... Can [you] imagine the Swiss without chocolate?" No, sir, I cannot, and I thank you for the slowly simmered, tangy, lime-spritzed history lesson.

One could spend months traversing Tepa-Sahuayo's menu. From the shrimps cooked in rose petals (a recipe from Like Water For Chocolate that is reportedly made with the cook's tears and causes diners to fall in love) to simple street-style sopas (a dense masa crust serves as a bed for fresh grilled meats, lettuce, cheese and salsa), the menu wanders and beckons you to come along. Like time, Rivas' recipes do not stand still. The tamales, for example, are an ancient dish that receive a new twist. Wrapped not in corn husks but in poblano peppers, the masa becomes infused with a deeper, more intricate flavor that fully respects all the wisdom of tradition. When asked, why wrap tamales in poblano peppers, Rivas replies, "Why not?" The preparation takes more time, but with a cuisine that has been evolving for millennia, in a restaurant where everything is made from scratch, time is obviously not something to be worried about.

As far as Rivas' crusade goes, you can add this writer to his list of converts.
---
Tepa-Sahuayo
Address: 15 First St., Watsonville
Phone: 831.724.3492
Hours: Daily 9-9
Price: Dishes, most including rice, beans and quesadilla, $4.50-$12.50
---
[ Santa Cruz | Metroactive Central | Archives ]