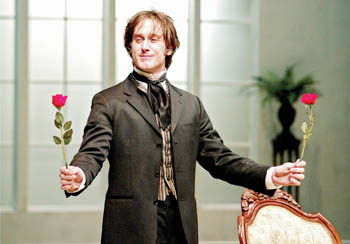 Gilbert Sans Sullivan: J. Todd Adams' Belvawney must keep his twit from marrying.

Altared States

Shakespeare Santa Cruz serves up a perfect Victorian confection with William S. Gilbert's 'Engaged'

By Rob Pratt

Anyone familiar with William S. Gilbert and Arthur S. Sullivan's operettas will instantly recognize the rapid-fire wordplay in Shakespeare Santa Cruz's second production of the summer festival season, a frothy and fun situation comedy that lampoons upper-middle-class notions of love and marriage in Victorian England. Penned by librettist and playwright Gilbert, Engaged revels in loquacity, with cascades of dialogue ornamenting a single comic premise that rises to an uproarious conclusion.

Directed by festival artistic director Paul Whitworth, Engaged unfolds with breakneck speed, the skilled cast delighting in every comma, semicolon and exclamation of Gilbert's whirligig script. The story centers on Cheviot Hill (Eric Siegel), a miserly upper-middle-class twit with a habit of proposing marriage to every beautiful woman he meets. His longtime friend Belvawney (J. Todd Adams) earns £1,000 annually by ensuring that Hill never mounts the altar. Hill's uncle Symperson (Mark Bramhall) stands to earn the annual sum if Hill marries or dies. The result by the end of the first act is a thicket of intertwined interests, promises and betrothals-only one of which involves something resembling love.

Siegel plays the self-absorbed Hill with seemingly boundless kinetic energy, fast-forwarding through Gilbert's wordy speeches and dense dialogue without missing a single zinger. His comic timing is impeccable, and in delivering absurdity after absurdity, Siegel leaves the audience with little chance to catch a breath between fits of laughter. Jenni Kirk as Minnie Symperson, one of Hill's betrotheds, earns subtle laughs with a flirt and a flounce and a calculating brow-not to mention an endearingly funny Victorian interpretive dance at the opening of Act 3. Adrienne Dreiss as widow and would-be wife in limbo Belinda Treherne, Adams as piano-playing and parlor-conjuring Belvawney and Bramhall as the scheming Symperson also turn in fine comic performances.

Though Shakespeare Santa Cruz takes great care in carefully presenting accurate texts for each of its productions, Whitworth has tapped composer Gregg Coffin to craft original songs that are inserted at the opening of each act. These openings are an artful touch-especially in the third act when Coffin's setting of a pair of verses in Gilbert's script segues into Claude Debussy's Claire de Lune, which Adams apparently performs live on a piano at stage right. Kate Edmunds' sets and B. Modern's costumes are likewise artful.

Light, a little flaky and tart at the center, Shakespeare Santa Cruz's Engaged is a delightful concoction, a dessert pastry that's no less welcome for its low nutritional value. It may not be heady stuff that devoted festival patrons will recount for years to come, but it's a charming piece of theater done with a great deal of skill and class.
---
Engaged. A Shakespeare Santa Cruz production at the Mainstage, Theater Arts Center, UC-Santa Cruz, plays in repertory through Aug. 28. Tickets are $10-$40, available by calling 831.459.2159 or online at www.shakespearesantacruz.org.
---
[ Santa Cruz | Metroactive Central | Archives ]