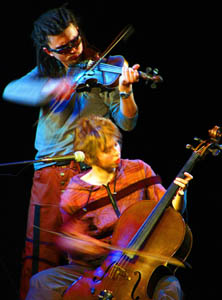 Warsaw This, Then?: Wojciech bows to the power of history (Bono glasses available separately).

Polish Spring

The Warsaw Village Band brings culture and consonants to the Kuumbwa

By Peter Koht

With the possible exception of the Balkan states, Poland got the rawest deal in World War II. Invaded in 1939 by the Nazis, Poland lost 3 million of its Jewish citizens and was systematically betrayed by its supposed Allies both during and after the war.

Poland was the only occupied nation never to form a puppet government under the Nazis. Within weeks of the capitulation of Warsaw, Poland had reconstituted its army, political leadership and intelligence services in exile. These Free Poles participated in the liberation of Europe and greatly aided Allied cryptography efforts.

Despite all these heroic gestures, Poland's internal push for liberation, the Warsaw Uprising, was betrayed by the Soviets in order to prevent Poland from gaining independence. The Red Army idled for two months along the River Vistula, mere kilometers away from central Warsaw where the Germans responded to the uprising by killing 18,000 Polish insurgents and a quarter of a million civilians.

Once the uprising was crushed, Poland had no hope of evading Stalin's grasp. For the next half-century, Poland was a serf to its Eastern neighbor. Its wealth was plundered, its politics controlled and its culture subjugated.

Appropriately enough, the Warsaw Village Band's violinist, Wojciech Szpak Mc Krzak, and I spoke on the 61st anniversary of the Warsaw Uprising. Like the freedom fighters who died on the barricades trying to resurrect Poland's autonomy, Krzak and his band are trying to preserve Poland's once vibrant folk traditions.

"Fifty years of communism were a nightmare for traditional music," he says. "The government only wanted to have one way of thinking about Polish traditions. They had these folk groups that had no connection with the real roots. It was more like Chinese or Mongolian music than anything really Polish."

Krzak explains that under the communist government "everything that was connected with Polish traditions was a little bit shameful." Accordingly, primary sources of cultural information were hard to find. Krzak and his band mates had to undertake multiple treks out to the countryside to learn about Poland's authentic musical history.

With the collapse of the Warsaw Pact and Poland's entry into the European Union, musicians in Poland are finally able to chart their own artistic paths. While the Warsaw Village Band are fully capable of dropping some dub or even the occasional Indian lick into their arrangements, they are mainly concerned with representing their own cultural identity.

Balkan and Romanian music have long been staples for world music fans, but Poland's folk music is still relatively unknown. This group serves as an excellent introduction for curious ears. Grounded by twin sets of drums, a cello and a suka, which is a 16th-century six-stringed fiddle, the texture is relatively thick. All that percussion, combined with stylized shepherd calls and intense interplay between the group's two traditional fiddles, makes for a brand of music that is more kinetic than the kind of folk music found in most Greenwich Village night spots.

Audiences outside of Poland have lauded this group to a level that is unknown in their native Warsaw. "In Poland," Krzak says, "people think that we are crazy young guys, but for people in Western Europe, they really want to know about our traditions."

This curiosity has propelled the group into the international spotlight with appearances throughout Europe and America. They've even picked up a BBC World Music Award. The sudden flurry of attention hasn't turned Krzak's head. At the end of the interview, after some deep reflection on Poland's tragic history and its effect on traditional culture, he mentions another motivation for playing that slices right across political and geographic boundaries. "Even though the basis of our music is about reviving our traditions, it's still about having fun."
---
The Warsaw Village Band performs Wednesday, Aug. 17, at 8pm at Kuumbwa, 320 Cedar St., Santa Cruz; tickets $17/adv, $21/door; 831.427.2227.
---
[ Santa Cruz | Metroactive Central | Archives ]