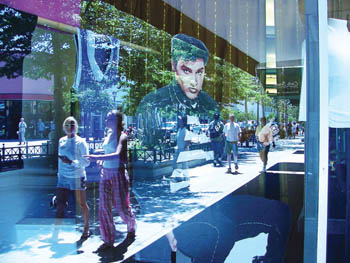 Elvis Is Everywhere: Who built the pyramids? Elvis! Who built Stonehenge? Elvis! Who's coming back to Santa Cruz? Elvis!

Nüz

Waxing Political

Where is Martin Sheen when you need him? That's what the Dems must have been asking as main hope Sen. Dianne Feinstein dodged the recall circus, leaving Lt. Gov. Cruz Bustamante--a pudgy, balding man whose name sounds like an Italian dessert--as their only alternative.

Nüz decided at the last minute not to throw its hat into the recall race, despite a promise from Gary Coleman that he would drop out in the event of such a candidacy. However, we do want to declare formally that none of what's happened in the last week bodes well for the actual governance of California, what with Arnie declaring on The Tonight Show that running for governor was the hardest decision he'd ever made, "except in 1978 when I decided to get a bikini wax."

When Jay Leno asked if he was ready for the nastiness that is California politics, the Kindergarten Cop smiled and said, "Larry Flynt is gonna make me shine. ... We all know Gray Davis can run a dirty campaign, but he doesn't know how to run a state."

Which got Nüz wondering whether the Gray Davis motorcade caught clocking 94 mph last week was driving in anger or panic?

As a further indication of just how bad things are getting for everyone but Arnie, Nüz received a call from Press Manipulation Sergeant (PMS) Man, a self-described "Jewish leftish Naderite," who, instead of rallying behind Green Party hopeful Peter Camejo, intends to support the former Mr. Universe by flying an inflatable Arnie doll out the window of a Arnie art car--coming to town soon.

"It's not everyone that makes a movie and writes a check to the Holocaust Museum in Los Angeles," PMS man explained. "Arnie's already such a brilliant politician, putting out the false rumor that he was leaning against running, waiting for Feinstein to withdraw from the race, then getting 24-hour coverage from the media. Sure, the tallest candidate always wins, but the key thing that qualifies Arnie is that he has plenty of money. That alone is enough to get my vote. He's exactly what we need. A filthy rich governor who won't be a whore."

PMS Man, how could you?

Stark Raving Elvis

It seems strangely fitting that all this is going down during Elvis Week, a seven-day celebration of the wild white--and Republican--boy from Memphis, who took his style from religion, dragged rhythm & blues out of the closet and set the stage for Eminem.

Did the American Dream kill Elvis or did the myth of Elvis kill the American Dream? Perhaps it's true what that former (and sorely missed) Santa Cruz band Spot 1019 once said, "As if any amount of sedates could ever kill a legend." All Nüz knows is that the King has been spotted in storefronts downtown, even posing with stand-omatic alien heads in the front window of the Playa.

Beyond the obvious "He's with the aliens" explanation for such sightings, event coordinator Diane Bianconi McNeill suggests that Elvis is in Santa Cruz to celebrate the Del Mar's 67th birthday bash, which just so happens to fall on Elvis' Aug. 16 Death Day.

"We built this town on rock & roll," says McNeill, who graduated from Santa Cruz High in '64, when Elvis' movies were playing at the old Del Mar. "We all went to see each film five times."

That's all fine and good, Diane, but Nüz would like to point out that it is extremely uncool to reference Starship when you're talking about Elvis. Ah, but now we're just being bitchy, and why should we when proceeds from the Del Mar's Aug. 16 showing of Jailhouse Rock will help complete the Del Mar's ceiling and chandelier restoration. Call 831.469.3224.

Grassroots Are Always Greenest

What defines a "grassroots meeting"? Choice of the coffeehouse, number of people, strength of ideas discussed?

To find out, Nüz checked out two such gatherings last week, when local supporters of Democratic presidential candidates Dennis Kucinich and Howard Dean met separately on the same night.

Over at the Union Street coffeehouse (formerly known as the Jahva House), Nüz discovered a lone duo of DK supporters: Zach Dahl, an environmental consultant who contributes to The Meridian, and Pat Reilly, president of the Intellectual Property Society. Both speculated that the other blades of grass were at the Aug. 6 Hiroshima Die-In, a protest/memorial for Hiroshima.

Dahl, who is no relation of Roald, but is responsible for the navy-blue T-shirts that say "Kucinich" on the back and provide a whole lot of reasons for voting for the 5-foot-5 vegan from Ohio, spoke at length about the Menace's promise to repeal the Patriot Act and his antiwar stance.

"There is doubt about his viability, but you should support the candidate who has the best ideology. Vote for the person who has the strongest commitment to what you want," he said. "Many people who used to vote Green, who had become disillusioned about the two-party system, are showing up in support of Kucinich because of his strong stance on the important issues."

Meanwhile, across town at the Roaster, two dozen supporters of Howard Dean showed up to compose handwritten letters to on-the-fence Dems in New Hampshire, while also claiming lots of former Greens as part of the burgeoning Dean for President fan club.

Mario DeBernardo, vice chair of Santa Cruz for Dean and a legal assistant aspiring to law school, talked about Dean's eloquence and viability but was less sure about his man's policies.

"I'll have to get back to you on that" was his response to questions about Dean's stance on gay and lesbian issues, the Patriot Act and health care .

"People are here because they care," declared Santa Cruz for Dean chair Skylar Porras, even as a schoolteacher, a contractor, a retiree, a newspaper delivery person, a PR woman and a high school student all cited Dean's "likability and viability" as reasons for supporting him.

Only Gabe Winant, a high school senior from Philadelphia, in Santa Cruz for the summer, seemed to be notably familiar with Dean's specific platforms.

"He's not perfect, but he's willing to take an unpopular stance--like on gay marriage--and I like that," said Winant. "Kucinich doesn't appeal to a broad enough constituency."

Giving Dubya the Slip

On Aug. 15, the indefatigable Coalition for Impeachment Now! (COIN!) will hold a 5:30pm rally and press conference at City Hall, shortly before Rep. Sam Farr gives his annual Town Hall Meeting, 6:30-8:30pm.

Say COIN! supporters, "It takes just five congressional representatives to start the impeachment process rolling. Wear pink to give this admin a pink slip! Let's help Sam take the lead in this most urgent matter!" Nüz does agree that President Bush would look adorable in a pink slip. But is he man enough to wear it?
---
Nüz just loves juicy tips: Drop a line to 115 Cooper St, Santa Cruz, 95060, email us at , or call our hotline at 457.9000, ext 214.
---
[ Santa Cruz | Metroactive Central | Archives ]