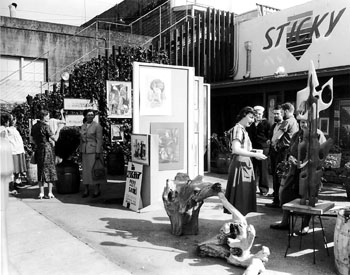 Covello & Covello Historical Photo Collection

Original Sticky Wicket: This particular art show was held Oct. 6, 1958, at the original Sticky Wicket, a coffee house on Cathcart Street. You can see the stairs going up to the back rooms of the Catalyst. The Wicket later moved to Aptos and is mostly known as the birthplace of what became the Cabrillo Music Festival.

Bruce Bratton

THE CITY'S UTILITY TAX. At last Friday morning's Downtown Association breakfast, Martine Bernal, the assistant city manager, spoke about the utility tax. He said that 158 cities in California have a utility tax. Scott Kennedy said that if the tax is repealed, the Civic Auditorium, London Nelson Center and Harvey West Pool would close within about three days. Bernal also said that the city is running on a reduced budget now, and that many positions are vacant and won't be filled if the city loses the income from the present utility tax. Mike Schmidt passed out a yellow flier to the DTA about why the tax should be repealed. As usual, the usual suspects--Steve Hartman, Bob Lissner, Bob Thomas who owns Outdoor World, Alan Bailey and Schmidt--left their names, or any names, off this yellow flier. Lissner, who owns the property housing the Kuumbwa, Poet and Patriot, and the Bagelry, did tell me that Carolyn Busenhart "is not in on this one," which is surprising.

EASTWOOD ACTING SCHOOL. My theory is that Clint Eastwood taught Sylvester Stallone how to act. Sylvester taught Keanu Reeves. Reeves then taught Vin Diesel. I left out many graduates, I know, and there are many obviously self-taught people in films, but you get the idea. Don't go see XXX or Blood Work for any obvious reason. Maybe if you want to see Eastwood's wife as a TV reporter or hear Lennie Niehaus' version of West Coast jazz you could go, but otherwise stay very far away from these films.

MARIANNE'S ICE CREAM. Somehow over the years, I'd forgotten how good Marianne's ice cream is. I'd also forgotten that it's not only better than Häagen Dazs, but the redi-pack quarts are half the price of Häagen Dazs and all the nationwide, heavily marketed brands like Godiva, Ben & Jerry's and Dreyer's. Marianne's makes 75 flavors, and aside from the fun of getting a cone at the home store at 1020 Ocean St., you can get those quarts at Zanotto's, Staff of Life, New Leaf, Shoppers Corner, Grady's, Casey's Ice Cream in Scotts Valley and Aptos Natural foods. We'll discuss health issues at a later date.

CLEAN WATER DAY. This Saturday is Clean Water Day, and it'll be celebrated at Cowell's Beach from 11am to 3pm. It'll be spectacular. Everybody can paddle out on anything and form a circle, a huge circle, and then the Coast Guard will have a vessel with a huge nozzle in the middle of the surf ring and create a living fountain. You'll need all sorts of cameras to capture this. Then there's a free concert by George Kahumoku Jr., famed Hawaiian slack-key guitarist. Besides all that, there will be barbecue and booths set up by water-friendly businesses--and there'll be awards given to Watershed Heroes. It's all being hosted by the Surfrider Foundation, the Coastal Watershed Council and the City of Santa Cruz. Dozens of agencies have worked for more than 30 years to clean up our rivers and ocean. This is a day of celebrating those efforts and to teach us all how important Earth's waters are. Call 425.1363 for info.

READ MY LIPS. It's not what you think--it is the poor title for a fine film. It's French, a thriller about a lonely woman who gets involved--very involved--with an ex-con. The ex-con is not only uglier than Gerard Depardieu, his film makeup even copies Depardieu's nose. It's an excellent film, especially if you haven't seen Paris lately.

RIVERS AND TIDES AGAIN. Never mind about my saying I'd be critiquing this documentary from another point of view. I don't have the space to bring up other contrary points, and resolve them. I have yet to hear from anyone young or old, artistic or not, who hasn't been completely impressed with this film about Andy Goldsworthy now at the Nickelodeon. You don't need to know anything about art or even like art to love this film, it's that beautiful. According to Chuck Hilger at MAH, there are other artists in England who are doing more or less the same thing, but we haven't seen much of their work as yet. All film critics love it and actually plead with everybody to go see it, and so do I.

BEGONIA FESTIVAL--THE END? Inside sources say two things about this year's 50th annual Capitola Festival. One is that it isn't really the 50th, since the first Official Begonia Festival was in 1954. (that makes it the 48th). Capitola officials fudged the date about 15 years ago. The other thing you hear is that this may be the very last Begonia Festival, or possibly one or two more and that's it. The sand castle contest and all that other stuff? Who knows? But it is certain that Sandy Lydon will emcee this year's festival, and no, he didn't tell me any of the above--I haven't talked to him for months.

THEATER NEWS. Carmel's Shakespeare Festival as produced by the Pacific Repertory Theatre began a four-year, 10-play Shakespeare's history cycle in 2001. Last year they did Edward III, Richard II and Thomas of Woodstock. This year, they're doing Henry IV, part 1, Henry IV, part 2, and Henry V all at the Golden Bough Theatre. Not only that, but they're doing Shakespeare's comedy Merchant of Venice from Sept. 27 to Oct. 12 in the Outdoor Forest Theatre, with Apollo Dukakis as Shylock. Try going to www.pacrep.org for info or call 831.622.0100. Other news is that the world's only Doreen Devorah is doing a staged reading of the Tony award-winning play The Belle of Amherst. The B of A is based on the life and works of Emily Dickinson. Doreen's doing it once only this Saturday at 7pm in the Boulder Creek United Methodist Church one block up from Foster's Freeze on Mountain Street. Call 239.7234 or 479.7798.
---
Bruce critiques films every other Thursday on KUSP-FM (88.9). Reach Bruce at [email protected]
---
[ Santa Cruz | Metroactive Central | Archives ]