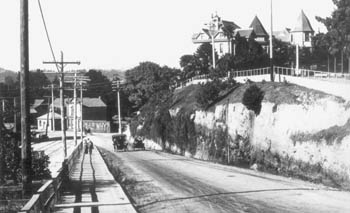 Covello & Covello Historical Photo Collection.

Near Beach Hill, Circa ?: My 1915 map of Santa Cruz doesn't even show this street. It shows Pacific as dead-ending right at Third Street. Pacific is at the bottom of this shot. Those are the Union Traction Company railroad lines at the bottom left of the photo.

Bruce Bratton

HOME TOWN ADVANTAGE. Check out this monthly bulletin at www.newrules.org/hta/. Click on the link for the August issue which has several paragraphs about relevant topics. One is about how independent pharmacies are on the rebound. Two hundred forty-four new independent pharmacies opened last year. Rite Aid lost 145 stores, but Walgreens opened 344 new stores. Independents consistently outscore chains, supermarket and mail-order pharmacies on consumer surveys. According to the article, mail-order companies are the biggest threat to independents. As I've mentioned many times, call Longs, Rite Aid, Safeway or any local chain, then call your nearest independent--the independent prices are usually much lower. The Home Town Advantage tells how a Brooklyn neighborhood kept IKEA from opening. It tells how Belfast, Maine, voted to ban retail stores larger than 75,000 square feet and how communities all across the country are stopping mega box stores from opening or enlarging. It also tells about the problems with Costco opening gas stations at their locations. We need to get on top of this problem. Home Depot's plot to open in Watsonville is looking more and more real, and our Costco wants to expand and add gas. If anybody's speaking to the Santa Cruz City Council, tell them to get with the program. Our County Board of Supes needs to hear our concerns about Home Depot too. The Advantage goes on to tell about independent restaurant associations forming all across the country to stop the national restaurant chains. One restaurant ad in Seattle said "locally managed." Well, of course. McDonalds, Taco Bell and other chains are locally managed--that's an obvious cop-out. Try www.indrest.org for more about restaurants. There's more, and we'll get to it.

SEATTLE'S RING. Reviewers and critics from all over the world were there to cover these operas last week. Most of them are now taking many columns longer than this one to report on the event. I'm working on ways to tell you my reactions; it isn't easy to summarize what Seattle accomplished. It was beautiful, had a few real emergency problems and contained some absolutely startling changes from the usual Wagner interpretations--and, yes, the workshops even dealt with Wagner's anti-Jewish writings. I'll keep working on what it all meant and get back to you ASAP.

CABRILLO MUSIC FESTIVAL. Just as the Seattle Opera has specialized in Wagner works, the Cabrillo Music Festival, since its beginning, has made a name for itself by featuring new music. It's won many awards for its emphasis on music of this century. Marin Alsop, the conductor and music director, has certainly continued playing this new music. I'll bet the presentation of Philip Glass' mixed-media work The Photographer was the finest ever done anywhere in the world. It's minimalist to the max, which means complex, involved and demanding, and the festival pulled it off beautifully. Too bad Glass wasn't here to enjoy this production. I returned from Seattle in time to hear the closing concert, which featured composers Christopher Rouse, James MacMillan and mystic Einojuhani Rautavaara in the Mission at San Juan Bautista. Damned if I didn't hear a bit of Wagner in places. These are young composers and have much to learn in using the subtle parts of an orchestra's voice, but it was definitely exciting, well played and enjoyed by almost everybody, as new music usually is. We should be very proud of the Cabrillo Music Festival and support it in every way possible.

LOVELY GIG HARBOR? As previously mentioned, I stayed in Gig Harbor at Al Johnsen's place while attending the Seattle Opera's production of Wagner's Ring (all four operas) last week. The harbor in Gig Harbor is beautiful, but the surroundings are getting depressing because it's all like Santa Cruz. There are about 50,000 folks living in that area. They, too, have gridlocked highways from Olympia to Seattle, but they widened them to eight lanes plus a diamond lane; of course, that worked for only about two years. Now their auto addicts, like our auto addicts, are screaming for building more bridges. Bridges in Washington are like our widening Highway 17. It gets positively weird to drive along Washington highways and freeways and see Safeway, Hollywood Video, Target, Payless Shoes, Papa Murphy's Pizza, Dairy Queen, Denny's, Round Table Pizza, McDonald's, Rite Aid, Ace Hardware, Costco and Gottschalks. Soon to come to Gig Harbor are Home Depot, Albertson's and yet another Target. There are an increasing number of cities and towns in the United States who have seen advantages in stopping all of above, but Gig Harbor isn't one of them yet, and Al Johnsen sees little hope of it changing. Flying back home, it was amazing and depressing to see all the clear-cutting along the west coast of Oregon. I'm sure all their residents were told it was sustainable-forestry practices and careful environmental thinning, just the way we're being pitched to.

BABY GRAMPS COMING. I'm not going into details about B. Gramps, other than to says he's a guitarist and singer and has a following at least as loyal as Wagner's. He's also a leading palindrome addict (word or phrase that reads the same backward and forward). He now wants us to know "Samaroid porch crop tops novel evons pot porch crop dioramas." Baby will be at Henfling's Wednesday (Aug. 22) at 8pm. Call 335.1642 for tickets. You could ask Mr. Gramps about "samaroid" and "evons"--I'm not exactly clear on those things.

MORE THAN OPERA. In addition to experiencing more than 17 hours of opera in Wagner's Ring (one lasted from 6:30pm to midnight) and another six hours of symposia and talks on the Ring every day, I managed to ride Seattle's monorail, ride up the Space Needle and visit the International Fountain every day to watch the kids get soaked and play in this magnificent water sculpture. We need a monorail and an interactive water sculpture. I also spent hours reminiscing with former Santa Cruzan Al Johnsen. Al taught pottery at UCSC, created Scott Creek Pottery, taught hundreds of students, invented an unique pottery tool, left here about 12 years ago and has many friends in our area. We talked about everybody in Santa Cruz, from Lou Harrison to Dick Bender. In between those two, we rattled on about Alexandra Kennedy, Gene Hulten, Jim Houston, Anne Easley, Alicia Santana, Elizabeth Hulten, Rik and Isabelle Rosenlund, Nancy Abbey, Chuck Hilger, Jeannie Houston, Gene Manners, Joel Magen, Page Stegner, Dave McGuire, Richard Alderson, Karsten Johnsen, Charles Wolters, Phoebe Fisher, Manny Santana, and John Tuck. As I said, we covered lots of old territory. It was good fun, and Al's doing very well and leaves for Spain shortly.

GARAGE ART, ANOTHER VIEW. When I wrote about Vicki Scuri's transportation art panels on the Front Street garage there were things I didn't know about. There were no local artists who could handle the complexities of creating this type of public art. Vicki's work was revised several times on demand by local pressures, which is not an easy thing to handle for any artist. And there was no arts commission to help or assist in these choices involving this first expenditure of the city's 2-percent share of new capital-improvement projects. Now there is, or will be, a commission to work on future community art projects. All things considered, let's give Vicki a break now that we know what she had to work with.

WASHINGTON BUMPER STICKERS. I saw these right near the Opera House in Seattle: "My President Is Charlton Heston" and "Impeach Clinton and her husband." That's Washington for you. On the other hand, they do have Kopachuck State Park and the beautiful bridge across the Tacoma Narrows (formerly known as Galloping Gertie). This new bridge was built better than Gertie, and I drove over it twice a day.
---
Bruce critiques films every other Thursday on KUSP-FM (88.9) at 12:50pm. Reach Bruce at [email protected] or at 457.5814, ext. 400.
---
[ Santa Cruz | Metroactive Central | Archives ]