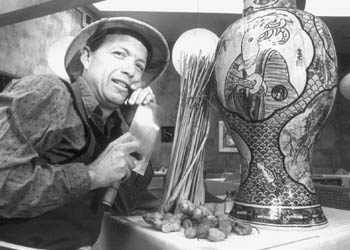 Photograph by Robert Scheer

Name Game: Chef Joseph/Jozseph Schultz revives the art of squid cookery this weekend.

Squid Pro Quo

Cephalopod sensations return for one day of tentacled taste treats

By Christina Waters

IT'S AUGUST in Santa Cruz--and a culinary calamari caper hits town this Friday (Aug. 17). Sound like déjà vu? It should. This one-night-only Calamari Feast is indeed brought to you by the man who helped put squid on the map, well at least on Squid Row: Jozseph Schultz. (We're not sure whether the man formerly known as Joseph Schultz has had his name legally changed to incorporate his bygone restaurateur identity--but we'll get back to you on that.)

Schultz emailed me to explain the format of the event. "We're going to serve in a modified family style, so that everyone will get a range of the calamari repertoire. This is a Joze retrospective, so all of the faves will be there." Those who recall the glory days of India Joze Restaurant will grow misty at the thought of the former August Calamari Festival, when the kitchen turned out a steady stream of dreamy dishes involving international stylings around the highly adaptable theme of calamari.

Schultz will be whipping up those herb-laced, spice-intensive entrees, such as Kalamarakia Tighanite, the fabulous Greek calamari with Skordalia walnut-garlic dipping sauce, and Pla Muk Tom Yam, a Thai calamari specialty involving fresh lemon grass and kaffir lime. Come on down and sample Mee Krob, a Thai crispy rice stick with sweet-tart-spicy calamari prosciutto glaze. From the Mediterranean cuisine, guests can enjoy a chilled calamari insalata di mare in Italian vinaigrette, and Sicilian fresh pasta with calamari, prosciutto and parmesan.

But as far as I'm concerned, the real reason to make plans to visit the Calamari Feast is the chance to taste Jozseph's Tjumi-Tjumi Djawa, in which calamari is wok'd in a shamelessly voluptuous Javan tamarind pesto curry that will send your taste buds back to Eden. Fans of Dragon Calamari--the spicy Vietnamese dish involving ginger, mint, cilantro and a smothering of Gado peanut coconut milk sauce--won't be disappointed either.

There will be lots of Joze coolers to choose from as well as various wines. This one-night attack of the giant squid occurs at 7pm, at Louden Nelson Center--301 Center St., Santa Cruz--and costs a mere $35. All proceeds benefit the arch-politically correct mission of Media Watch. For more information, call 423.6355 (www.mediawatch.com)--seating is limited, and advance reservations are required!

Fish Story

That's right, it was our very own Shadowbrook Restaurant whose recipe for Grilled Salmon With Ponzu Sauce and Vegetable Slaw was featured in this month's issue of Bon Appetit. "That salmon entree is one of our most popular dishes," admits Shadowbrook owner Ted Burke, who revealed that Shadowbrook chefs Eric Conover and David Hally "originally created it as a light entree for the Rockroom Lounge." But now it's moved into legend. If you don't have the August issue of Bon Appetit, here's a better idea. Make reservations at the Capitola landmark and sample the popular dish for yourself. Shadowbrook is still perched on the hillside at 1750 Wharf Road, Capitola (475.1511).

Wine-o-rama: At this summer's California State Fair, our own David Bruce Winery took two coveted awards. The 1999 Pinot Noir, Russian River Valley, took a Gold Medal, and so did Dr. Bruce's 1999 Petite Sirah made from Paso Robles grapes. Get thee to a liquor store and put away a few bottles for a special occasion in a year or two.
---
Email me your hot food tips, new favorite restaurants, discoveries, gripes and sudden culinary insights. You tell me--I'll tell everybody: [email protected]
---
[ Santa Cruz | Metroactive Central | Archives ]