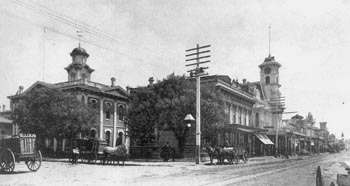 Covello & Covello Historic Photo Collection

Cooper and Pacific, 12:42pm, Pre-1894: This is another of my favorite downtown photos. You're looking right at the corner where the new Cooper House sits (or stands, depending on your point of view). That's the old Town Clock sitting in its original position high atop the old Odd Fellows Hall. That's the once classic-looking Santa Cruz County Court House on the left.




Bruce Bratton

COMMERCIAL COAST BUNK. As evidence of just how commercial our California coastline has become, leave Santa Cruz, hit Highway 101 at Prunedale, go south to Oxnard, take Highway 1 through Malibu and go to Santa Monica. On the way, starting outside of Salinas, there are so many shopping centres, esplanades, pavilions and crossroads, you can't tell them apart. The Wal-Marts, PetsMarts, Hollywood Videos, Blockbusters and Targets seem to be spaced about a mile apart. Atascadero even has a Polo Ralph Lauren Outlet in its centre, or whatever they call it. It's painfully obvious that developers focus on any neighborhood near 101 or 1. What makes all this commercialism at each offramp so tragic is that Santa Cruz is no different. Back a few years, we fell for the same pitch and have the Gateway Plaza to live with. Home Depot's aiming to get in as close to our main freeway as possible, and you can bet there are plans on several developers' boards we'll hear about soon. What you can't see zooming by those centers are the number of empty stores as folks are beginning once again to switch to shopping and living closer to their downtowns. We've got to plan further ahead.

DATELINE LOS ANGELES. I'm leaving here Monday morning, the opening day of the DNC, as all the papers call it: the Democratic National Convention. The looming questions in the press are all about the police. The LAPD is known as the "cruelest" police force in the country. Can they handle the protesters? Will the governor call out the National Guard? How will Gore handle the dissent on TV? Did the police buy enough extra tear gas and rubber bullets? With the freeway offramps near the convention center closed down, how will traffic flow? Since all the water in fountains near the center has now been replaced with sand, will that help quell the protests? In case our local press didn't run the protest schedule, Monday was Human Needs Not Corporate Greed with a mass march. Tuesday was the Shadow Convention hosted by Arianna Huffington. Today is the march and rally against mass incarceration, police brutality and the death penalty. Thursday is the rally to stop sweatshops, promote a living wage, ensure immigrant rights and end global economic injustice. The editorial in the Santa Monica Mirror sez, "Forget the Democrats and Republicans. The real action won't be found inside the Los Angeles Staples Center on the opening day of the convention, but all over Los Angeles. See you on the street."

MEANWHILE IN CUBA. Author, poet, film critic and Santa Cruz Artist of the Year Morton Marcus will introduce and talk about the Cuban-produced film Guantanamera at the Live Oak Grange on Saturday (Aug. 19) at 7pm. Guantanamera, aside from being a fine entertaining film, shows that Cuban filmmakers possess the same determination as Cuban musicians. They have continued against all odds to create--not with money as a goal but for the art itself. The film was made in 1995 by famed directors Tomas Alea and Juan Tabio and gives a fine sense of life in Cuba. The Live Oak Grange is at 1900 17th Ave., not far from Capitola Road. Call 425.5231 or email [email protected] for more information.

L.A., PART 2. Millions have been spent spiffing up Olvera Street, huge new 100-foot-high pylons and 32-foot-high LAX "welcome lights" have been installed at the L.A. airport as part of a $112 million airport construction project; streets and sidewalks have been painted to look like tiling; and L.A. is trying very hard to become the cultural center of the U.S., especially for the DNC. Angelenos remember that the last time the Democrats convened here was when JFK was nominated in 1960. The LA Weekly of Aug. 11 said, "L.A. back then was the very model of the middle-class paradise." Now the middle class has vanished, and L.A. is the latter-day version of the New York of the 1900s: a vast settlement house for immigrants and a proving ground for a renascent American left.

DISTRICT ELECTIONS. Hoo, boy, is this going to be an issue in November's election. Blood, sweat and tears are being shed as candidates figure exactly how they're going to state their position. With all the university vote being compacted into one district, you can bet UC's administration cares deeply about the outcome. The over- and underhanded ways UC involves itself in the yes campaign will provide plenty of surprises in the next 11 weeks.

CABMUFEST AGAIN. The sold-out evening starring Mark O'Connor and Nadja Salerno-Sonnenberg at the Civic Auditorium was fantastic and offered another example of our friendly and unique hometown cultural side. Both Nadja and Mark obviously enjoyed themselves as they played very happy samples of their particular and differing musical styles, then joined in on Mark's Double Violin Concerto. The audience at the Civic had just as great an evening, and next year you really should go to at least one Cabrillo Music Festival concert.

THOSE BIOMEDICAL GOATS. I got a call from a reporter with the North County Tribune in San Luis Obispo. She wondered if I knew anything about the Stephensons and the Santa Cruz Biotech Goat Operation that had just left Back Ranch Road up the coast off Highway 1. I gave her all the contacts I could think of and a summary of the opposition in this county. She said San Luis Obispo residents are just becoming aware and alarmed over the idea of having thousands of biomedical goats stripping their hillsides and polluting their rural environment. I'll keep you posted, if I hear any news from SLO.

BACK IN L.A. I think we should adopt Santa Monica as a sister city, or vice versa. Just reading Santa Monica news in the various free and daily papers should convince anybody our Santa Cruz issues are far from that singular, or odd, or off-base. Santa Monica is dealing with a living-wage initiative, the Santa Monicans for Renters Rights are about to endorse city council candidates, there's a "near-dreadful" relationship between the Santa Monica College administration and the city, Target wants to build a large retail store downtown--and that scares everybody because usually Target "builds in suburban settings," says the Santa Monica Mirror. There's a group of tenants, including one named Morris Abram, who are seeking City Historic Landmark designation for some old craftsman bungalows that the owners want to tear down. Santa Monica just approved a traffic plan for its section of Pacific Coast Highway. It'll cost $3.2 million and will cover Route 1 from the McClure Tunnel in Santa Monica to Trancas Canyon Road In Malibu. The plan consists of traffic-light monitoring, control and real-time management of traffic information. The city hopes it will increase mobility, reduce congestion and enhance air quality. It was funded by a half-cent sales-tax grant, and the County Department of Public Works will administer as the lead agency. You don't suppose that this project, which is projected to reduce traffic problems along nearly 20 miles of Highway 1 through Malibu, would work for a few miles from our Fish hook south? As I say, maybe we should look and listen closer to what Santa Monica's doing.

BUMPER STATEMENTS. John Roevekamp saw one that said, "Stupidity Should Be Painful." R.M. Witmore sent in a bumper statement that read, "Love Your Mother [picture of Earth] ... Don't Become One!" Amy Penfield helped correct that palindrome from last week. She said it should have read, "Aha! May? A Yamaha!" It does make more sense that way, if you're into palindromes, that is. Speaking of being into palindromes, Amy also mentioned an entire palindrome book titled "Dennis Sinned." I'll probably wait and see the movie, but then again you'd only have to read the first half, right?
---
Bruce critiques films every other Thursday on KUSP (88.9FM) at 12:50pm. Reach Bruce at [email protected] or leave messages at 457.5814, ext. 400
---
[ Santa Cruz | MetroActive Central | Archives ]