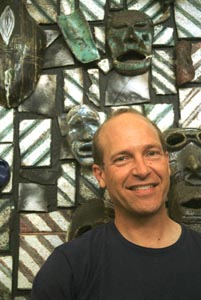 Planning Obsolescence? Former Santa Cruz mayor Bruce Van Allen took a leading role in developing the county's new Cultural Action Plan, but will he be around to see it come to fruition?

Photograph by Ivan Kashinsky





Culturally Deprived

The latest countywide Cultural Action Plan was finished eight months ago. Is there anything yet to show for the $135,000 it cost? Not much.

By Julia Chiapella

SOME PEOPLE MAY NOT know it, but Santa Cruz County has a Cultural Action Plan. It recognizes our cultural history. It honors our diversity.

It has some problems.

Except for the passion of the plan's supporters, there is no impetus for implementation. Rolled out to the public last December, the Cultural Action Plan (CAP) makes no one accountable for fulfilling it, and no local groups contributed money to create it. "The hard thing about planning," says Community Foundation executive director Lance Linares, citing Mark Twain, "is that somebody has to do the work."

Santa Cruz County has a reputation as a haven for artists. Events like Open Studios, Cabrillo Music Festival and Shakespeare Santa Cruz support that notion. Within the arts community, there is much-touted support for artists, yet talk to any artist and he or she will tell you how difficult it is to stay afloat financially in this environment.

The Cultural Action Plan, produced by the Community Foundation and the Cultural Council of Santa Cruz County, attempts to address many such dilemmas for artists. But its biggest defect may also be its greatest asset: so broadly inclusive, so utopian in vision, it runs the risk of biting off more than it can chew.

That, claims Linares, is how it should be.

"Plans are called 'plans' for a reason," Linares says. "They're a starting point. They're not carved in stone." When asked if he thinks the plan will ever be completed, Linares holds out with a challenge: "It depends on who gets involved. I don't think it'll work to have people snipe and complain. They have to roll up their sleeves."

"The intention is for the plan to be a reference document for any organization in our community to look to as a guide for what is important for the cultural development of the community," says Trink Praxel, vice president of the Cultural Council board. Praxel and former Santa Cruz mayor Bruce Van Allen have been leading the plan's implementation.

But while the implementation team has been in existence for a year, task forces were only created recently. This is not evidence of a glacierlike process, says Van Allen, but rather a necessary step in implementing its eight key recommendations and 37 goals.

"The team looked at all those goals, and divided them and ranked them by categories and who would be the logical implementing organization, ranking them by urgency or by importance."

The result, he says, was that a smaller number of the plan goals were designated as requiring immediate action. But immediate, by Van Allen's yardstick, could still be years away.

One of those goals will not, apparently, be the oft-discussed idea of turning the Del Mar Theatre in Santa Cruz into a performing arts center. Van Allen says that conflicting demands of the Del Mar's limited space and its historical preservation status make such a project problematic.

CAP Deux

CULTURAL PLANS are nothing new. In reaction to urban sprawl, many cities and regions, from Santa Clara County to Charlottesburg, N.C., have tried to envision what their area should become so the future doesn't run roughshod over the people who live there.

In 1979, Santa Cruz County saw the completion of its first Cultural Action Plan, funded by organizations such as the California Arts Council; the County of Santa Cruz; the cities of Santa Cruz, Capitola and Watsonville; and businesses like Granite Rock, Salz Leathers, the Santa Cruz Sentinel and the now-defunct Ford's Department Store. The participants all laid their money on the table.

That first plan resulted in the creation of the Cultural Council of Santa Cruz County, as well as the development of the Museum of Art and History. Charged with the search for a cultural facility, the plan was also indirectly responsible for the divisive Wingspread project, a cultural facility and townhouse plan to be located on property between Cabrillo College and New Brighton Beach that was bitterly contested and ultimately failed.

Twenty years later, a second Cultural Action Plan was jointly created by the Community Foundation and the Cultural Council. Development of the plan was headed up by past Cultural Council president Sue Struck and former Community Foundation board member Nancy Giberson, with help from consultants Laurie McDougall and Bill Bulick.

But this time, things are a little different. The 1999 Cultural Action Plan for Santa Cruz County is idealistically broad. It is lauded by some, even as others say the plan is incomplete. The plan's recommendations begin by emphasizing the need for facilities and funding for the arts--not exactly a new idea.

They also stress the importance of centralized arts marketing, a countywide youth task force, a cultural equity policy statement, an arts support center that will offer technical and management support and "more vigorous" implementation of existing public art plans and ordinances. But no one knows where the money will come from to accomplish these goals.

The 90-page plan, which cost an estimated $135,000 to produce, breaks into nine chapters that get more to the point--sort of. The first recommendation under the funding chapter, "Explore broad public funding," includes tentative language such as "several task forces urged the need for public opinion research" and "a campaign committee should be enjoined ... to explore opportunities and strategic alliances for public funding mechanisms." (Emphasis added)

It's language like this that threatens to turn the plan to into nothing more than a lofty wish list, but Linares is unmoved by such skepticism.

"You'd be crazy not to have an element of wishing," Linares says. "The arts are about wishing. That's not to say it's ephemeral or that it's capricious. It's just that you have to validate and acknowledge input, so you want to get as much as possible into the document."

From the 1999 Cultural Action Plan for Santa Cruz County

No Secrets
UNLIKE SOME PLANS--like the 10-year regional plan developed by San Jose and Santa Clara County that took two years to develop--the 20-year Santa Cruz plan was designed in just six months. Why? Van Allen insists there were some strong reasons for the rush.
"The arts community is fairly organized," Van Allen says, "so it wasn't as though cultural planning was starting from nowhere. Also, one of the initial reasons that the planning process got going was the interest in pursuing the long-term funding sources for the arts. At the time [of the plan's development], one of the resources considered was a public funding effort. And it was thought that might be potentially on the ballot this year."
As it turns out, there is no measure ready for the ballot this year. Praxel stresses the need for consensus, saying that "a lot of parts of the community have to be involved and approve of [a ballot measure] before we put it out there." Van Allen agrees, noting that "if we rushed into it, we'd be bound to fail."
Several people advocated for more time to discuss issues, Van Allen says, but he thinks that the results would have been the same. "Considering the hundreds of people that were involved [in the creation of the plan], I doubt that it could have been any different."
As it stands, the plan's No. 1 "overarching" recommendation is for an investment "in a geographically distributed array of renovated, existing and new community-based facilities to serve the creation, promotion, teaching, support and enjoyment of all cultural expression."
There's no secret here. The need for performing space has long vexed the local arts community. But are there enough teeth in the plan to actually get the space needed?
The reason for this approach, Van Allen says, has to do with the failure of the previous plan to produce a centralized arts facility.
"We're trying again from a different perspective and not trying to reproduce the same thought processes that led to nothing happening [in the first Cultural Action Plan]." For example, educational institutions (like UC&-Santa Cruz) should let community groups use their performance spaces. Community cultural centers across the county should be the focus of an advocacy effort.
But sharing facilities will require a lot of cooperation from public and private institutions. Unlike the 1979 Cultural Action Plan, this one was funded entirely by a Packard Foundation Grant, which has minimal local ties. So while representatives from government, tourism, education and arts organizations throughout the county sat on committees that created the latest plan, there is no clear commitment from them on how to implement it.
Shared Values?
LYNN MAGRUDER, former executive director of the Cultural Council who worked on many of the committees in preparation of the Cultural Action Plan, believes the plan is "incomplete," and thinks things could have been different.

Photograph by Ivan Kashinsky
Intended Consequence? Former Cultural Council head Lynn Magruder was one of the first casualties of the Cultural Action Plan.
"The biggest challenge," she says, "is building consensus and shared values," which are not specifically outlined in the plan. Magruder points to the specific list of shared values in the Silicon Valley Regional Cultural Plan as a way of explaining what's missing in the CAP. Those values, she believes, would encourage consensus and cooperation from groups that can be partisan and fractious.
"This plan has to connect up with all the other large planning processes: the county, the four cities," Magruder says. "There needs to be real linkages forged. The Cultural Council has appointed reps in each of the four cities and on the Board of Supervisors and that's a natural linkage that already exists to share information back and forth. I don't think the plan ever got that far." The Cultural Council board recently notified Magruder that her contract with the organization would not be renewed. No explanation for her departure has been forthcoming from Cultural Council board members.
Van Allen says that getting the CAP incorporated into long-range plans of the cities, the county and other local agencies and businesses is tough but doable. "We can't let people know about it by hauling around the whole plan and its complete list of goals. People's eyes tend to glaze over," Van Allen says of the 90-page plan. "We've done a lot of work in getting this plan out to elected officials. We've spoken to a number of arts organizations. There's more that has to be done."
But Praxel and Van Allen are stepping down their involvement with the implementation team, with the result that work has been dribbling to a halt. Several involved with the plan's development say they've heard very little about any progress on implementation.
Some, like Chip (who goes by the single name) of the 418 Dance Project in Santa Cruz, say it's because implementation is unrealistic and won't happen unless someone other than the Cultural Council steps in and has a major stake in making changes.
Others, like choreographer/dancer and Shakespeare Santa Cruz staffer Sara Wilbourne, insist that just because there's no word of things happening doesn't mean there's no action. "People who don't understand what it really takes to, say, build a building, get all uptight that nothing is happening, when in fact tons of stuff is happening; you just don't see it," Wilbourne says.
Just what is happening? The plan's implementation team recently completed a three-and-a-half-page report on its progress. The report looks at each of the plan's individual recommendations, prioritizes them, and either suggests developing a task force, working with other organizations or doing further study. So far, the only completed task, almost eight months after the plan's completion, is the assembly of the Cultural Action Plan Implementation Team itself.
Leadership Vacuum
BRUCE LEE HAS BEEN a performance artist in Santa Cruz for 20 years. His art is edgy and sometimes controversial. He has been on the receiving end of Cultural Council grants and also sat on the Creative Support Committee for the Cultural Action Plan. Lee believes, based on his participation in developing the plan, that the Cultural Council is best suited to implement it.
But, he adds, because the Cultural Council's funding levels have in the past been a source of concern among local arts organizations and individuals, the council's administration has been in crisis. Lee speculates that Magruder's departure was evidence of a restructuring.
"If I were to put two and two together, I would say that given the Cultural Council was identified as the closest organization to carry out CAP," Magruder says, "and given that the Cultural Council had been identified by some of its fundees as being in a state of disrepair, it would be logical to assume that the Cultural Council would be in the process of being restructured right now."
Referring to Magruder, Lee continues, "If CAP is something that's supposed to be carried out under public scrutiny, then whoever discontinued her contract needs to be accountable to the public. The closed door isn't appropriate in this arena."
But the door is closed when it comes to talking about Magruder's departure. Cultural Council board members continue to be mum on the issue, and those involved with the Cultural Council can only speculate. Van Allen was surprised to learn that Magruder had been sent packing, but thinks it could very well have had something to do with the Cultural Action Plan he helped create. "When you look at the first chapter," Van Allen says, "it's all about leadership."
Van Allen declined to connect the dots directly between the CAP and Magruder's departure, but he seemed to leave little room to doubt that Magruder was a casualty of the plan's recommendations.
"The leadership recommendation in the plan says that the organization has lost some of its dynamism and relevance and ability to bring in money," Van Allen explains. "The message from the implementation team to the Cultural Council board was that the board needs to read that chapter and take hold of its organization and get the organization moving again."
With the Cultural Council now searching for a new executive director as well as a development director, fulfilling the recommendations of the CAP will be a challenge. Linares thinks the organization can deliver.
"That's why the Cultural Council was created," Linares says, "to serve as a funder for the arts. I think the challenge for the board is to determine how they will fulfill [the CAP]. It does take some reinventing, but I don't see anything standing in the way. I just think it's a struggle for any organization to take on anything that large."
Magruder is more sanguine. "The proof is in the pudding," she says. "You have to look over the past year and see what's happened. I don't think [Van Allen] and [Praxel] alone could get the plan completed."
Some are counting on people power, but the real issue is money. The plan envisions Linares' Community Foundation eventually creating an arts endowment fund. But Linares, for all his faith in the plan, seems to downplay his own role in fulfilling it--not exactly a good signal to others whose cooperation will eventually be needed.
"The endowment is not the solution. It's part of the solution," he says. "It's going to continue to grow and to assist in the arts in the community. You've got to start somewhere."
Task forces are starting to convene, and there's been plenty of talk and planning, but so far not much action. When Van Allen is asked about the lack of accountability in the plan, he pauses before asking, "What do you mean by accountability?"
After clarifying who will be responsible for fulfilling the recommendations, he says that he thinks the plan itself is what will provide accountability. "People, in 10 years, will be able to look at [CAP] and say, 'Well, did we accomplish it or not?' We have that document that everyone can look at and say, 'Here's our measuring stick.' No one's going to get arrested if the plan isn't completed."
Maybe not, but with virtually no one in charge, it's a process that Mark Twain would not find reassuring.
[ Santa Cruz | MetroActive Central | Archives ]