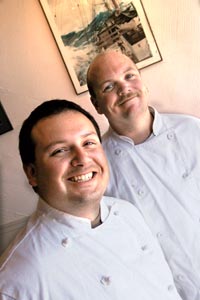 At Your Service: Chad Fields (left) and Bill Bryan stand ready to deliver the goods.

Photograph by George Sakkestad





Dinner at the Door

Chef A Go Go delivers handmade dinners straight to diners' doors

By Janet Blaser

A CHARTER MEMBER of the too-much-to-do club, Chad Fields--of Anchor Deli I and II, and formerly chef/owner of Popa's--has started Chef A Go Go, A Personal Chef Service, with partner Bill Bryan. The idea, Chad explains, is to deliver custom-cooked, handmade meals to the doors of those who can't or won't cook. This new venture fell into Chad's lap: the previous owner of Chef A Go Go, Jeff Lewis, was renting kitchen space from him. When he decided to move on, Chad inherited a customer list and the concept--and set about revitalizing the menu and adding new clients.

"It's ideal for the person who's really busy: single professionals, married working couples, expectant and new parents," Chad says. So far, Chef A Go Go has about 20 regular customers who sign up for a month's worth of dinners. The menu offers three pages of hearty soups, poultry, seafood, meat, vegetarian and pasta entrees, most of which also include a starch or vegetable accompaniment of some sort. This is a gourmet menu, with dishes like grilled ahi with tropical salsa, New Delhi spiced chicken, Cajun pork chops and salmon corn chowder. With each entree order, you also choose another side dish or salad. A monthly order includes four servings of five different entree selections, which arrive at your house packaged in clearly labeled, individual portions. And the environmentally conscious Chef A Go Go packs everything in reusable plastic containers, which are returned at the end of the month to be sterilized and used again.

"You basically get a month's worth of food--dinner five days a week," Chad says. "We deliver it all at once, and you just put everything in the freezer." Everything is completely cooked and ready to be reheated in the microwave (Chef A Go Go will also package in oven-ready containers). Soon, the menu will include desserts, too, and Chad is working on an "uncooked" menu of marinated and dry-rubbed fish, chicken and vegetables for grilling or baking. Cost for the service is $300 a month, with a 20 percent discount on first-time orders. You can pick up a menu at either deli: at 2332 Mission St., Santa Cruz, or the new location inside Grady's Market in Capitola, at 509 Bay Avenue, across from Gayle's Bakery. You can also give Chad a call at 426.5141 (preferably not during the daily lunch rush) or email him at [email protected].

Seabright Shines Again

I'll bet there are lots of brewers who wish Charlie Meehan would just stop entering his Oatmeal Stout in the annual competition at the State Fair in Sacramento--it wins something almost every year. And 2000 was no exception: three entries from the Seabright Brewery won awards from the California Brewer's Guild, which sponsors the event. The aforementioned Seabright Oatmeal Stout received a Bronze medal, and the Equinox Crystal Wheat (a favorite with the ladies) and Castle Beach E.S.B. were both awarded Silver medals.

Brewed under the able direction of brewmaster Marc Rosenblum, these specialty beers can be yours for the tasting at the Seabright Brewery, 519 Seabright Ave., Santa Cruz. The Oatmeal Stout is always on the menu, while the other two are available seasonally. Just in case it's been awhile since you visited the Brewery, remember, there's live music on Friday nights from 6 to 10pm and Tuesdays at Neighborhood Night from 9 to 11pm, and smooth jazz on Saturday afternoons from 2 to 5pm. As Charlie says: Always a good time, never a cover.
---
Got a hot food tip or culinary event? Send Janet an email at [email protected]
---
[ Santa Cruz | MetroActive Central | Archives ]