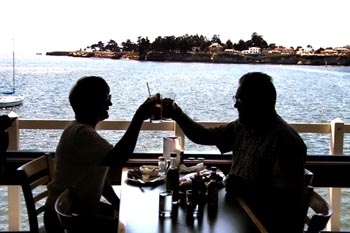 Photograh by George Sakkestad

Wonder on the Wharf: The food is as good as the view at Riva on the Santa Cruz Wharf.




Edible Vista

Riva continues to welcome visitors and locals with its fine views, swift service and terrific seafood values

By Christina Waters

KEITH IS ONE of those picky seafood aficionados who demand bang for their buck. So when he raved about a recent dinner at Riva as "the best calamari I've ever had," I knew that's where we had to take our lunch meeting last week. Always a hassle-free setting, Riva has offered aid and comfort to weary tourists and famished residents from the day it opened its brass-trimmed doors. Clean, white tile walls seem to go with the fabulous saltwater vistas outside the huge picture windows--though the tile also contributes to a high noise level when the place is packed. And for good reason, Riva is always packed.

The diner-friendly menu is long on unpretentious classics, from grilled salmon and steamed clams to prawn cocktails and crab sandwiches. The bar invites the thirsty to sample more than eight beers on draft--a substantial selection by any standards--as well as sip world-class Bloody Marys while waiting for a panoramic window-side table.

We scored one of those tables around noon when Riva offered front-row seating for one of the most incredible displays of diving pelicans I've ever seen. The angular predators dove by the hundreds into invisible schools of sardines, followed by packs of seals and countless sea gulls--what a fabulous sight!

A basket of outstanding sourdough kept us company before we started on half a dozen oysters on the half shell ($6.50), some freshly made, refreshingly unthickened clam chowder ($2.50/cup) and a lavish spinach salad ($5.25). Everything was fine, there were no surprises and the salad was really almost a meal. A huge country-style toss of fresh salad in balsamic vinaigrette, it was laced with walnuts, excellent croutons--obviously house-made--and ribbons of Bermuda onion. The occasional crumble of blue cheese enlivened the whole intensely flavored creation. Keith was right--the sourdough at Riva is so good you need to practically put yourself under house arrest to prevent getting stuffed before your main course.

Along with the thoughtful provision of extra napkins came our waitress, her arms laden with my huge shrimp sandwich ($8.75) and a Mexican Prawn and Snapper Sauté ($10.75). Ignoring the ignorable rice pilaf, we started in on the spicy dish of tomatoey prawns and fresh snapper, laced with green peppers in a thick, rich sauce. We feasted, and so did the gazillion pelicans swooping and swirling just off the wharf. But I still liked my enormous, hot-from-the-broiler sandwich of large bay shrimp, all moist with mayo, topped with a layer of melted cheddar and served open-face on a slab of the excellent sourdough. The rich and gooey sandwich--half of it had to come home for later--was joined by excellent French fries. Keith and I both like this style of fry--crisp on the outside, soft on the inside. Riva does very respectable French fries.

Dessert here is something of a ritual, since it involves choosing from a long list of glorious gelati. I picked my favorite, chocolate hazelnut, and my companion opted for vanilla bean ($1.75/ small) to complement his cappuccino. Did the menu really say "small"? Ha! These fat little cups came mounded high with that finely structured frozen creaminess that has made so many visits to Italy--and the Santa Cruz Wharf--memorable. The vanilla bean was indeed fragrant with the haunting perfume of some faraway jungle. And beyond creamy. But the chocolate hazelnut was beyond that. So dense that the spoon practically got stuck in each probe, it offered that sophisticated, barely sweet chocolate hit, with a rich nutty finish.

Life is good.
---
Riva Fish House
Address: 500 Santa Cruz Municipal Wharf
Phone: 831.429.1223
Hours: Lunch and dinner daily
Prices: Inexpensive&-moderate
Ambience: **1/2 Crisp tile walls and a sensational view make for laid-back comfort.
Service: **1/2 Always working hard, the staff keeps pace with even the busiest dinner hours.
Cuisine: **1/2 Honest, straightforward, fun food is the rule here, where you get what you pay for.
Overall: Riva is one of the best places to bring your out-of-town guests for a tasty view of Monterey Bay.

---
[ Santa Cruz | MetroActive Central | Archives ]