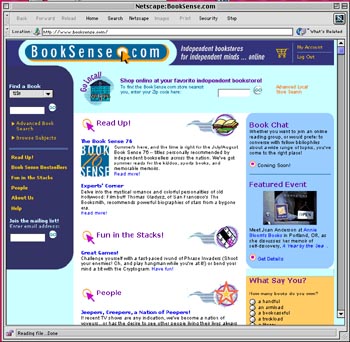 Indies and Amazons
By Rob Pratt
www.booksense.com
THOUGH MUCH BALLYHOOED by local independent bookstores, the Amazon.com&-challenging e-commerce site produced by the American Booksellers Association debuted on the web in early August with little more than a whimper. No star-studded launch party, no banner-ad campaign, no cheeky TV commercials. And, on the site, not much more than the promise of content to come.
Ultimately, the model is to provide a literary etailing destination like Amazon.com--with easy access to titles and a straightforward ordering scheme. But instead of dispatching sales orders from a gigantic warehouse, the site transfers orders to the nearest participating indie bookstore. Though Bookshop Santa Cruz and Capitola Book Cafe both voiced their intentions during recent months to be involved, the only participating store in the county right now is Bookworks in Aptos. (Both Bookshop Santa Cruz and Capitola Book Cafe report that they plan to participate in coming months as the site evolves. Until then, the next closest store is in Mountain View.)
The good news is that all of the items available at a store are readily browsable. A quick search of Bookworks' offerings on the American revolution turned up a full section dedicated to revolution and one title (Touring North Carolina's Revolutionary War Sites, $21.95, plus $4.20 ground shipping) that seemed to have just what I was looking for: an account of the battles of Francis Macon, the militia leader of the Carolinas on whom Mel Gibson's character in The Patriot was based.
The bad news is that there's not much more on the site and little incentive to turn to indies online instead of the content-rich Amazon.com. The "Book Sense 76," a collection of the ABA's top recommendations, a pair of feature stories and a couple of Java games round out the site's content offerings--and that's it. The big missed opportunity is to provide the kind of intelligent recommendations and studied offerings that indie booksellers continually claim as their advantage--and which could easily show up Amazon.com's often-doltish reader responses.
[ Santa Cruz | MetroActive Central | Archives ]