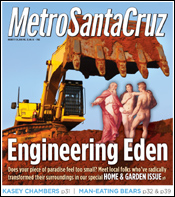 For the Week of
August 17-24, 2005
Cover Story: Engineering Eden:
Does your piece of paradise feel too small? Meet local folks who've radically transformed their surroundings in our special Home & Garden issue.
Home Is Where the Art Is: One man's artistic vision converts an ordinary house and garden into an otherworldly home.
The Three Sides of Ishana Bei: A local energy worker triangulates her own DIY answer to Santa Cruz's shortage of space.
Nüz: Secrets of Asymmetric War; Living Herstory; Art Patriarch; Universal Design Conference; Waxing Expansive.



Rev: Ed Ruscha's car-based art, which never features people, offers a lonely, melancholy view of our American society.



The Bear Whisperer: Werner Herzog analyzes a fellow filmmaker's ursine love and folly in 'Grizzly Man.'
Gagging: 'The Aristocrats' chronicles the infinite varieties of the world's most disgusting joke.



Cabrillo Bravo: Marin Alsop's quick-study orchestra finishes up another stellar season.
Chambers Music: Australian phenom Kasey Chambers rolls in to the Rio.
The Rock Show: Marc Ribot; the goth-friendly Blue Lagoon.



My Old Wallachian Tome: Elizabeth Kostova's epistolary novel, 'The Historian,' combines nuanced chills and literary thrills.



Reawakening: A beloved Seabright institution, Café El Palomar, returns from its two-year slumber.



Unbearable Emotions: Joy ultimately trumps sorrow in 'The Winter's Tale.'



Please don't forget to write! Metro Santa Cruz welcomes letters. Like any great work of art, they should be originals -- not copies of letters sent elsewhere. Include address and daytime phone (for verification purposes only). Letters may be edited for length and clarity or to correct factual inaccuracies known to us. Postal: Metro Santa Cruz Letters, 115 Cooper St., Santa Cruz, CA 95060. Fax: 831/457-5828. Emailers, please include name, city of residence and phone number. Letters printed will list email address unless otherwise specified. Letters to the editor are not currently published in the online version of this paper.
Copyright © Metro Publishing Inc. Maintained by Boulevards New Media.