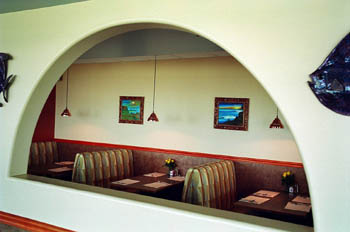 Photograph by Stephen Laufer

Bigger and Better: Café El Palomar is back from its two-year siesta.

Reawakening

A beloved Seabright institution, Café El Palomar, returns from its two-year slumber

By Selene Latigo

When I lived in Seabright years ago, one of my favorite things to do was walk down to the harbor and get lunch at the tiny hallway of a restaurant, Café El Palomar. I would bring out-of-town guests there, all of us on a budget, to revel in the inexpensive beachside dining. During these last two years while most of the harbor businesses were under construction, I know there were several impatient patrons anxiously waiting the re-opening, myself included. The day finally came, so I called a couple of friends and we headed down to check out the new Café El Palomar.

No longer a narrow, one-room space, the restaurant now occupies a large corner location with floor-to-ceiling windows showcasing the ocean view. The addition of a not quite full bar, lined mostly with tequila bottles, was obviously bringing in business as we entered the nearly packed space. I decided to take a little tour on my own to observe all the changes and was happy to see tables and chairs scattered outdoors as well as a small taco bar with cheaper, classic taqueria items for take-out-oriented customers.

We were seated, and our very friendly server came over to get our drink order. She did a good job throughout the evening navigating through the small glitches that arise in the first few weeks at a new dining establishment, such as locating a drink list. I went with a Patron Silver margarita ($6.50) on the rocks, and Aubrey chose the Platinum margarita ($6.50) with Herradura Silver topped with Cointreau. There are several other specialty drinks offered and I will definitely remember that for our next happy hour get-together.

In discussing details of the new space, we were losing focus from our dinner mission, and had to take a moment to actually choose what we wanted to eat. The menu is very similar to that at La Mission on the West Side, owned by the same people, and offers a multitude of seafood specialties and combinations. There are also several house specialties, including some interesting items such as pazole, Leo's mixed plate of meats and seafood for two and a whole, deep-fried trout. Vegetarians will be gladdened by the printed statement that they don't use lard, only vegetable and olive oils.

I was tempted to order the ceviche tacos with snapper and avocado, but since I never ate breakfast that morning and had been craving eggs all day, the huevos rancheros ($7.95) was exactly what I wanted and proved to be a great choice, despite the raised eyebrows when I ordered it. The tortilla was buttery and crisp, holding two eggs cooked perfectly to order with a spicy and smoky ranchero sauce and melted cheese. I sopped up everything with homemade corn tortillas.

Dave ordered the chicken mole ($11.95), which was deep, dark and smooth, with hints of smoke and sweetness, but somewhat one-dimensional compared to the multilayered moles we've had in the past. The portions on his plate were ample enough to provide lunch for him the next day.

Aubrey's camarones empanizados ($13.95), breaded and fried shrimp with two sauces, arrived without the sauces and instead with salsa fresca and slices of bright avocado. The large shrimp were golden brown and crunchy with a tender interior. A squirt of lime brought this dish to life and we all snuck bites from her plate.

Mike, who lives down the street, decided to order the same thing he had a few days ago after being informed that they were out of his first choice. The tacos de cameron ($11.95) were consistent and just as good as he remembered, with small shrimp sautéed in a rich butter/cilantro/garlic sauce and paired with fresh cabbage in those great homemade corn tortillas. All of the dishes came with refried beans and rice that were both somewhat bland, so the salsa bowl was passed around to enhance the flavors.

We settled up our bill while future visions of burritos and beer in the sunny beachside patio filled my head. I'm so glad to have this option open once again for the next time we feel like good Mexican food with a view. Welcome back Café El Palomar!
---
Café El Palomar
Address: 2222 East Cliff Drive, Suite 100
Phone: 831.477.0371
Hours: 7am–9pm Sun–Thu, 7am–10pm Fri–Sat
Price: $6–$23
---
[ Santa Cruz | Metroactive Central | Archives ]