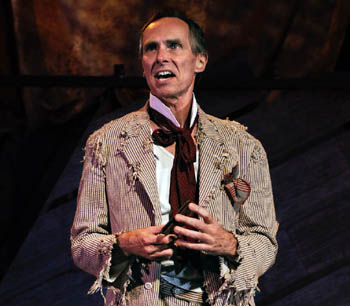 Pro Con: James Winkler's Autolycus picks pockets and wins over audiences in 'The Winter's Tale.'

Unbearable Emotions

Joy ultimately trumps sorrow in 'The Winter's Tale'

By Sarah Phelan

'There is a sickness which puts some of us in distemper: but I cannot name the disease and it is caught of you that are well." The answer to this riddle--which a Sicilian nobleman, Camillo, poses to his increasingly cracked king, Leontes, in Shakespeare's The Winter's Tale--is of course jealousy. But while The Winter's Tale begins with a chilling portrayal of the havoc that male sexual jealousy can wreak, it ends on a uplifting and redemptive note, especially as directed by Shakespeare Santa Cruz's Tim Ocel.

Cameron Folmar delivers a convincing performance as the moody King Leontes, who becomes convinced that his heavily pregnant wife Hermione (Blaire Chandler) is having an affair with his childhood friend Polixenes (Michael Milligan), after she persuades his friend to stay a little longer.

Leontes' suspicions trigger a chilling chain of events that lead to the loss of everything the king holds dear, including his son (played to cute effect by Craig Petrocelli, age 11), his wife and his newborn daughter--at least for the next 16 years, at which point he's given a unique second chance at marriage and parenthood.

Set on Scott Bradley's awesome shipwreck, which fittingly seemed more blue than it did during the comic excesses of Twelfth Night (for which it was designed), The Winter's Tale descends rapidly into lunacy, only to veer abruptly back into comedy in the second half of the play, thanks to a bear who chases and devours (offstage, thankfully) the hapless Lord Antigonus (Tommy Gomez) as he abandons Queen Hermione's newborn daughter on a remote coast.

From here, it's mostly uphill into joy, as we fast forward 16 years to a sheep-shearing festival, where the country folk of Bohemia sing and dance, while a con artist named Autolycus--played to brilliant effect by a dapper James Winkler--busily picks the pockets of the assembled guests.

Julia Coffey makes for a sweet Perdita, the abandoned royal babe who has been raised as a shepherdess, only to be courted by Florizel (Daniel Kent), who just happens to be the son of King Polixenes, who of course was the one who aroused the unfounded suspicions of her father--who in turn was the one who caused Perdita to be abandoned in Bohemia in the first place. (Shakespeare is nothing if not long on plot coincidences.)

Brian Hortenske makes a great country bumpkin of a Clown, while Tommy Gomez happily gets resurrected from the bear's death grip to play Clown's father, the Old Shepherd, who has raised Perdita as his own daughter, thinking she's a changeling that the fairies left in his fields.

And then it's back to Sicilia for the final act as Perdita and Florizel flee Bohemia to escape Polixenes, only to discover Perdita's true identity and visit the statue of her long deceased mother, which Hermione's friend Paulina (a somewhat nagging Margaret Schenk) has secretly kept for the intervening years. The ending echoes the use of Romeo and Juliet–style potions, only this time to happier effect, as the scale finally tips in favor of joy, making The Winter's Tale an emotional but ultimately satisfying roller coaster of a play.
---
The Winter's Tale plays at the Sinsheimer/Stanley Festival Glen on UCSC campus until Aug. 28. Call 831.459.2159 or visit www.shakespearesantacruz.org for ticket information.
---
[ Santa Cruz | Metroactive Central | Archives ]