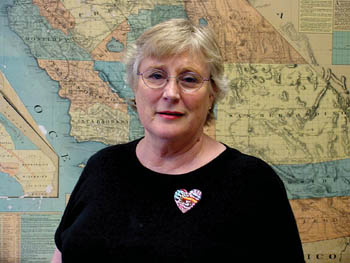 They Say This Cat Anne Turner Is a Bad Cat: Chorus: 'Shut yo mouth!' Metro Santa Cruz: 'We're talkin' about Anne Turner!' Chorus: 'Then we can dig it!'

Nüz

Bad-Ass Loudmouth

'Pages and pages of naked guys for no good reason!" "Wild sex in kinky places!" "Pam Anderson's 13 juiciest moments revealed!" That's what Jane magazine delivered in August, all of which left Nüz a tad surprised to find the director of the Santa Cruz Library System, Anne M. Turner, in Jane's September issue, in the same issue that promises "5 surefire ways to get anyone you want in bed!"

Still, our surprise took on a "Hell, yeah!" edge when we discovered that Jane, which has a delightfully feminist edge to its salaciousness, has nominated Turner as a Bad-Ass Loudmouth, as part of its Bad-Ass/Ass-Bad Women of 2003 contest, which invites readers to pick the "one woman from each category who you think most kicks ass or most deserves a kick in the ass."

Turner was chosen for her part in "reinforcing her citywide policy to shred library records every day in protest of the privacy-invading Patriot Act, which gives the government the right to find out which books people check out and anything else they're curious about"--an act of resistance that garnered interviews with the CBC, The New York Times, the Washington Post and two German magazines.

"And I don't even speak German," says Turner, adding that prior to Jane, the funniest interview she'd done was with Hustler.

"When they asked me, my first reaction was that it was my feminist duty to tell them to go to hell," Turner recalls. "As First Amendment protectors, Larry Flynt and I make strange bedfellows."

As it happens, all Turner knew when Jane staffers called her weeks ago to verify her stand on the Patriot Act was that they'd nominated her "for some kind of speaking-out award."

Would she have participated had she known she was going to be labeled a "Bad-Ass Loudmouth"?

"I wrote in one email to library staffers that even my mother agrees I'm a badass loudmouth, though it occurred to me afterwards that my mother might not know the 'badass' word," she says.

Turner shares her nomination with: Nisha Sharma, who called the cops midway through her wedding in India, after the groom's family demanded an extra 25K in illegal dowry; Hirut Gedlu, who biked 1,554 miles around Ethiopia to teach people about AIDS; Lois Abraham and Jane Roberts, who helped replace the $34 million Dubya withheld from The United Nations Population Fund; Carrie and Mary Dann, who have spent 30 years fighting to graze their animals on land in Nevada that traditionally belonged to their tribe; and Susan Sparrow, who got students to push a bill into the Utah state Legislature to study the state's gender pay gap.

Loudmouths aren't the only category in the Bad-Ass/Ass-Bad issue.

In her "11 things in this issue that make me sick," Jane's editor-in-chief Jane Pratt notes as sickening thing No. 6 "the fact that we had to struggle for hours to come up with three contenders for the Bad-Ass Leaders category."

The winner will be revealed in Jane's December issue, so, Cruzers, go snap up those mags or cast your votes at www.demographix.com/surveys--and make Turner the mutha of all Bad-Ass Loudmouths.

Putting the Seaside In Sanctuary

With Santa Cruz making it as a finalist for the Monterey Bay National Marine Sanctuary Visitor Center--with world-class drawing power--comes the news that the Santa Cruz Seaside Company is offering oceanfront space in its Carousel Room on the third floor above the Boardwalk Arcade.

Seaside Company spokesperson John Robinson says that the Boardwalk offering the oceanfront space in an existing building means that sanctuary site money can go into creating displays and high-tech materials.

"The stumbling blocks with other sites is they involve more public money, which as we all know is in a desperate situation right now. This would allow the visitor's center to do the most with available money--and it's ready now as opposed to years in the future, he says. "In the Boardwalk we have a living portrait of California. Our demographics encompass all ethnicities and all income levels all across the state. We market ourselves as a gateway to the sanctuary, but there is no gate. This would be a start."

So far, the choice of sites has been narrowed down to Seacliff State Beach, the Fun Spot near the wharf, and the Boardwalk, but critics say the latter site's upstairs location would make it difficult for visitors to find.

Kaitilin Gaffney of the Ocean Conservancy also notes that "the actual space is limited and may get lost in the visual cacophony of the Boardwalk."

Acknowledging that the site represents "significant cost savings," Gaffney still believes that an independent site "would be more congruous with the mission of the Sanctuary program."

Meanwhile, Beach Flats resident Phil Baer believes the emphasis should be on "seaside," and not the Seaside Company.

"We've been pushing for something for years, ideally in place of the Logger's Revenge, half of which is located on city-owned property and which would be an ideal location for a visitor's center, since you can actually see the ocean from that angle," says Baer. "The current Boardwalk site isn't at ocean level, and having the site above an arcade would be stupid, what with a bunch of video games jingling in the background--which would be kinda tacky, not to mention camp. And basically the Wharf would obstruct the view so you can't even see the ocean."

Meanwhile, local resident and environmental activist Patricia Matejcek thinks the entire Arcade should be made into the Sanctuary.

"Keep only the historic elements--the Giant Dipper and the Carousel. A sleazy faux-surfer experience would not be up to caliber. It would be best for the city if the whole site got upgraded. Nothing would make me happier than if the feds eminent-domained the whole thing. It's great that Mayor Emily Reilly is enthusiastic about this, but she must be willing not to settle for what amounts to an upstairs closet."
---
Nüz just loves juicy tips: Drop a line to 115 Cooper St, Santa Cruz, 95060, email us at , or call our hotline at 457.9000, ext 214.
---
[ Santa Cruz | Metroactive Central | Archives ]