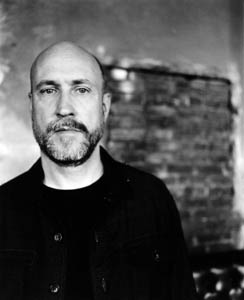 Scofield of Dreams: Guitarist John Scofield turned a stint with Miles Davis into a new vision for jazz.

The Rebirth of Cool

Jazz guitarist John Scofield has taken the lessons learned from his time with Miles Davis and run with them

By Mike E. Splain

When drug addiction finally got the best of guitar phenomenon Mike Stern, Miles Davis had to tell his right-hand man, "Come back when you cool out." In the meantime, Davis badly needed somebody who was already pretty damn cool to fill his shoes.

He turned to John Scofield.

Already a jazz guitarist of some renown, Scofield hadn't been playing long in Davis' band at the time. But he quickly proved himself worthy of his bandleader's trust, deeply influencing the trumpet legend's musical direction. In the meantime, Scofield himself learned more than a thing or two about no-holds-barred electric jazz funk.

That was 20 years ago, and thanks to the turn his career took with Davis, Scofield is now known as much for new-school jams as for old-school jazz. Not just an innovative guitarist but also an adept composer with a flair for melodic hooks and an affinity for assembling the best band imaginable, Scofield has spent decades stretching the boundaries of jazz and funk, with no sign of letting up anytime soon.

Play Jazz or Die

Scofield grew up in suburban Connecticut, where a local guitar teacher turned the blues-obsessed youth on to Wes Montgomery, Jim Hall and Django Reinhardt. Almost overnight, a lifelong quest "to be a jazz guitarist if it killed me" was born, and by age 18 he was living the dream at Boston's Berklee College of Music.

As luck would have it, John landed a room with Chip Jackson and Ted Seeds, arguably the finest rhythm section in school. Professor and vibraphone virtuoso Gary Burton caught wind of their nearby jam sessions and began sitting in after his 5pm class, bestowing the most practical kind of experiential knowledge on the promising students.

After graduating, Scofield says, "I just took the plunge, I never worried about making a living--I was ready to scuffle by on subsistence level."

Fortunately, a high-profile gig quickly cast him into the limelight and secured his first recorded work--live at Carnegie Hall with Gerry Mulligan and Chet Baker, no less.

Straight-ahead jazz became an undying passion, but Scofield's penchant for groove remained as of yet unseen. But when John Abercrombie left Billy Cobham's band in 1975, Scofield was invited to fill the guitar chair, and soon found himself immersed in the fusion craze.

Opening for rock bands in massive auditoriums with music as textural as it was technical opened up a whole new world of possibilities. In contrast to heady, complex bebop, jazz-rock fusion was infectiously accessible and laid the foundation for a whole new generation. It was 1982 when Scofield met Davis, and at that point, all bets were off.

Since then, Scofield has continued to straddle the line with one foot firmly in the jazz camp, the other boldly imprinting the evolution of popular music forms.

His 27th recording, Up All Night, has garnered more than its share of critical controversy, but it's hard to deny Scofield's bridge between past abstractions and future directions.

This group's compelling sound takes shape amid Avi Bortnick's hypnotic rhythm guitar, fluid samples and loopy ambience, Andy Hess' understated bass lines and Adam Deitch's flawlessly funky percussion. Together, the band lucidly navigates electronica, soul, high life, disco and even hip-hop.

"It's a feeling thing," says Scofield. "We rise together to make something special."
---
The John Scofield Band performs two shows Monday, Aug. 25, at 7 and 9pm at the Kuumbwa Jazz Center, 320 Cedar St., Santa Cruz, Tickets are $19 advance, $21 at the door; 831.427.2227.
---
[ Santa Cruz | Metroactive Central | Archives ]