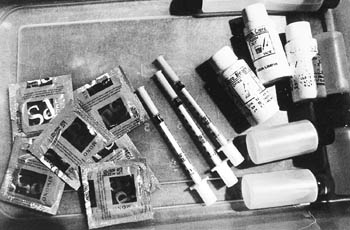 Junk and Disorder
Local crime statistics around heroin may be deceptive
CPT. MANNY SOLANO of the Watsonville Police Department says his department doesn't see many incidents that directly involve heroin. "Meth is a far bigger problem for us," Solano says. However, incident reports can be deceptive. Many addicts are arrested for committing crimes such as prostitution, burglary and theft and may not be linked to heroin use at the time. So, while the crime may have been committed to feed a habit, it won't necessarily be recorded as heroin-related.
Conversely, heroin-related deaths have been prominent in news reports--including regional and even national news stories about the debate over Santa Cruz's downtown ordinances--but seem to be relatively few. Coroner's Office statistics also show 149 deaths related to drug overdose since Jan. 1, 1997, roughly 30 of which were from heroin.
The following five deaths have been confirmed as deaths by heroin overdose in Santa Cruz County since January:
Jan. 16, 2002: a white male, 30, in his home in Santa Cruz
Feb. 4, 2002: a white female, 53, in her home in Aptos
Feb. 5, 2002: a white male, 22, in a downtown Santa Cruz motel room
March 24, 2002: a white female, 31, in a different downtown Santa Cruz motel
May 6, 2002: a white male, 23, in a porta-potty behind 1110 Pacific Ave.
Detective Steve Plaskett of the county Sheriff's Department says two more deaths are suspected heroin overdoses, but the coroner's office is waiting for the toxicology reports.
[ Santa Cruz | Metroactive Central | Archives ]