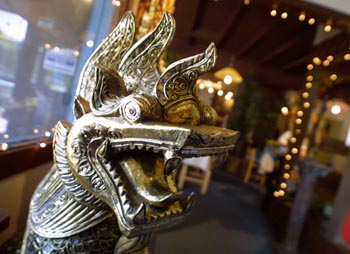 Photograph by George Sakkestad

Creature Comforts: The exquisite carved sculptures at Bangkok West add to culinary ambience.

Edible Exotica

The powerful and brilliantly balanced ingredients of authentic Thai cookery receive expert care at Bangkok West

By Christina Waters

OVER THE YEARS, the garden has grown to tropical density, and the charming entry hall has sprouted thick with antiques. Golden statues, fantastical carved wood creatures, sacred elephants, royal pavilions and exquisite collections of porcelain and textile abound--yet all of this exotic ambience exists to surround a wonderful menu of authentic Thai cuisine.

Bangkok West has been delicious since its opening day, so Alice and I had some expectations. From the modest wine listing, we chose two chardonnays by the glass: from Mondavi ($4.75) and Meridian ($5.25). The cool wine made the perfect partner for an appetizer of house satay involving expertly barbecued chicken threaded onto wooden skewers ($6.95). Succulent and delicious, the substantial appetizer arrived on a beautiful rectangular blue and white porcelain plate along with a bowl of outstanding peanut dipping sauce and another dish of hot and sweet vinegar cucumber relish.

The chicken satay hit the spot, and outshone another starter of Thai shrimp salad ($10.95), which was definitely huge with fresh vegetables and lots of butterflied broiled shrimp. A hot and spicy chile sauce answered the need for some firepower and added some needed luster to the abundance of iceberg lettuce garnished with cilantro, cucumbers, tomatoes and very finely spun carrots. It might have risen to memorable proportions if some of those fabulous bean thread "silver noodles" had been worked into the recipe.

My companion had insisted on choosing an entree that sounded to me like something you might find in Disney World: pineapple curry with shrimp in coconut milk ($9.95). It sounded as if it might be too sweet, yet when it arrived, freshly wok'd and steaming in a deep bowl, it was so perfectly balanced among curry heat, coconut sweetness and pineapple fruitiness that I had to agree. It worked. Rich red bell pepper undertones were met head-on by some hot chile grace notes--it definitely was no kid's dish.

My order of spicy scallops and squid ($13.95) was a triumph. It arrived on a huge platter adorned with those cunningly carved carrots that look like miniature pagodas ... or very large dangling earrings. The sequined elephants winked, and the sensuous goddesses seemed to smile approvingly from the many Bangkok West tapestries.

A deliciously spicy green chile sauce packed a proud wallop yet not so much as to overwhelm the tender morsels of calamari and abundance of enormous sea scallops highlighting the dish.

Fresh mint was the secret weapon of this fine dish, and it permeated baby corn, carrots, tomatoes and seafood alike. Along with fine basmati rice, these dishes set up our taste buds for two sensational desserts to come.

For the sake of our professional responsibilities, we agreed to try some house specialties: an order of Thai coconut ice cream ($2.50) and an order of the sumptuous sweet rice and mango ($5.95) that is one of the great moments of Thai cuisine. We were enchanted by the results.

A huge bowl of the incredibly creamy house-made ice cream, packed with true coconut flavor and barely sweet, was as fine a dish of ice cream as I've ever had. Anywhere.

But the biggest surprise--a bit of value-added oral excitement if you will--was how well it accompanied the other dessert. A mango chosen at its ripest moment was joined by a mound of still-warm rice, sticky with sweet syrup and dusted with toasted sesame seeds.

Taken together the flavors of warm rice, plush mango and chilled, creamy ice cream could have made an entire, complete and utterly sublime meal. Food for the inner child--the wild child. Bangkok West renewed our senses with edible arguments for a return visit, soon.
---
Bangkok West
Address: 2505 Cabrillo College Dr, Aptos
Phone: 479.8297
Hours: Lunch weekdays; dinner nightly
Ambience: **1/2 Delightful and dramatic hilltop garden setting, filled with richly colorful treasures from the Far East
Service: ** Very polite and helpful
Cuisine: *** Wonderful versions of the classic dishes of Thailand
Overall: Occupying its niche for well over a decade, this popular palace of spicy specialties has earned its place in the sun
---
[ Santa Cruz | Metroactive Central | Archives ]