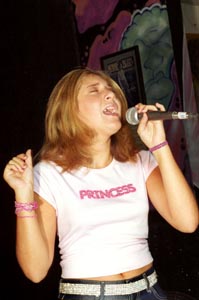 What I Did This Summer: Alysha Antonino has earned a TV singing debut (above) on the network premiere of 'Pokémon the Movie 2000' and has topped Britney Spears online--not bad for the summer vacation after sixth-grade graduation.

Photograph by George Sakkestad





Diva Dreams

Scotts Valley's Alysha Antonino takes a pre-teen trip in the music industry's peculiar star-making machine

By Andrea Perkins

TWELVE-YEAR-OLD ALYSHA spills shimmery eye shadow, soiling her faux black-leather pants and the two-tone carpet in her Scotts Valley home. She wears a synthetic snakeskin-print shirt with flared sleeves and a rhinestone necklace that says "DIVA." Her hair has recently been highlighted and coifed to frame a face still moony with baby fat.

Like other girls facing their first day of seventh grade next month, she has revamped her personal style. But for Alysha, ingenue of the same star makers who discovered the Backstreet Boys, 'N Sync and Britney Spears, the image makeover isn't really about catching the eyes of boys at Scotts Valley Middle School.

"Its a good thing these aren't your real leathers," says mom and show-biz manager Christine Antonino, coming to the rescue of the now-stained pants with a wet rag.

The Antoninos have been very busy lately, their lives a whirl of celebrity encounters and high-profile events. Within the last few months, their split-level Scotts Valley townhouse has been filled with camera crews from Warner Brothers and photographers from People magazine. Girl's Life plans a feature exposé for the December issue. Calls from USA Today, Parade, Billboard and every local paper have become routine.

All the fuss? After winning an online singing contest sponsored by Tonos.com, the seventh grader scored a song on the soundtrack for Pokémon the Movie 2000 and is being courted by several major record labels, including Atlantic, Jive and Hollywood Records. Alysha's powerful voice and stage presence have wowed music industry heavies and even bested Britney in an online showdown on Shockwave.com, where her single "Dreams" is the No. 1 download. Shockwave also showcases the single's video--Alysha singing, surrounded by Pokémon figures. The girl is ready to launch into mega-stardom even before she gets her driver's license.

AS WITH ALL DIVAS, Alysha (who has decided to use only her first name as a stage name) has journeyed from obscurity to the spotlight along a road with many lucky turns. A few days after the last-minute FedEx of Alysha's demo for the Tonos.com contest--she submitted a karaoke track of Celine Dion's "Love Is on the Way" hastily recorded in a friend's mobile home--her mom answered the phone to find Tonos.com co-founder and legendary songwriter Carole Bayer Sager ("Groovy Kind of Love," "That's What Friends Are For") on the other end.

"Which was, like, so cool!" says Alysha, interrupting a story she must have heard her mother tell a thousand times. "Carole said I had won the 'You Sing the Hit' contest out of, like, 800 people and that I would be coming down to L.A. to record a song with David Foster and Babyface!"

Alysha does a lot for the saccharine little ditty written by Damian Fontana (his real name), a truck driver from New Jersey and winner of the Tonos.com "You Write the Hit" contest. A tender R&B ballad, "I Promise To" concerns the type of mature love relationship Alysha, not old enough to watch R-rated movies, has yet to experience. Her rich, mature vocals, though, succeed in delivering the sentiment.

Since that auspicious day in the recording studio, Alysha has succeeded in drawing a lot of attention to the fledgling website. She is the site's undisputed poster child, a symbol of all that is possible through Tonos.com. In an attempt to create a sensation around a budding teen idol, Tonos.com invites visitors to read Alysha's electronic diary and to watch a video of her in the recording studio with hitmaker David Foster. (Wisdom from a hit-record producer working his magic: "I love your breathiness, but I think it's just a little too soft," he tells Alysha at one point. The cameras are also on during a heartwarming moment when Alysha talks to her own idol. "You go, girl!" says Celine Dion via speaker phone. Alysha's knees buckle.)

Soon after recording "I Promise To," Alysha was asked to sing with Kenny G at a charity gala in Beverly Hills. Sager then handed her a gig at a Dodgers game. ("Because her husband is [Dodgers owner] Bob Daly," Alysha says in a stage whisper.) Up in the booth after the performance, the Antoninos met Henry Winkler ("The Fonz!" she chimes) and Dustin Hoffman.

"I was totally starstruck," Christine says.

"Captain Hook made me a hot dog," Alysha says.

"I wanted to frame it," adds her mother.

Next was the Horatio Alger Awards Ceremony in Washington, D.C., where Foster introduced her, saying that he hasn't been so excited about a singer since Celine Dion. Then Alysha earned a record deal offer from a major label's Nashville subsidiary. It was a hard decision, but she turned that one down because it wasn't in her heart to do country.

As it turns out, that was a good move. A week later, Darren Higman, vice president of the soundtracks division of Atlantic, heard Alysha online at Tonos.com and immediately wanted her for the latest Pokémon soundtrack, which features numbers by the B-52s, Weird Al Yankovic and Donna Summer.

Alysha was a little disappointed about the offer--she's not a Pokémon enthusiast--until she learned that the song, "Dreams," was penned by superproducer Rodney Jerkins, whose credits include recent hits by Destiny's Child and Britney Spears. Written with Alysha in mind, "Dreams" tells how dreams can come true with enough self-confidence--something Jerkins himself can relate to. Having signed a publishing deal with EMI at age 17, Jerkins in only six years since has realized his own dreams by producing hits for the likes of Michael Jackson and Whitney Houst0n.

When the Antoninos arrived at Jerkins' New Jersey studio, they could probably still smell the Spice Girls' perfume and Britney Spears' bubble gum--both had recently done sessions there. Jerkins really stunned the Antoninos when he invited them to listen to the latest tracks from the Gloved One himself.

"Then Rodney was like, 'OK, Alysha, you're next! And I'm, like, 'Me? Is this the microphone that Michael touched?'"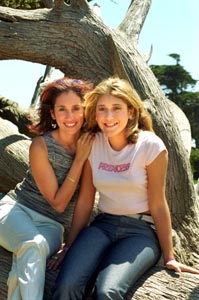 Mother, Manager; Daughter, Diva: Careful to shepherd the singing career of her 12-year-old daughter, Alysha (right), Christine Antonino says she is also careful not push her daughter too hard.
Photograph by George Sakkestad

'DREAMS" IS AN UPBEAT pop tune with inspiring lyrics that uplift and encourage. It can be heard on Firstlook.com, Shockwave.com and Amazon.com as well as Tonos.com, and some critics have called it the best song on the soundtrack. And by the time "Dreams" debuted in July on a network television premiere of Pokémon, Alysha was used to cameras.
"Warner Brothers had been taping her at home and backstage before the show. They were certainly romancing her. They wanted her to feel really good for the television premiere," Christine says.
The studio gave Alysha a makeover hairstyle, gave her new clothes and provided a limo for the trip to the studio. For the premiere, Alysha wore a black tank top, a denim jacket and black satin bell bottoms fastened with a chic rhinestone belt, all chosen from a big rack of clothes supplied by Warner Brothers.
"They wanted it to be simple," Christine says, "not real showy, just kind of her first appearance, you know. And they wanted her to wear that tank lower. It was adjustable, but she must have put it up right before she went out. Of course, the makeup was real heavy, but for TV it needs to be."
Christine pauses and suddenly the living room, full of enlarged glossy wedding photos and dark mahogany furniture, becomes very quiet. An undeniably conscientious and sweet-tempered mother, Christine is hyperconscious of her role and the stage on which she plays it, often saying that she is afraid of being compared to the notorious parents of JonBenet Ramsey.
It's also evident that she takes a great, almost intense, interest in her children's potential. Calling her youngest son, Stefan, who is 9, the "little actor" in the family, she describes him as "a cross between Jim Carrey and Jeff Goldbloom." Being Alysha's manager for years has made her aware of the challenges they now face. She is working carefully with a lawyer over the contract they will eventually sign, wanting to make sure it will be with a label dedicated to generous marketing and big promotion.
"So far Tonos.com seem to really be taking care of Alysha in a nice way," she says. "You can call them directly on anything. They're really excited about what's going on. But I'm always thinking, 'OK, when does it change?' You hear horror stories about record companies," she continues, "especially with kids. I hear it all the time."
"Her age was so shocking to us," says Carole Bayer Sager from a taxi somewhere in L.A. "After we narrowed the entries down to about four out of 800, we chose Alysha. The fact that she was only 12 was a deciding factor. She really wasn't at a stage where she had enough finished material to be heard by a major record company. Ordinarily it would have been too early. At Tonos, we shortcut the process."
And, presumably, Tonos.com will reap the benefits.
It's been a record-breaking year for the music industry, thanks to the skyrocketing sales of such industry sensations as Britney Spears and Eminem. "My first job [with Tonos] is to find a star for Warner Brothers," co-founder, senior vice president of Warner Music Group and illustrious producer David Foster told the Los Angeles Times.
Business news reports say that Tonos.com earns revenue mainly from e-commerce, sponsorship and advertising--and that the corporation may also look for a part of contracts signed through the site. It's a major venture, started with $7 million from Silicon Valley's Sequoia Capital and led by CEO Matt Farber, ex-vice president of MTV Networks Online.
THIS FALL, after promoting the Pokémon movie at theme parks around the country, Alysha's parents expect her to return to school and do all the things normal seventh graders do. "I really don't want to go back to school," Alysha says. "I've tried to talk my mom into a tutor."
"If everything goes well," Christine says, "we'll probably be working on albums through November and December, and there's a good chance that she might have to miss school at some point. Though I think it's important for her to be around friends and get grounded because being in that whole life is just wild. I mean, it takes me a couple days to get back to normal."
One gets the feeling, however, that Alysha doesn't want "normal" and knows that she is well on her way to something else entirely. After a summer spent hobnobbing with industry legends who have helped her realize every teeny-bopper's dream, can she really be expected to summon excitement about new school clothes and cafeteria food? Alysha's mind is on her future Grammy--not on trying out for the cheerleading team. While other girls wonder who they're going to ask to the Sadie Hawkins dance, Alysha will be concerned about her negotiations with her record label. While her friends daydream about the babes of 'N Sync, Alysha may very well be scheduling weekend lunch dates with them.
Like all divas, she has her own mythology, already touted by the press. It starts when she was five months old, in the emergency room with a case of severe bronchitis.
"She wouldn't stop singing. One of the nurses said, 'You have a little diva on your hands; this girl is going to be a singer,'" reminisces the petite Christine from an overstuffed sofa exploding with throw pillows.
At two, her parents noticed that she had an astonishing four-octave range. Her father, a musically inclined business office manager in the health center at UC-Santa Cruz, began coaching and encouraging her. By the time she was four she could sing along with recordings of Luciano Pavorotti.
"We didn't want to push her," says Christine, who used to work as a model. And yet, Alysha's first performance was at age 6 at a Scotts Valley senior center, where she earned a standing ovation. After that, she started to compete, winning first place at her first competition, the Youth Focus State Talent Competition in San Jose.
Two years and a few wedding gigs later, her parents took her to a recording studio to work on her first demo. "In between takes she was out in the hall playing Barbies," laughs her mom. Produced at Music Arts Recording Studio (MARS) in Aptos, the demo features Alysha singing tunes made famous by Patsy Cline, Bette Midler and Mariah Carey.
Soon, though, Alysha decided that she didn't want to be a competitive singer anymore. "I wanted to sing just because I loved to do it," she says. But her parents continued to line up opportunities for her to sing in front of an audience. She performed the national anthem at Giants and 49ers games. The MARS demo also went to Narada Michael Walden, a top pop-music producer (Whitney Houston) and songwriter. He invited Alysha into his studio.
"He thought her voice needed to be redirected into more of an R&B sound," says Christine, "and hooked us up with Raz Kennedy in San Francisco." Kennedy, an alumnus of Bobby McFerrin's Voicestra, has coached her ever since.
To work on stage presence, the Antoninos took Alysha out on the county fair circuit, where the young performer did half-hour spots at fairs all over California, sandwiched between the likes of the All American Cheer Factory and PJ the Clown. She sang a lot of Britney Spears and Christina Aguilera songs--"that was what people wanted," Christine says.
These days, Alysha works on stage presence with a choreographer who has trained Whitney Houston, Little Kim, Brandy and Puffy. "I just love to dance," Alysha says. "It's going to be great to put, like, dancing into my performances and have like all this dance choreography and, like, singing at the same time."
Does anyone doubt it? Alysha is well on her way--to what?, is the question. She's being groomed to be the next teen queen, but will her reign be able to withstand the turmoil of the industry and the fickleness of today's audiences? Will hers be the fate of such dethroned exiles as Debbie Gibson and the once beloved Tiffany, or will she soar above the rocky path of child stardom and keep the crown?
[ Santa Cruz | MetroActive Central | Archives ]