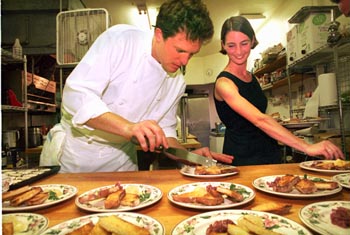 Photograph by George Sakkestad

Shock of the New: Christian Dreyfus (left) and Tiffany King prepare appetizers that show off Southern Exposure's devotion to unique flavor groupings.




Southern Comfort

With its softened edges and gracious attention to detail, a new dining room works to fill a landmark location

By Christina Waters

OFFERING A GRACIOUS front deck, pretty table appointments and owner Ann Confer's earthy expertise, Southern Exposure extends a warm welcome. Everything speaks with a slight southern accent, from our attentive waitress who called us "Ladies" more than was absolutely necessary, to the whiskey wailings of Janis Joplin filling the intimate, back dining room. The stance is undeniably feminine, without being precious. Phyllis and I happily sat back with our glasses of Justin Cabernet 1997 ($7.50) and Thomas Fogarty Chardonnay 1998 ($6.25)--excellent choices from the small, thoughtful wine list--and caught up on each other's lives.

A plate of three breads arrived with a portion of herb butter--lovely slices with toasty crusts and toothsome textures. A bowl of the evening's soup ($5) proved a memorable creation of pureed carrot and fennel, floating with expertly crafted croutons. "I love a well-made soup," Phyllis confessed. We both admired the balance of flavors and the superb mouth-feel of this delicious starter.

A salad of seasonal greens arrived tossed in a creamy, tangy citrus vinaigrette, studded with morsels of grapefruit, candied pecans and a dusting of asiago ($7). My appetizer trio of broad sea scallops arrived moist and freshly seared ($10), though a bit pricey. Along with a fluff of radish sprouts, the plate was punctuated by an unusual carrot-cardamom reduction. Devotion to the alchemy of nonclichéd flavor groupings is clearly a Southern Exposure theme. And that was just fine with us. With impeccable timing our server brought our entrees, though they appeared to have been prepared a few minutes too soon. While not piping hot, my plump, crimson rack of lamb was composed to a fare-thee-well ($22). On a bed of what appeared to be mashed potatoes--but turned out to be mashed parsnips--the chops perched like little kings on a throne. Strewn here and there were accents of fresh vegetables, some fresh asparagus tips, infant yellow squashes, a bouquet of baby bok choy and a to-kill-for sweet, succulent relish of red onions. Even with its topknot of fresh thyme, the pale mashed parsnips denied even the rumor of flavor. A daring choice, the parsnip, but a frustrating one.

Phyllis' dish of pancetta-wrapped halibut ($19) was even more decorated. A fresh pansy sat next to a long, alabaster slice of overcooked halibut that was compromised by its corset of undercooked pancetta. It arrived with an interesting--and successful--timbale of yellow lentils that seemed to have been simmered in a sweet, rich maple-syrupy sauce. There's a lot of sweetness in this cuisine. Thumbnail chiogga beets chased leaves of tender kale. But the overall cloying quality of the sauce, and the nonpresence of the main attraction, made this dish a puzzling candidate for reconsideration.

Janis was considering just where her life had gone astray when our desserts arrived. Though it had a fancy Italian name, mine turned out to be a small cup of whipped cream and homemade vanilla ice cream. A tiny pitcher of espresso was part of the act, and I poured the hot coffee over the cool ice cream--it was like an ice cream latte, though the intended fusion of hot and frozen would have worked better with gelato. The other dessert, warm and utterly moist bread pudding, tasted like a summer night in New Orleans (both desserts $7 each). Laced with peaches and pecans, it came with squiggled sauces, one of caramel, the other spiked with Southern Comfort. And a huge, fist-sized knot of calorically incorrect whipped cream.

Southern Exposure isn't just whistling Dixie.
---
Southern Exposure Bistro
Address: 9051 Soquel Drive, Aptos
Phone: 831.688.5566
Hours: Dinner Wed-Sat from 5:30pm
Chef: Ann Confer
Ambience: ** 1/2 Casual, cozy bistro with a touch of tea room--easy on the eyes.
Service: *** Very skilled, warm and friendly--responsive to every and any request.
Cuisine: ** 1/2 Innovative sauces stand out, as do combinations of ingredients, though main dishes need work; pricing feels askew for portion size and informality of environment.
Overall: The handmade foods are a rare joy and the artisanal approach of Southern Exposure helps it to embody its name.

---
[ Sonoma County | MetroActive Central | Archives ]