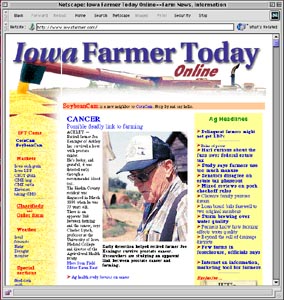 Vegetation Veg-Out
By Dan Young
www.iowafarmer.com
THE GREAT OUTDOORS is a big part of my life, and I begin my daily routine with a quick spin around surf sites to check on the waves--which dictate whether I work or not--at www.santacruzwharf.com/camtides.html and http://www.santacruzsurf.com. I even check my favorite trout streams for a little wishful fly-fishing. And recently I stumbled upon a site that soothes and calms me whenever the workday frenzy threatens a multimedia monitor meltdown. For someone who grew up playing and working in and around the fertile Pajaro Valley, this newly discovered gem is a treat.
My new friend: CornCam. I can watch corn grow, 15 minutes at a time. Stuck on a pole in the middle of a cornfield in Prairieburg, Iowa (south of Dyersville and the cornfield made famous in Field of Dreams), a digital camera links to http://www.iowafarmer.com/corncam/corn.html. Any and every fact and figure concerning producing corn is available here: current air and soil temperatures; humidity; average yearly rainfall; and, of course, FAQs--people really do have questions about corn. And CornCam is right next door to SoybeanCam at http://www.iowafarmer.com/soycam/index.htm.
The United States Department of Agriculture's Department of Forestry offers vegetation online with its Fall Color Hotline at http://www.fs.fed.us/news/fall.shtml, a page that links to the best areas in the country for watching leaves turn color. The site goes online in September of every year, giving visitors clues on where to find fall foliage at its peak, from Maine to the eastern Sierra. It's the perfect page for transplanted Back Easters (who always complain about California's lack of seasons). Sit on the beach during Santa Cruz's annual mini-heat wave this autumn and virtually cruise the change of seasons in less favorable climes.
[ Santa Cruz | MetroActive Central | Archives ]