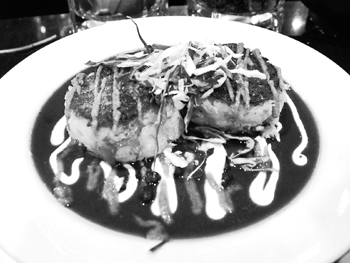 Photograph by Stephen Laufer

Let Them Eat Cakes: Salmon cakes are a favorite at Costa Brava.

Downtown Spot of Luck

Pacific Avenue's Costa Brava is fully loaded with hot bar, ambitious menu and location, location, location

By Christina Waters

Enfolded in the scintillating watermelon and mango tones of Costa Brava's luscious wall treatment, we joined a crowd of summer diners last week. From its original incarnation as a South American culinary palace, the downtown eatery seems to have added a variety of tropical notions, plus many Mexican classics and even a few pasta favorites. Given its central location, the "something for everyone" concept makes a sort of bewildering sense.

Since we were here to dine, we bypassed specialty cocktails and from a sturdy beverage list chose a glass of Qupé Syrah and a St. Pauli Girl N.A. Unfortunately, our brisk waitress informed us, both menu items were out of stock. Well, never mind. A glass of an excellent Pinot Noir 2001 from David Bruce ($7.50) and a Kalibur N.A. beer ($3) would do fine.

Diners at a neighboring table had similar bad luck in ordering a wine that was unavailable, though listed on the menu--perhaps it's smartest simply to ask the server what is available before you plan your dinner. A bold Picasso print on the opposite wall from our banquette made a bohemian cabaret statement over a plush leather couch area. Costa Brava knows how to pamper its cocktail patrons, and the entire dining room shimmers with good-looking appointments. No tablecloths, though, which is odd given some of the prices and menu ambitions.

We started with orders of the evening special appetizer, a small quesadilla made with Brie, mangos and jalapeño ($6.50) and a plate of smoked salmon cakes in two sauces of black bean purée and sour cream ($9.50). Both were quite attractive and my quesadilla proved to be light, hot from the grill and distinguished by an inspired pairing of creamy cheese, ripe fruit and sassy chiles. Jack's order of salmon cakes tasted delicious, even though they arrived barely warm. A colorful garnish of cilantro and purple cabbage accented the surrounding pool of black bean purée, and despite the tepid presentation this dish remained the hit of the meal.

There was a very long wait for our entrees, but several people came by to make sure our water glasses were filled. Finally, plates piled with a riot of items and textures arrived, including Jack's portobello tacos ($14.50) and my special salmon "gazpacho" creation ($17). A handsome arrangement of unwarmed green beans lay to one side of a succulent slice of salmon fillet. Two curious potato croquettes --curious in that they contained no trace of flavor of any kind--accompanied the delicious salmon topped with an unseasoned salsa fresca. Wedges of lemon and the salt shaker rapidly became our best friends.

Jack's tacos contained slices of lime-intensive, deliciously marinated portobello mushrooms, yet these slices of grilled mushroom hadn't been integrated by way of sauce or seasoning into any of the other items on the plate. Rice and black beans came on the side, and everything was topped with the ubiquitous sliced mango and shredded purple cabbage. But "topped" is the operant term. Ingredients were plentiful yet culinary intention was absent. The colorful accents--cabbage, mango, cucumber, tomato--each seemed added to the dish as a visual afterthought, rather than as an integral part of a recipe. These entrees would have prospered from some element that bound together the ingredients into a dish--the theory being that a dish is more than simply the sum of lots of ingredients put on a plate.

Clearly, Costa Brava does well by its mojito and finger food clientele. The restaurant might consider streamlining its menu to showcase what it does best.
---
Costa Brava
Address: 1222 Pacific Ave., Santa Cruz
Phone: 831.425.7871
Hours: Lunch and dinner
Ambience: ** Upbeat and glamorous bar headlines a cavernous dining room romanced by walls the color of a Cozumel sunset.
Service: ** The can-do attitude of serving staff often borders on intrusively familiar.
Cuisine: ** From the overlarge and overwrought menu it is possible to choose tasty, if pricey, appetizers.
Overall: Unable to sort out its identity issues, Costa Brava makes an appeal to every possible appetite; at its best as a prime cocktail venue.
---
[ Santa Cruz | Metroactive Central | Archives ]