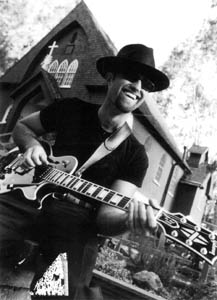 Keeping It Dwight: Shane Dwight can't help if blues isn't the flavor of the month--he's gotta play what he's gotta play.

Tangled Up in Blues

Everyone always wants to tell Shane Dwight what kind of music he should be playing if he wants to make it big. But the poor kid just can't shake the blues.

By Todd Inoue

Shane Dwight barely remembers the last weekend he had off. The 29-year-old Gilroy-based blues guitarist scrolls through his mental organizer--oh yes, January 2003.

"We did seven nights straight at the Eldorado Hotel in Reno," Dwight remembers. "Then we took the next weekend off."

Dwight and his three-piece San Jose-based blues band have seen a spike in popularity that seems to match their musical growth. A year ago, their set list consisted of two original songs and eight cover songs. This year, those numbers are flipped. He has eight originals that range from Delta blues to blues rock to funky R&B. And he's found an audience, getting himself booked into 20 different blues festivals this year.

The blues may be a harsh mistress, but things are looking up.

"It's easy to get discouraged," he says. "I'm not discouraged this year. I've been really lucky."

Dwight's interest in music began with a turkey baster. His grandmother played Elvis and Beatles songs to him when he was 5 years old.

In high school, Dwight admired Led Zeppelin and Prince, and sought out their Delta and Memphis blues inspiration. When he was a junior, he heard Stevie Ray Vaughan's electrifying "Empty Arms" for the first time and was thunderstruck, but couldn't find any takers when he tried to form a blues band. Instead, he reticently joined rock bands that looked down on the blues.

"I'd play all their songs, and they'd allow me one blues song, and that's when I got my buzz," Dwight says.

Now Dwight has his own, full-time blues band (Robby Z, rhythm guitar; Chuck Fike, bass; Jerome Kinsey, drums) and they're garnering notice as bona fide up and comers. They won the 2001 Monterey Blues Festival Battle of the Bands competition and headlined the next year. Their 2002 CD Boogie King has sold 10,000 copies. The band plays venues up and down the West Coast every weekend. He quit his day job to focus just on the music.

Still, Dwight's guitar forte--a swamp boogie compared favorably to Stevie Ray Vaughan and Muddy Waters--and his youthful good looks have some record producers pitching him toward the new adult contemporary market alongside Norah Jones, Dave Matthews and Ben Harper. He was approached by music producer Keith Forsey (Billy Idol, Beverly Hills Cop II, Simple Minds), who wants to score him a major label deal. None of these interested parties want a straight blues record, but rather something along the lines of John Mayer or Harper. Dwight is certainly tempted.

"They said, 'You can do the blues, sell 50,000 records and tour the world. Or you can try this, sell a million copies, tour the world, and have a much better time.' At first, I was real affronted, but the more I thought of it, the more I hearkened back to my roots. I like all kinds of music. I didn't grow up in Arkansas; I grew up in East Side [San Jose] listening to Prince, Muddy Waters, Led Zeppelin and Hank Williams."

Dwight even had his own private American Idol moment. Recently, Forsey called him up and told him to meet him in San Francisco so he could play in front of an assemblage of talent scouts, engineers and songwriters. Shane drove up from Gilroy, set up, and nervously played Hank Williams' "Rambling Man," a couple of blues originals and non-blues ideas for the minicrowd of tastemakers. Afterward, they offered Paula Abdul-like positive encouragement and requested more ideas.

"It was interesting, they were throwing out the different molds I could fit into," Dwight says. "I'm keeping my options open, and it would be foolish not to try it. This guy's the real thing, I would be a fool not to give it a shot."

Dwight takes a breath, a split second enough for the spirit of his blues hero to donkey-punch some sense into him.

"Of course, I'm saying this after I stayed up late last night playing Muddy Waters riffs," he says. "I love the blues too much to stop."
---
The Shane Dwight Blues Band plays Sunday, Aug. 31, at 9pm at Moe's Alley, 1535 Commercial Way, Santa Cruz. Tickets are $8 advance, $10 day of show; 831.379.1854.
---
[ Santa Cruz | Metroactive Central | Archives ]