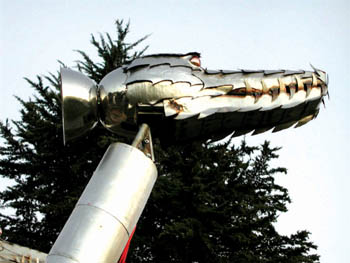 Photograph by Duane Snider

Don't Bogart That Dragon: Steve Hosking is back with another Burning Man epic. We love the man, but he's got too much time on his hands.

Nüz

Smoke Out

Remember the foiled Pentagon scheme to have a betting site on which people would have gambled on the probability of terrorist attacks and political assassinations?

Well, now comes www.UBetWHAT.com, which touts itself as the "first online gambling community where gamblers can bet on anything within the realm of good taste."

The sports-heavy site also includes several recall-related bets, such as "Arnold and the other Woman" wager, a.k.a. The Smoking Bimbo Bet.

"It's only a matter of time before a woman comes forward claiming to have had an extramarital affair with California gubernatorial candidate Arnold Schwarzenegger. It's just the nature of pit-bull politics!" writes bet-setter Spin Me.

Spin Me posits that between now and Oct. 7, the mainstream news media, not the gutter press, will carry such a story.

"If Arnold's honor remains unspoiled, you win! I say that someone is already mixing mud to sling around," is the Spin Me challenge.

As it happens, the Bimbo bet is already closed, but Democratic loyalists could stand to gain by putting their money where their mouths are on the "Arnie Wins" bet, which remains wide open. Kevin Mercuri of RLM Public Relations, which launched the site a month ago, says he's putting his money on Gov. Gray Davis surviving--if only by a small margin.

That said, Mercuri warns that one Arnie bet has already paid out.

"Somebody bet Arnie wouldn't run," he says. "I think they lost $50."

Pay Out

"We've heard the hype and the sound bites on TV. Now we now want to educate folks politically and give them a more in-depth view and take on the recall," says Bill Malone, president of the People's Democratic Club.

To that end, the PDC has invited Bob Mulholland, executive director of the state's Democratic Party and California's answer to Karl Rove, Fred Keeley, the 27th District's former assemblymember, and UCSC professor of politics Michael Brown to give three perspectives--analyst, activist, insider--on the recall. County Supe Mardi Wormhoudt will moderate this free event, which takes place Sept. 4, at 7pm, at United Methodist Church, 250 California St., Santa Cruz; 831.420.1133.

Bud Out

"They don't want our money, but we sure do keep a lot of cancer patients alive."

So says Wo/men's Alliance of Medical Marijauna co-founder Valerie Corral regarding the American Cancer Society's decision to return a $125 check that WAMM wrote on behalf of members who participate in ACS's Walk of Life run.

Along with the check came the following brief note from ACS rep Angie Carillo:

"We respectfully declined the contribution, because the American Cancer Society does not advocate the medical use or legalization of marijuana. We believe that accepting it would give the wrong impression and confuse the public about our position."

Reached by phone, Carillo told Nüz, "Beyond what I wrote in that note, I can't speak for the organization. I'm going to refer you to our legislative group in Sacramento."

Cell Out

Last week, Nüz got a visit from activist Marilyn Garrett, whose opposition to cell phones and their towers and antennae includes allegations that said technology causes everything from autism to obesity.

This time, Garrett was outraged at having been denied access to a meeting at UCSC's Interdisciplinary Science Building, regarding a proposed cell phone antenna installation on the roof of Natural Sciences 2.

Earlier this year, a consulting engineer from Hammet & Edison performed radio-strength tests on existing police and fire antenna presently in place on NS2 and sampled radio-radiation readings in various locations on Science Hill, then used that data to determine the field strength from the proposed cell-tower facilities.

"Since this was a discussion about safety, and I have scientific data that is not from the industry and that is vital to understand the adverse effects of this technology, why were they so afraid of the truth that they would go to such extremes to censor nonindustry information?" Garrett raged.

UCSC spokesperson Jim Burns says the meeting was not meant to be public and was to inform researchers in a particular building about a proposal from a wireless company.

"No decision was made, and part of the meeting was to talk with people about whether placing it there would have any impact on their research. There's a lot of physicists in there," says Burns.

Noting that "in retrospect, it would have been better to let in Garrett and another activist who showed up," Burns says UCSC considers proposals from companies like AT&T Wireless "because it's an opportunity to improve cell phone coverage, which, for reasons to do with our topography, is not great. The other reason is revenue. Leases for antennas run between $1,000 and $2,000 a month. In these times, we have to consider everything like that."

Asked about the validity of concerns regarding cell tech, Burns said, "I'm not an expert, and I don't know anyone doing research like that on campus, but there is another proposal on campus to use microcell technology, which could lead to the placement of a number of smaller antennae with much lower radio frequency around campus."

Odd Man Out

Burning Man aficionado and local resident Steve Hosking thinks Genesis was one big fat lie.

"It wasn't just a snake, it was the Goddess' own serpent, the Dragons of Eden, that brought self-awareness and the ability to use fire to humankind," says Hosking, who also built the Satan's Calliope.

Which may explain why Hosking has built a gleaming embodiment of said Dragons, for this year's "Beyond Belief" Burn.

Asked for details about the engineering of his latest beast and other oddities, Hosking said, in typical BMer fashion, 'I got to go finish the igniters. But come to the Playa, and I'll show you oddities!"

Burn Out

News that Good Times' "fun summer dating experiment" has "fizzled" came as no surprise to Nüz. What did shock us was that GT is hoping that the male participants who got lured into this fiasco will get involved in a "more in-depth story" about being single from the male perspective--after just having been summarily dumped. The summer fun never stops!

Anyway, now you know why we were rolling on the floor when they accused Nüz of pooh-poohing the whole thing because we were "jealous." Uh ... no.
---
Nüz just loves juicy tips: Drop a line to 115 Cooper St, Santa Cruz, 95060, email us at , or call our hotline at 457.9000, ext 214.
---
[ Santa Cruz | Metroactive Central | Archives ]