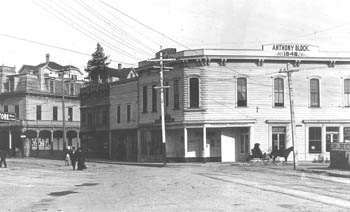 Covello & Covello Historical Photo Collection.

North End of Pacific, Circa 1890: This view is looking north and was taken about where the Town Clock now sits. Mission Street goes up the hill to the left, and Hinkle's Cash Store is on the far left, which is now World Savings. Straight ahead on the ground floor is probably our first nickelodeon, with continuous performances.

Bruce Bratton

AMUSEMENT PARK SAFETY. Because it's the end of summer, news media develop their annual concern about amusement park safety. The Wall Street Journal did a piece (Aug. 3) on how long the waits are at 14 theme parks. It probably had nothing to do with the fact that the Journal owns the Santa Cruz Sentinel, but they ranked our Beach Boardwalk, with its $23 wristband price, in the fast category, with Disneyland, Dollywood and Knott's Berry Farm. Universal Studios and Disney World in Florida were in the fastest category. On the safety issue, the Sentinel reported (Aug. 24) that more than 10,000 thrill seekers went to emergency rooms last year, according to the government; according to the Consumer Product Safety Commission, 6,590 people were hurt on amusement park rides--the total for those rides plus mobile carnival rides was 10,580. Amusement park injuries have been increasing significantly over the last five years, according to Ann Brown, chairwoman of that Safety Commission. CBS Evening News, last Monday (Aug. 20), did a special report on this amusement park danger. According to the report, more than half of the injuries aren't on rides like roller coasters but on children's rides. The CBS report also told about the Safer Parks movement, headed by Kathy Fackler. You need to go online to www.saferparks.org if you care at all about amusement park safety. The site shows, for example, that children's injuries account for two-thirds of the reported injuries. It tells that fixed-ride injuries increased 59 percent between 1993 and 1999, and portable ride injuries went up 15 percent. It lists only one injury from our Beach Boardwalk, a male roller-coaster rider age 37--hospitalized. The site also covers attendance figures, listing the Boardwalk as 19th in the country, with 3 million visitors in 1999. Six Flags Magic Mountain was 17th with 3.2 million, our neighbor Six Flags Marine World was 29th with 2.1 million and Paramount's Great America was 37th. You can see on Saferparks.org that there has been a very long battle in California, with amusement parks fighting state regulation and mandatory reporting of ride-related accidents. The fight is led by Disneyland, of course. The problem here is child safety and effective regulation. Do a little homework, and see if you don't think there's a very real problem here.

DARK PLEASURES. American Rhapsody, opening at the Nick, stars Nastassja Kinski as a mom who escaped from Communist Hungary. She's working overtime to raise her daughter, and the film centers on the daughter trying to figure out where her true home is. It keeps your interest but gets near treaclelike--so go warned. The scenes around Buda and Pest are excellent. Apocalypse Now Redux, opening Friday at the Nick, is not just longer but even a little bit better than it used to be. The added footage isn't just a minute or two here and there; it consists of two brand-new adventures as the boat chugs up the river to find Col. Marlon Brando Kurtz, plus a scene with Brando reading Time magazine. It all adds to the depth of this already heavy saga of our involvement in Vietnam. Geoffrey Dunn, who, among other things, teaches about war films at UCSC, wrote a critique on this new version saying that Coppola got the history wrong. The Chronicle printed Geoff's review and a few days later printed Coppola's letter-to-the-editor reaction. The Nation is going to print a shorter version of Dunn's critique. Both Coppola and Dunn make valid points; too bad we can't print them here. But see the film, it's one of the best ever made.

WALTER REED'S FUNERAL. About 150 family members, friends and neighbors were at Dominican Oaks to say farewell to our favorite resident movie star last week. Walter died of kidney problems, in case you're keeping track. Just because it was Walter's last scene, there were dozens of jokes, and some nearly believable wild and raucous stories. More than anything else, folks commented on the timing of the Nickelodeon cement-square celebration in July and Walter's going to Hollywood in the first part of this month to receive his Golden Boot award for the second time. What a guy!

JAZZ SOCIETY OF SANTA CRUZ COUNTY. This group has been going a while now, and they're creating CD swaps, jam sessions, jazz-education opportunities and a good way for the jazz community to keep in touch. They're also nonprofit. Find out about what they're up to at www.santacruz jazz.org. You can locate musicians you want to hire or people to publicize your gigs. The JSSCC is beginning work on a Frank Leal tribute CD as a way to document Santa Cruz's jazz history. Call 426.8449 for more information.

O BROTHER NEWS. John Sandidge's Snazzy Productions is bringing Gillian Welch and David Rawlings from the soundtrack of O Brother, Where Art Thou? to the Kuumbwa Jazz Center on Sept. 4. Gillian sings with Alison Krauss on "I'll Fly Away" and with Emmylou Harris on "Don't Leave Nobody but the Baby." David is on "Down to the River to Pray." Tickets are available online at snazzyamericanamusic.com or by calling 479.9421. They can also be purchased over the counter at Etc., Etc., Etc. in front of General Feed and Seed, 1900 Commercial Way, Santa Cruz.

THREE TALL WOMEN. Santa Cruz Repertory's production of Edward Albee's Three Tall Women closes with 8pm performances this Friday and Saturday. If you like Albee's plays, go see it. Laurel Gregory's a little weak, and we lose her upstage lines a few times, but Kathie Kratochvil and Karen Solomon do fine jobs. Tickets are available at the Santa Cruz Civic Box Office, or you can save money by getting them at the door of London Nelson Community Center. Call 429.1746 for info.

SHE STOOPS TO CONQUER. Somebody once called it She Conks to Stupor, and they both fit. Sven Davis of Shakespeare Santa Cruz announced that they'd had almost 47,000 attendees at this year's festival. He also said those admissions only covered about 60 percent of the costs. The acting is good in this nutzy comedy. The use of Kmart/MTV/grunge costumes mixed with traditional garb is beyond me. It takes the fun out of seeing and hearing Oliver Goldsmith's subtle and slapstick humor. The play closes this weekend, with performances Friday-Sunday. Not only are the performances in the Sinsheimer-Stanley Festival Glen, but Sinsheimer and Stanley were there too at last Sunday's matinee.

THE PLAYERS GROUP. This new theater company drew about 100 people to the Jahva House Sunday night to see the last of three performances of Black Eyes, a play based on the Euripides' play The Bacchae. This creation was written by Julia Landau and the Players Group director Ali el-Gasseir. It was one of the finest adaptations of any Greek play I've ever seen, and I've been going to them since my Berkeley college days in the '50s. It was not just excellently performed and funny, but it felt as it had been written for today's Santa Cruz. Black Eyes had an audience of 80 people for their 8pm show on Saturday night, and 70 for their 10pm Jahva House performances. I mentioned the size of the audiences because it's great to see folks turning out for plays that have substance--and the stuff that only live theater can deliver. The Players Group is planning to do Henry IV, Part I, before the end of the year. Want to join them, want to help them, want to learn more about them? Call 515.4480, ext. 6187 or go to theplay [email protected]

FINALMENTE O POR FIN. I lost the documentation on these two Pulitzer Prize-winning contributions. Somebody named John sent in the bumper sticker "How Would Jesus Drive?" and that's got to make you stop and think. The other was an email, long since lost, of course: "No Man Is an Island, but Palau Is an Archipelago!"
---
Bruce critiques films every other Thursday on KUSP-FM (88.9FM) at 12:50pm. Reach Bruce at [email protected] or at 457.5814, ext. 400.
---
[ Santa Cruz | Metroactive Central | Archives ]