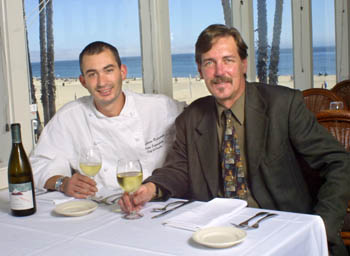 Photograph by George Sakkestad

Pacific Class: Executive chef Aaron Cunningham and general manager Scott Carter know that Casablanca needs to live up to its view.

Casablanca Charm

Always at the top of the culinary pack, Casablanca rewards its dining faithful who love their food with a view

By Christina Waters

SIMONE WAS OFF to Paris. Wanting to bid her an appropriate bon voyage, I suggested dinner at Casablanca. Simone agreed instantly, and we hit the lovely upstairs dining room just as the sun was turning the sand along the main beach to soft, powdered gold. Few panoramas can touch this, we both agreed, toasting the very idea of late summer at the edge of the Pacific Ocean with flutes of Gruet Blanc de Noir ($6).

The palms lining the beach made long, purple shadows that deepened with advancing twilight. Casablanca feels good, and with Aaron Cunningham cooking up fresh seasonal ideas, it tastes even better. Appetizer specials set a sparkling tone for the entire meal. This time of year, it's hard for me to resist the idea of multihued heirloom tomatoes, especially when they're crafted into a coastal caprese, with little lettuces and tiny spheres of fresh buffalo mozzarella ($12.95).

Simone's generous starter of exceptional proscuitto--"This is perfect"--was smothered (perhaps too extravagantly) with slices of ripe honeydew and cantaloupe ($10.95). Along with a wonderful sourdough baguette, we were transported toward the heart of our memorable meal. And, yes, we agreed, it did seem perverse not to order seafood, especially given the view of the ocean enticing us through Casablanca's walls of windows.

Still, there was a special rack of lamb with couscous and fig confit ($29.95) and the house signature filet mignon ($24.95) with a demi-glace of forest mushrooms to be reckoned with. So we did, aided and abetted by a split of Laetitia Pinot Noir 1998 ($29).

Gorgeous creations both, the entrees showcased the kitchen's attention to detail, to fastidious preparation--both the lamb and the filet had arrived exactly at the desired point of rareness--and to a fine balance between culinary artistry and allowing the clarity of flavors to ring true.

Tender and delicious, the plump filet rose out of a deep mahogany pool of wine and mushroom reduction. It was joined by a square of utterly decadent scalloped potatoes au gratin, topped with an aromatic branch of fresh rosemary. A few oval slices of golden squash and a sheaf of tender green beans added flavor and visual appeal.

Simone's roasted lamb, divided into twin portions of two ribs each, was as good as I'd ever tasted. A timbale of spiced couscous was joined by a tangle of tiny enoki mushrooms and roasted fresh figs, all courting the luscious lamb with Mediterranean attitude.

Knowing that we would be "required" to try some desserts, we asked for half of the generous filet to be packed for carry-out, and over espresso we considered our dessert options. In addition to lots of the usual, if tempting, suspects--given Casablanca's showcase location, its menu has been designed to address a wide range of tastes--there were specials that included a fruit and cheese plate (very civilized!) and a pumpkin cheesecake. The latter ($7.95) jumped out at me, but for Simone there is only chocolate. Her path was clear, and it led directly toward an amazing bittersweet chocolate mousse cake that pretty much brought us both to our knees ($6.25).

Oh, the orb-shaped cheesecake was stunning, to be sure. Fresh, light and pretty with its topping of whipped cream, it arrived dotted with whole walnuts and fresh mint--altogether a delightful dish. But the utterly supple, dense and silky chocolate creation--topped with a round chocolate wafer and glorified by an intense bitter chocolate cookie crust--was the food of the goddesses. Which is what we felt like after our latest evening at the Casablanca.
---
Casablanca Restaurant
Address: Main and Beach streets, Santa Cruz
Phone: 423.1570
Hours: Dinner nightly 5-10pm
Chef: Aaron Cunningham
Sous Chef: Anthony Schwartz
Entrees : Moderate to expensive
Ambience: ***1/2 Good-looking, comfortable and graced with an outstanding view of the beach and coastline
Service: *** Correct, friendly and knowledgeable
Cuisine: ***1/2 Though the menu could be more adventurous, the quality of ingredients and execution is consistently excellent
Overall: Casablanca belongs on every resident's short list of places to visit--especially with out-of-town guests--again, and again
---
[ Santa Cruz | Metroactive Central | Archives ]