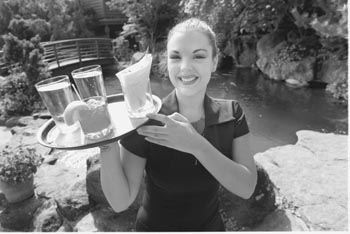 Photograph by George Sakkestad

Tropical Fun: Jennifer Brown serves drinks in the lush waterfall setting of Severino's back patio.

Savoring Severino's

Despite the work at Seacliff Inn, Severino's still beckons with specials

By Janet Blaser

SEVERINO'S in Aptos is in the literal middle of major remodeling and construction on the adjacent Seacliff Inn, which is adding a weight room, several suites and a business office to its already bustling complex of facilities. Contrary to what it looks like, though, the restaurant is going on as usual, and you'll find no disturbance to a lunch or dinner had inside or on the charming patio secreted inside the building.

For some time now, ads have been touting "Construction Specials" and "Hard-Hat Lunch" to entice diners to brave the mess in the parking lot and come in, and so you'll find two-for-one Chinese chicken salads, a deal that shouldn't be missed, and in a week or so another item will be featured. In case you're out in that end of the county, Severino's is open for breakfast, lunch and dinner, and also serves brunch on Sunday. There's also live music on Thursday, Friday and Saturday nights in the lounge. Find Severino's in the Seacliff Inn just off Highway 1 at the Seacliff exit in Aptos, or call 688.8987 for details.

Taking a Chance

A few weeks ago I got a fortune after a Chinese lunch that read, "You will continue to take chance and be glad you did." Since then, I've been endeavoring to remember those little words of wisdom as different situations have arisen and the choice was to go with the familiar or, indeed, take a chance. And so, dear readers, I ended up at Casalegno's Market on Old San Jose Road in Soquel, finally stopping on my new commute to see what was going on--besides the snacks, milk, soda pop and such. Here is where you can find little baskets of really, really fresh-picked tomatoes, apples and purply-red plums--for a buck, or maybe $2, if the tray is big. The setting, with its easygoing casualness, reminded me of roadside stands back in Pennsylvania and New Jersey--no touting of organic or certified, no by-the-pound worries, no lines, either, of fanatical shoppers. A quick glance, an even easier pickup, and those plump Bartlett pears are yours, plucked from the top of the newspaper racks, where the day's pickin's from the orchard all around are arranged right within arm's reach as you breeze in the swinging door of the little market. Gourmet sandwiches, espresso drinks, decadent desserts? Nope. Just real, honest-to-goodness fresh fruit, courtesy of Mother Nature. Really, what more could you ask for?

Liquid Plans

Chris Vizas, a veteran restaurateur with prestigious and successful projects under his belt like LuLu and Rose Pistola in San Francisco, Viaggio's in Saratoga and Zibbibo in Palo Alto, is the excited new owner of the restaurant known as India Joze. Without kicking someone who's already down, let's just say the place has seen better times and made lots of wonderful memories and is ready for a new lease on life. Vizas may be just the one to do it. Plans call for a Pisces-themed decor of water--the name, appropriately, will be "Azur"--with an oyster bar, an impressive wine collection and a full bar (another Pisces love). Homemade pasta and bread, a Mediterranean menu and a complete remodeling are in order. Expect the place to close in September and reopen with its new look in time for the holidays. Who knows, it may yet regain its status as the happening place in Santa Cruz.
---
Got a food tip or restaurant news? Email Janet at [email protected]
---
[ Santa Cruz | MetroActive Central | Archives ]