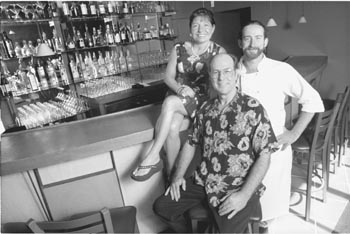 Photograph by George Sakkestad

Top Team: The Terrace's management team, (from left) banquet manager Sally Locke-Paddon, owner Richard Priddy and chef Travis Ferrel, debuts the new restaurant in a legendary Soquel spot with fresh touches on old traditions.

From the Terrace

The latest incarnation of the old Courtyard feels a whole lot like those former glory days on Main Street

By Christina Waters

A BASKET OF FRANCESE materialized on our soft white tablecloth almost the minute we sat down last Saturday night. The Terrace was already humming with family parties, a back room of date-night diners, and the trio warming up in a sleek lounge sporting a new lining of tomato red paint. A yellow wall divides the restaurant's two main dining areas--and we decided the minimalist lines of open-beamed ceiling and uncluttered décor could be characterized as Japanese-Italian design. Almost everything about the Terrace, located on that vintage Soquel Creek site, is new and fresh.

Warm personal management, swift service and an attractive menu packed with California cuisine ideas began to work their magic. Glasses of outstanding Ahlgren Zinfandel ($7) opened into spicy complexity as a simple starter of tiny fried calamari rings arrived ($9). The light, hot and crisp seafood had a tomato basil sauce accompanying, but we found that it went best with a squeeze of fresh lemon. My salad of fresh organic greens--the Terrace gets extra points for using organic produce--sparkled in its fine balsamic vinaigrette ($6). But Jack and I especially liked the superior cherry tomatoes and crown of crisp parsnip curls on top of the sweet lettuces. Another starter of freshly created corn chowder ($6) was absolutely delicious. We liked the balance of fennel and cayenne undertones in the rich, corn-intensive broth. Our server gladly asked the chef about a few mystery ingredients--toasted thyme and white peppercorns--that made the complex, creamy soup so satisfying. A lovely appetizer on a foggy summer night.

The trio--sax, piano and drums--had launched into a jazz-intensive "Dock of the Bay," when our entrees arrived. Beautifully organized--not over-orchestrated--on huge heavy white plates were orders of pan-seared citrus ahi ($19) and filet mignon ($26). Piping hot and generously portioned, both dishes again showed the chef's sense of adventure.

Jack's ahi--full-flavored and medium as requested--came laid on a bed of pilaf and ribbons of flash-fried leek. Coral-hued nuggets of pink grapefruit and
orange ringed the plate, along with sunumono-style pickled cucumber. It was a bit busy, but filled with eclectic flavors. With this dish, Jack tried the server's recommended Pelican Ranch chardonnay ($6), a rather buttery creation loaded with butterscotch.

My substantial--eight ounces worth--filet was cooked exactly as I'd wanted, between rare and medium-rare. An encirling band of prosciutto was unnecessary given the superior flavor of the beef. The terrific steak was almost upstaged, however, by a portion of seriously comforting mashed potatoes overflowing with earthy flavor. A tangle of flash-fried strips of red and green bell pepper filled in the rest of the huge plate. It was quite an achievement--the Terrace had refreshed a culinary standard, and given it new respect.

In addition to the trio in the lounge--their music perfumed the entire background of our meal--the Terrace gave us a memorable finish to the evening. We shared a dessert of sliced pears poached in merlot, punctuated by wedges of St. Andre triple crème cheese ($6). Had the cheese been riper--or even better, a Camembert--the dessert would have been a complete triumph. As it was, it was wonderful. The crisp pears, stained a beautiful soft maroon by the wine, created tangy poetry against the buttery cheese. A few perfectly ripe raspberries dotted the plate. And then quickly disappeared.

The Terrace offers appealing dinners--even brunch on Sunday. More importantly, it makes you feel that you've had a complete, satisfying evening out--tasty food, festive fellow diners, personal management, and some sweet live jazz. Such a welcome revival of delicious memories.
---
The Terrace
Address: 2591 Main St., Soquel
Phone: 831.475.0303
Entrees: Moderate
Hours: Lunch Mon-Fri, 11:30am-2:30pm and dinner nightly 5:30-9:30; Sunday brunch 11:30am-2:30pm
Service: *** Swift, friendly and knowledgeable
Ambience: *** Contemporary California dining room, amplified by the vivacious lounge and live music on weekends
Cuisine: *** Some very nice culinary moves, with fresh ingredients and attention to expert saucing
Overall: It's a pleasure to welcome the Terrace to such a vintage setting--it sets the right tone, in both hands-on management and fine flavors
---
[ Santa Cruz | MetroActive Central | Archives ]