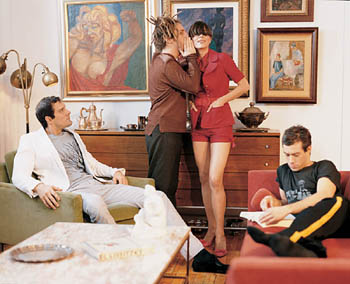 Brazil Nuts: Didi briefs Sabina on the latest hazing ritual for their beleaguered rhythm section.

Laptop Lounge

Brazilian Girls bring their global glamour and a New York City 'melting pop' aesthetic to the Attic

By Bill Forman

Brazilian Girls have a past, but not one you'll likely hear about from them. Veritable record industry vets, they've learned how to survive in a business where you're only as good as your last sound bite.

So when their self-titled debut album came out this past spring on Verve Forecast—boasting five languages plus a musical vocabulary that ranges from the Air-meets–Arthur Lyman exotica of "Lazy Lover" to the tripped-out electronica of "Corner Store"—it's no surprise that they made no mention of frontwoman Sabina Sciubba's previous career as a relatively straight-laced jazz chanteuse or keyboard/electronicist Didi Gutman's day job as musical director, co-writer and touring accompanist for Bebe Gilberto.

Reinventing yourself is, after all, an American tradition, and Sciubba and Gutman, who hail from Munich and Buenos Aires, respectively, are more than happy to do just that. Hooking up with bassist Jesse Murphy and drummer Aaron Johnston less than two years ago, they honed their Brazilian Girls act with weekly shows at Nublu, one of the creative hubs of the downtown New York City club scene. The resulting musical mélange deftly evokes the world-music party-people aesthetic of Los Amigos Invisibles, the cabaret weltschmerz of Kurt Weill and the "groove is in the heart" funkiness of past Gotham club icons Deee-Lite.

"Yeah, I like Deee-Lite, especially their aesthetic," notes Sciubba. "Everyone who's doing their thing is cool for me."

In addition to shedding musical skins, the most girlish Brazilian Girl also abandoned the conservatively tasteful apparel of past jazz album covers. These days, she opts for an eccentric Eurotrash persona that melds Divinyls' "Touch Myself" sultriness with outrageous costumery straight out of Grace Jones and David Bowie at their most excessive.

And then there's her weird blindfold in the "Don't Stop" video that suggests some kind of Divine Justice fetish. (Sciubba's favorite designers, for the record, are "Alexander McQueen, As Four, Laura Dawson, Laura Felton, Algea, Aisha, Imitation of Christ and of course myself.")

Still, even the most discarded of pasts has a way of catching up with you, as Sciubba realized just last week when confronted about her days as a German soap opera star.

"Oh, yes, now it's out, I was in a soap opera," mourns Sciubba, after being presented with a crudely translated passage from an article in Jazz Zeitung. (Hats off to Google website translations, which also reveal that Sciubba has "the most beautiful and transformation-ablest voices belonged, which left ever the mouth of a German jazz singer.")

"I was young, I needed the money," Sciubba continues, her mock horror tempered by amusement at the computer-assisted praise. "I was so innocent then. I didn't know what I was getting into. Please don't tell anyone."
---
Brazilian Girls, Wednesday, Aug. 31 at 8pm at the Attic, 931 Pacific Ave., Santa Cruz; tickets $15/adv, $20/door. (831.460,1800; www.theatticsantacruz.com)
---
[ Santa Cruz | Metroactive Central | Archives ]