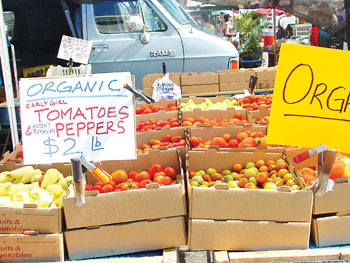 Photograph by Debra Whizin

Vanned Fruits: Fresh stuff is what the farmers market is all about.

Getting Fresh

The farmers market, a weekly fixture of Old World culture, has become part of the inimitable Santa Cruz way of life

By Christina Waters

Thanks to the back-to-the-land movement of the '70s, one of the oldest social customs--the sensuous block party known as the farmers market--is now a permanent fixture of the California lifestyle.

Anyone who travels to Europe or Mexico quickly finds out about the delicious sights and sounds occurring every weekend around the central zocalo or cathedral courtyard. Farmers bring the fresh harvests from their fields and orchards into town. Artisans selling flowers, nuts, cheeses, fresh eggs, bread and textiles add their wares to the weekly bazaar, and the whole community gets a chance to get together and catch up on gossip.

Wednesday afternoons in Santa Cruz have shaped up into something very similar, and it sure seems as if everybody in town stops by to soak up the atmosphere of the weekly downtown farmers market. If you're shopping for fresh dinner ideas, this place is heaven. But even if you're just checking out the highly watchable people scene, the farmers market will tempt you to sample and buy. Unless you just ran out to your own garden before making dinner, you simply can't get any fresher than this.

Late summer brings out the best in California fields, and last Wednesday's market was literally overflowing with brilliant mounds of tomatoes, pretty rows of deep green lettuces, bins of fragrant melons and sunflowers Van Gogh would have died for. It's a world of heirloom, organic and designer vegetables, botanicals so significant they all have first names: Brandywine, purple Cherokee, striped German, Dixie Golden Giant--and those are just tomatoes.

All the top growers--the real live people who plant, cultivate and harvest your freshest local foods--are here. Happy Boy and Molino Creek, Lucero (a mother lode of multicolored tomatoes), Mora Farms (home of killer peaches and nectarines), Blue Heron Farms, whose exquisite lettuces share long wooden counters with textbook bunches of radishes, beets, carrots and fennel that might have been sculpted by Rodin. Smart farmers, like the folks from the Central Valley's Stackhouse Farms, cut up plenty of juicy fruit for customers to sample.

Here's a news flash: this is white nectarine season. Route One Farms currently stocks gladiolas easily 4 feet high, along with Yukon gold potatoes and those terrific Roma beans. And since this is Santa Cruz, our farmers market also stocks acres of fresh breads, a pasta and gnocchi concession, delicate papadams, chutneys and roti breads from Sukhi's and, of course, tofu. Add honey and jams and just go and feast on the fresh harvests from the gardens of our neighbors.

Big Plants on Campus

Meanwhile, at the foot of the campus, UCSC's Farm & Garden wunderkinds offer a twice-weekly bounty of amazingly colorful and intensely flavored produce. For most of us who live on the West Side, the impressionistic bouquets created from such old-fashioned flora as larkspur, alstroemeria, zinnia, calendula, bachelor button, statice and cosmos are a weekly addiction. For $6 these breathtaking floral creations are a gorgeous bargain.

Dry-farmed tomatoes and sweet white corn are two of the top attractions right now, along with my personal favorite, flat Roma green beans, and baby basil so delicately flavored it can be part of every dish you serve. Heirloom varieties of lettuce and potatoes currently reward the diehard following that this student-grown-and-operated minimarket has attracted. Under the shade of a stately locust tree, this little slice of agro-ecological heaven attracts serious foodies and cooks from all over the area.

Central Coast gardeners will want to make sure they head out to the UCSC farm this Saturday, Sept. 6, from noon to 3pm for a three-hour workshop on Fall & Winter Gardening. Learn organic techniques for enhancing your soil fertility, using the best mulches and cover crops as well as transplanting tips for those tender seedlings. The cost is $10-$15, and the workshop takes place on the UCSC Farm. Park in the Physical Plant lot and follow the signs up the gravel road to the Farm. For more information call 831.459.3240.
---
Santa Cruz Community Farmers Market, Wednesday 2:30-6:30pm, in the parking lot on Cedar Street behind Logos Bookstore. UCSC Farm & Garden Market Cart, Tuesday and Friday noon-6pm through November, on the corner of Bay and High streets.
---
[ Santa Cruz | Metroactive Central | Archives ]