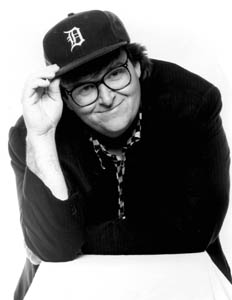 Smart White Guy: Tickets go on sale this week for Michael Moore's Oct. 19 appearance in Santa Cruz.

Nüz

Matriot Acts

Attention all peace-loving, bleeding-hearted liberals, agitators, activists, artists, aliens, aunts and ants--we must rise up, above the fray, and proclaim ... Beauty before bombs!"

So says Art & Revolution's Grant Wilson, whose street-theater group is proposing "taking the 'P' out of patriot and the false pretense of flag-flapping patriotic pathology!"

And how, prithee, do they intend to do this?

With a pre-emptive strike Sept. 10, which they have wittily dubbed Matriot Day, in anticipation of another round of mass hysteria, beginning Sept. 11, an anniversary that President Bush has designated Patriot Day.

"Matriot Day is a positive, liberation-oriented action that we hope will act as an inoculation to apathy, despair and the narrow, good vs. bad, 'anti-terrorist' violent, fear-based, military-patriot-hero orientation," writes Wilson, who respectfully requests that all supporters of Matriot Day and the accompanying Matriot Act wear pink and bring (pink, of course) noise-makers. bicycles. banners, boas, boots and breeches to show off in activities that kick off at 4:30pm at the Town Clock.

Art & Revolution will also be asking the City Council to acknowledge Matriot Day as one for "reflection on nurturing and cooperative values in commemoration of the compassion and humanity that are too often forgotten after geopolitical tragedies." Call 831.426.2292 for details.

Knuckle Rap

"So the FCC won't let me be," rapped Eminem in "Without Me."

Now come rumors that his smack-talking lyrics are the new theme song over at Santa Cruz's Free Radio after the FCC rattled their cage last week with the delivery of a not-so-nice warning letter.

"They gave us a notice of an unlicensed radio operation," says FR's Vinny "V Man" Lombardo, who reports that with just 10 days to respond, FR is trying to get City Council support--a move that would echo San Francisco's recent passage of a strongly worded ordinance encouraging the right of San Francisco Liberation Radio to broadcast and discouraging law enforcement from harassing the station, which got its own FCC knuckle rap in July.

Adding to Free Radio's rancor quotient is the fact that after broadcasting for eight years at 96.3FM, Christian Rock Channel Air One was granted a license this August at that exact same frequency, although it only put in an application this summer and had previously broadcast at 95.9FM.

"And now they've put up a directional antenna in Watsonville, which has cut off a big chunk of our listeners east of Morrissey Avenue. We get calls saying 'We miss you guys' and are we gonna move?" the V-Man reports.

Check out www.freeradio.org for details of what you can do to help.

Art Is Not an Option

"Gruesome."

No, it's not another review of Gigli, but the reaction of Santa Cruz Arts Commission chair Ch!P on learning that the city's arts grant program, which was cut from $50K to $30K two years ago, will be axed entirely if the City Council approves wholesale the city manager's recommendations when it meets Sept. 9.

"Yeah, we're in a budget crunch. Yeah, there's no money, but it seems to me that if this funding goes away entirely, it will be hard to get back when times are fat, so, I'm advocating for people to show up at the council's Sept. 9 meeting with the message that art is not an option."

The grants are spread over about 30 groups, including Actor's Theater, Cabrillo College Music Festival, the Japanese Cultural Fair, the Kuumbwa Jazz Society, New Music Works, Santa Cruz Ballet Theatre, Santa Cruz Baroque Festival, Santa Cruz Bluegrass Society, Santa Cruz Chamber Players, Santa Cruz County Symphony, Santa Cruz Ethnic Arts Network and Shakespeare Santa Cruz.

Assistant City Manager Martin Bernal says that with the city $2 million in the red, his office is coming back with a plan to balance the budget for this fiscal year.

"The cuts will be spread across all the different departments," says Bernal, arguing that to say the whole arts budget will be wiped out isn't 100 percent accurate.

"The city's 2 Percent for Art ordinance is not being considered, nor is the Cultural Council. We're trying to keep to the council's adopted objectives, which are to minimize the direct impacts to residents and employees, but that's getting harder and harder."

I'm Forever Blowing Bubbles

With this weekend's Only in Santa Cruz shows being billed as "a celebration of street performing," some performers are asking what exactly they're supposed to be celebrating, given that their 25-year-old voluntary guidelines have been dumped in favor of time and space restrictions on those who would make a little coin.

Waxing reconciliatory, Bubble Man Tom Noddy, who was arrested earlier this summer for juggling three lemons, says he believes the merchants, the Downtown Association and the City Council all reversed their course when they clarified that juggling was legal in the wake of his arrest.

"What's going to happen next, that's what we're celebrating," says Noddy, who is hopeful that the 10-foot distance requirement will be repealed sometime this fall.

P.S. The Only in Santa Cruz shows feature a stellar but different cast each night. The Flying Karamazovs, Tandy Beal, Sadza, Kuzanga, Michael True, Mu, Deuces Wild, Y Swami Y, Cal and the Great Morgani perform Friday, Sept. 5; Bob Brozman, Tom Noddy, Frank Olivier, Keith Greeninger, Fyodor Karamazov, Michael Masley, Phil Free, Cosmic Chris and Donna Mandala do their thing Saturday, Sept 6.

Both shows begin 8pm. All seats are $10.

Tickets available at Santa Cruz and Streetlight Records.

For Moore Information

Tickets are finally going on sale to the general public for award-winning documentarian and bestselling author Michael Moore's Oct. 19 Santa Cruz appearance. To scoop up tickets to hear this guy not only dis stupid white men and guns in America but also challenge economic and political giants--something he's been on about for over two decades--mark Sept. 2 on your calendar. That's the day tickets go on sale at the Santa Cruz Civic Auditorium box office (831.420.5260) and Ticketmaster (408.998.8497).
---
Nüz just loves juicy tips: Drop a line to 115 Cooper St, Santa Cruz, 95060, email us at , or call our hotline at 457.9000, ext 214.
---
[ Santa Cruz | Metroactive Central | Archives ]