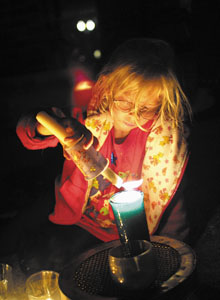 Sept. 17

Continental Divide

How much fallout did we really feel 2,500 miles from ground zero? Charting a year of getting scared, getting angry, getting active and--holy crap--even getting over it.

By Sarah Phelan

THE PLANES plowing into the towers, the couple holding hands as they jumped, the billowing gray smoke chasing New Yorkers down city streets as the skyscrapers crumbled. Those are the images that just a year ago we didn't imagine we could get away from for even a moment, let alone forget.

"We are all New Yorkers now," wrote one Santa Cruz resident in a book of condolences that was set out in Bookshop Santa Cruz in the wake of the attacks.

But are we really? Were we ever?

For a short while, some of us did feel closer to our East Coast brethren, the distance shortened by the realization that San Francisco has skyscrapers, too. Crossing the Bay Bridge suddenly was dicey, while the Golden Gate Bridge felt like a red elephant waiting for a dirty nuke to pop. Yes, for a very short while every overflying plane and envelope full of unidentified white powder was a shortcut to Washington, Pennsylvania and Florida. And the bookstores couldn't stock enough books about bin Laden, Islamic fundamentalism and the roots of unholy war.

But slowly and surely, the epicenter of our attention in Santa Cruz shifted back to its usually spot a couple of thousand miles west. Six weeks after the terrorist attacks, the River Street Sign, which had the audacity to be erected the day after Sept. 11, became a lightning rod of cognitive dissonance. Once that was taken care of, a snowball of collective wrath plowed into the Peace Park, which was shot down for being "antiwar."

And then we became obsessed with "cleaning up" downtown, without stopping to ask whether this was our version of Sept. 11 acid rain, as the economy hit the shitter, tourists elected not to fly and our youth rolled through Santa Cruz in search of something already long gone.

And now, with the anniversary of Sept. 11 looming large, historical amnesia has truly set in. Afghanistan and Osama are already passé, and now the Bush administration is massing the U.S. military machine against Saddam, who like Osama was once the CIA's best friend, even though we've already been at war with Iraq in the form of sanctions for the past 12 years.

Perhaps what this Sept. 11 anniversary does offer is a chance to look back at how we got where we are today. Before we wade into yet another invasion, before we get into national ID cards, before we decide it's OK to start "informing" on each other, maybe we'd be better off asking what our priorities really are and ought to be--for instance, why our troops are still on Saudi soil, why we aren't developing national energy and transportation policies that wean us away from oil, and just who has been "guiding" us through this post-attack nightmare and what their priorities really are. It's in that spirit that we present this admittedly limited but hopefully insightful timeline of national happenings and what made the news here at the same time.

Of course, it's possible we're all just hoping that the returning UCSC students will worry about this stuff while we head for the nearest nude beach. Yes, New York really is 2,500 miles away.

Sept. 11, 2001: 8:45am: A hijacked passenger jet, American Airlines Flight 11 from Logan International Airport in Boston, crashes into the north tower of the World Trade Center.

9:03am: A second hijacked airliner, United Airlines Flight 175 from Boston, crashes into the south tower of the WTC and explodes.

9:40am: The FAA halts all flight operations at U.S. airports--the first time in U.S. history air traffic has been halted.

9:43am: American Airlines Flight 77, departing Washington Dulles International Airport and bound for Los Angeles, crashes into the Pentagon.

10:10am: In Somerset County, Pa., a hijacked jet, United Airlines Flight 93, crashes.

In Santa Cruz: Offers of blood, time and money swamp Red Cross. Flags abound, candlelit vigils take place, memorials are planned.

Sept. 12: NATO members invoke Article 5 of the Washington Treaty, declaring an attack against one to be an attack against all.

In Santa Cruz: City officials erect the River Street Sign.

Sept. 13: Colin Powell names Osama bin Laden a suspect in the attacks. Giuliani announces 4,763 people are missing in New York. Pentagon announces 188 people are missing or dead. The Federal Aviation Administration reopens U.S. airports except Logan International in Boston and Reagan National in Washington, D.C. Evangelical Christian leader Rev. Jerry Falwell says that "the abortionists, and the feminists, and the gays and the lesbians" were to blame for the terrorist attacks. He also says that groups like the ACLU and People for the American Way "helped this happen" by angering God.

In Santa Cruz: Bookshop Santa Cruz sets up a condolences book and the community plans peace marches and healing events.

Sept. 14: The U.S. Treasury Department announces it is setting up a new agency to probe terrorist funds with the Foreign Terrorist Asset Tracking Center, which would include CIA and FBI investigators. Congress approves $40 billion in emergency funding for increased public safety, anti-terrorism activities, disaster recovery efforts and assistance for the victims of the terrorist attacks. Jerry Falwell issues a statement that his remarks were taken out of context and that he held only terrorists responsible for the attacks. Rep. Barbara Lee, D-Oakland, votes against giving Bush sweeping war powers against those responsible for the attacks. The Senate approved the resolution 98-0, while the House voted 420-1.

In Santa Cruz: Congressmember Sam Farr, absent for Lee's historic vote on account of his daughter's wedding, says military force is needed. The Community Foundation, the Red Cross, the United Way and the Central Fire Protection District establish relief funds.

Sept. 15: Bush names bin Laden the "prime suspect" and tells the military to ready themselves. Pentagon activates "Operation Noble Eagle." In Mesa, Ariz., Balbir Singh Sodhi, a 49-year-old Sikh, is shot to death outside his gas station. The man accused of killing him, Frank Roque, also shot at a convenience store owned by a Lebanese man and at a house he had sold to a family from Afghanistan. He is quoted in police reports saying "all Arabs had to be shot." The Council on American-Islamic Relations says it has collected reports of over 700 possible hate crimes across the U.S. since the terrorist attacks.

In Santa Cruz: Interest in Islam and Afghanistan intensifies.

Sept. 17: The World Bank and the International Monetary Fund cancel their annual meeting in Washington, D.C. Jerry Falwell apologizes for his remarks made Sept. 13.

In Santa Cruz: Daily peace vigils begin.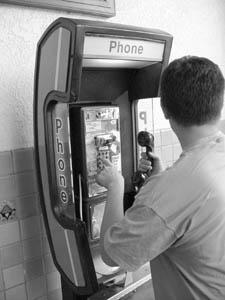 Sept. 18
Sept. 18: Anthrax-tainted letters dated Sept. 11 and postmarked Sept. 18 are sent to NBC anchorman Tom Brokaw and the New York Post. Attorney General John Ashcroft announces new rules allowing the INS to detain immigrants suspected of terrorism for a maximum of 48 hours before charging them. The Defense Department reveals that after the first plane crashed into the WTC, two Air Force F-15 fighters were dispatched to New York from Otis Air National Guard base in Falmouth, Mass. At the time of the second crash, they were 71 miles away, about eight minutes' traveling time at the fighters' maximum speed.
In Santa Cruz: A bomb threat closes Santa Cruz High.
Sept. 19: U.S. Defense Department orders the deployment of dozens of combat aircraft to the Persian Gulf, the Indian Ocean and the former Soviet republics of Uzbekistan and Tajikistan, which border Afghanistan. The Pentagon dubs the campaign against terrorism "Operation Infinite Justice."
In Santa Cruz: Protesters call for mercy not military action.
"Early Risers for Peace" greet morning commuters.
Sept. 21: Congress approves a $15 billion package to bail out the airline industry and compensate it for losses incurred after the terrorist attacks. The Taliban rejects Bush's ultimatum that it hand over bin Laden until the U.S. can present evidence implicating him in the attacks. Bush administration officials say that is out of the question.
In Santa Cruz: Peace rally held; Highway 17 becomes a giant flag.
Sept. 22: Thousands flee Afghanistan in anticipation of U.S. military action.
In Santa Cruz: Demand for red, white and blue tattoos grows.
Sept. 23: The member nations of the Gulf Cooperation Council--Saudi Arabia, Bahrain, the United Arab Emigrates (UAE), Kuwait, Oman and Qatar--pledge to cooperate with the war against terrorism.
In Santa Cruz: Six cyclists are arrested in antiwar bike protest.
Sept. 26: The abandoned U.S. embassy in Kabul is torched by pro-Taliban protesters.
In Santa Cruz: Area flight school reopens for instruction.
Sept. 27: Bush announces plan to bolster airline security, including expanded use of federal marshals on planes.
In Santa Cruz: News that Lex is on Survivor: Africa leaks to press.
Sept. 29: Abdo Ali Ahmed, a 51-year-old convenience store owner, is shot to death in Reedley, Calif. Police say he had received threats a week before he was shot.
In Santa Cruz: Anti-racist hotline set up. Gas masks sell out.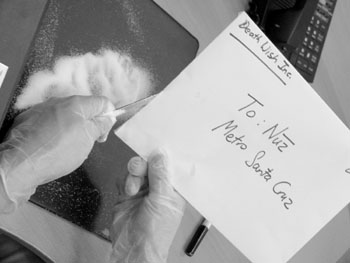 Oct. 5
Oct. 5: Robert Stevens, 63, a photo editor at American Media Inc. in Florida, dies from inhalation anthrax.
In Santa Cruz: Hate messages found posted on UCSC campus; UCSC students declare campus "hate-free zone." Leftist talk show host Peter Werbe's program is terminated at KSCO. KSCO co-owner Kay Zwerling proclaims, "We're in state of war, we cannot afford the luxury of political divisiveness."
Oct. 7.: U.S. and Britain launch military strikes in Afghanistan.
In Santa Cruz: Downtown peace rally. 1,200 UCSC students and other community members oppose retaliation in Afghanistan.
Oct. 9: Letters postmarked in Trenton, N.J., are sent to Senate Majority Leader Tom Daschle and Sen. Patrick Leahy. The letters later test positive for anthrax.
In Santa Cruz: Local firefighters and police chiefs attend Sacramento tribute for 343 comrades killed in the WTC collapse.
Oct. 10: Bush unveils list of 22 most-wanted terrorists, including Osama bin Laden.
In Santa Cruz: Palookaville closes.
Oct. 16: Twelve Senate offices closed; hundreds of staffers are tested for anthrax exposure.
In Santa Cruz: UCSC "anthrax scare" turns out to be laundry detergent.
Oct. 21: A Washington, D.C., postal worker dies of inhalation anthrax. Officials begin testing thousands of postal workers.
In Santa Cruz: La Selva-based radio producers Nikki Silva and Davia Nelsom preserve sounds and voices of WTC.
Oct. 24: House passes $100 billion economic stimulus package. Bush authorizes $175 million to help the cash-strapped U.S. Postal Service deal with the anthrax threat. House approves Uniting and Strengthening America by Providing Appropriate Tools Required to Intercept and Obstruct Terrorism, or the USA PATRIOT Act, in a 357-66 vote.
In Santa Cruz: City Council takes a neutral stance on war.
Oct. 26: Bush signs the USA PATRIOT Act into law. Members of Congress establish an expiration date--Dec. 31, 2005--for the new wiretapping and surveillance powers.
In Santa Cruz: Coca-Cola consumes Odwalla.
Oct. 31: New York hospital worker Kathy Nguyen, 61, dies from inhalation anthrax. In all, five people die from anthrax.
In Santa Cruz: Former U.N. Humanitarian Coordinator for Iraq Hans von Sponeck denounces international policy toward Iraq during his visit. Hazmat uniforms and flags are hits as Halloween costumes.
Nov. 3: Eleven firefighters are arrested and five police officers injured after a clash at ground zero. The groups had gathered to protest Mayor Rudy Giuliani's action to limit the number of firefighters and police officers on the site.
In Santa Cruz: Local resident says Santa Cruz is the safest place to be in a nuclear or radiological attack because of prevailing winds.
Hazmat teams prepare for disaster. Anthrax test kit available.
Nov. 16: Congress approves the Airport Security Federalization Act of 2001, a law intended to improve security at America's airports. Under the law, all airport security screening personnel must be American citizens--a provision which immediately draws fire from current immigrant airport personnel. The law also requires that more air marshals be present on flights, cockpit doors be fortified and video monitors be used to alert pilots of suspicious activity in the cabin.
In Santa Cruz: UCSC faculty outraged that they did not make it onto Lynne Cheney's blacklist of "unpatriotic" post 9/11 statements.
Nov. 25: A bloody Taliban prison uprising erupts at the Qala-i-Jangi prison in northern Afghanistan. CIA operative Johnny Michael Spann interrogates John Walker Lindh, the "American Taliban." Spann is later shot and killed in the uprising.
In Santa Cruz: Judge rules Camp Paradise not necessity-based.
Within days, Christopher Krohn is elected mayor.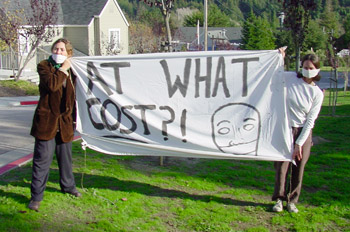 Dec. 1
Dec. 1: John Walker Lindh is taken into U.S. custody in Afghanistan.
In Santa Cruz: Removal of antiwar sign from Highway 17 overpass sparks protest outside Scotts Valley Police Department. Camp Paradise evacuated after heavy rain floods river.
Dec. 13: The Pentagon releases an amateur videotape of bin Laden meeting a Saudi radical in a house near Kandahar, in which bin Laden appears to boast about his role in planning the Sept. 11 attacks.
In Santa Cruz: Activists say video does not justify bombings.
Dec. 17 : After nearly a month of fighting, the Battle of Tora Bora ends. Bin Laden reportedly escapes the region with the help of local sympathizers.
In Santa Cruz: County jobless rate jumps.
Jan. 1, 2002: The national mood puts a marked damper on New Year's festivities.
In Santa Cruz: Mayor Krohn leads city into 2002 dressed as clown.
Jan. 10: American troops are deployed in the Philippines in preparation for a counterterrorism training program for the country's armed forces. The U.S.-led training program is part of a large package in which the U.S. provides warplanes, debt relief and trade assistance.
In Santa Cruz: Peace Park is accused of being antiwar after news leaks that it has requested WTC rubble for its Wall of Consequences.
Jan. 11: The first 20 Taliban and Al Qaeda prisoners of war in Afghanistan arrive at the Guantanamo Bay U.S. naval base in Cuba. The facility, named Camp X-Ray, holds more than 2,000 inmates.
In Santa Cruz: Lipton's tea plant closes. Lex loses in Survivor: Africa final. Fire guts UCSC research lab.
Jan. 23: John Walker Lindh is returned to the U.S. Wall Street Journal reporter Daniel Pearl is kidnapped in Karachi, Pakistan, while researching links between militant groups in Pakistan and British citizen Richard Reid.
In Santa Cruz: Alice Walker speaks at the Civic. "Osama bin Laden's desire to see the U.S. weakened will become true only if Americans become afraid of each other and of examining U.S. policies," she says.
Jan. 29: Bush delivers State of the Union address.
In Santa Cruz: Judge sides with antiwar protestors in freedom of speech case against Caltrans' "Nothing but flags" ruling.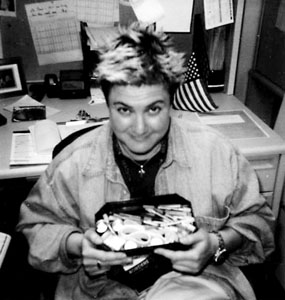 Feb. 17
Feb. 17: Bin Laden's second-in-command, Egyptian militant Ayman al-Zawahri, is captured and jailed in Tehran, Iran.
In Santa Cruz: Tensions heat up on Pacific Avenue.
Feb. 21: Daniel Pearl's captors deliver a videotaped recording of the reporter's decapitation to the U.S. Consulate.
In Santa Cruz: Body found on river levee.
March 6: Ashcroft announces the new Justice Department program, Operation TIPS or Terrorism Information and Prevention System, which asks Americans to report suspicious activity as part of homeland security.
In Santa Cruz: County tightens belt after Utility Tax repealed.
Peace Park gets help offer from Hiroshima. Mardi Wormhoudt and Mark Primack face November runoff in supe race.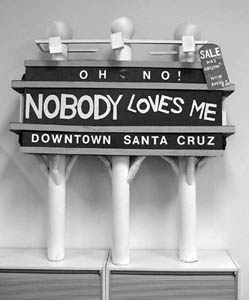 March 12
March 12: Ridge unveils a new color-coded national threat alert system to better prepare Americans for potential terrorist attacks. The Homeland Security Advisory System uses five colors to signify the level of threat: severe (red), high (orange), elevated (yellow), guarded (blue) and low (green).
In Santa Cruz: River Street Sign flops on eBay.
April 1: U.S. officials announce the capture of Osama bin Laden's top deputy, Abu Zubaydah, the highest-ranking Al Qaeda leader taken into custody since the Bush administration launches the war on terrorism.
In Santa Cruz: Debate over Peace Park intensifies; River Street Sign not going anywhere.
April 8: Secretary of State Colin Powell begins his 10-day Middle East mission. He departs Jerusalem without the cease-fire he had sought and is unable to secure a withdrawal of Israeli occupation of West Bank cities and refugee camps. President Bush says Powell "made progress toward peace."
In Santa Cruz: Vets Hall erects memorial to Sept. 11.
May 1: After 34 days of confinement in his West Bank headquarters, Arafat is released in a U.S.-brokered deal that includes the transfer of six wanted men in his compound to a West Bank prison.
In Santa Cruz: Phallic bush too much for the West Side.
May 15: The New York Times reports that a memo by an FBI agent in Arizona last summer urged bureau headquarters to investigate Middle Eastern men enrolled in American flight schools. Bureau Chief Robert Mueller acknowledges that the bureau gave the memo little attention. Senior Bush administration officials say that Bush's daily intelligence briefings in the weeks leading up to the 9/11 attacks included a warning of the possibility that the Al Qaeda network would attempt to hijack a U.S.-based airliner. White House spokesman Ari Fleischer refuses to discuss the specifics of the briefings, saying only that in the summer of 2001 Bush had "a general awareness" that bin Laden's network was considering attacks "around the world, including the United States."
In Santa Cruz: 4.9 quake rocks area. Jobless numbers improve.
May 21: FBI lawyer Colleen Rowley writes a 13-page letter to FBI Director Robert Mueller and flies to Washington to hand-deliver copies of it to two members of the Senate Intelligence Committee. The letter accuses the bureau of deliberately standing in the way of thwarting the Sept. 11 attacks.
In Santa Cruz: UCSC and city plot to counter school's "party" image.
May 23: FBI Director Mueller announces an investigation by the Justice Department inspector general into what went wrong in Minneapolis. From Berlin, Bush says he opposes establishing a special commission to probe how the government dealt with terror warnings before 9/11.
In Santa Cruz: City budget proposes to slash $2 million and 25 jobs.
June 10: Abdulla al Mujahir, 31, born in Brooklyn as Jose Padilla, is arrested on suspicion of plotting to build and detonate a radioactive "dirty" bomb in a U.S. attack. Bush calls Mujahir an "enemy combatant."
In Santa Cruz: UCSC graduates face tough job market. Tourism takes a tumble; Sept. 11 and economy blamed.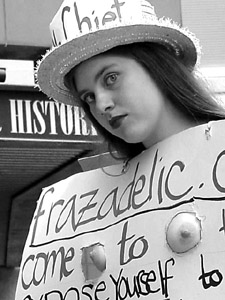 July 10
July 10: House votes to allow airline pilots to carry guns in cockpits to prevent hijackings, ordering the Transportation Security Administration to train any pilot who volunteers to be armed. The White House opposes the idea.
In Santa Cruz: Topless protest of proposed downtown ordinances.
City pulls financial plug on the Peace Park.
July 15: In an Alexandria, Va., courtroom, John Walker Lindh, 21, pleads guilty to two criminal counts, admitting that he illegally provided services to the Taliban. In exchange for his 20-year term in federal prison, government prosecutors drop terrorism and conspiracy charges that could have brought him three life terms plus 90 years.
In Santa Cruz: Police say Islamic Center broken window not a hate crime.
July 25: Zacarias Moussaoui, the so-called 20th 9/11 hijacker, changes his plea from guilty to four counts of conspiring to commit terror, mayhem and murder with hijacked airliners to not guilty.