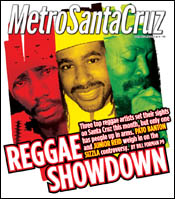 For the Week of
September 7-14, 2005
Cover Story: Reggae Showdown:
Three top reggae artists set their sights on Santa Cruz this month, but only one has people up in arms. Pato Banton and Junior Reid weigh in on the Sizzla controversy.
Waiting for Dubya: Who would leave the mild climes of Santa Cruz for the sweltering heat of Crawford, Texas, to set up camp with Cindy Sheehan? Meet the Mannings.
Nüz: HAVA Question?; Does This Mean the iPod Contest Could Be Rigged?; The Big Failsafe.



Rev: Keep On Truckin': Technically, I can only drive trucks with two axles, and I certainly can't haul hazardous materials, but I'm still mighty proud.



Splashes of Time: Wong Kar-wai's glossy, elastic masterpiece '2046' grasps for an elusive human connection.



Is This Land Made for You and Me?: Son Volt lyrically follow in the footsteps of Woody Guthrie on their first release in five years.
Front and Center: Wes Anthony gets busy on Front Street.
The Rock Show: Brazilian Girls; Israel Vibration.



No Heaven Required: In her latest collection, poet Alicia Ostriker contemplates paradises lost and found.



A Vegetarian Oasis: Malabar coaxes the downtown crowd to experience the joys of Soquel Avenue.



Please don't forget to write! Metro Santa Cruz welcomes letters. Like any great work of art, they should be originals -- not copies of letters sent elsewhere. Include address and daytime phone (for verification purposes only). Letters may be edited for length and clarity or to correct factual inaccuracies known to us. Postal: Metro Santa Cruz Letters, 115 Cooper St., Santa Cruz, CA 95060. Fax: 831/457-5828. Emailers, please include name, city of residence and phone number. Letters printed will list email address unless otherwise specified. Letters to the editor are not currently published in the online version of this paper.
Copyright © Metro Publishing Inc. Maintained by Boulevards New Media.