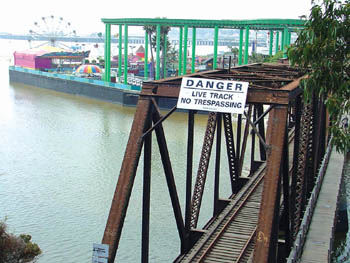 Walk This Way?: Stay tuned for the 'Save the Walkway' benefit featuring Aerosmith and Run DMC.

Nüz

A Walkway Too Far

For years, the most pressing debate around the rail bridge next to the Boardwalk has been whether or not it was where the famous Lost Boys sequence--the one where the vampires drop off the trestle and into the fog--was shot. (Sorry, kids. It was actually shot on a soundstage in Santa Clarita.)

But suddenly the bridge is a hot topic, ever since rumors started circulating a few weeks ago that Union Pacific is going to dismantle the walkway that runs along the length of it because of liability concerns.

Whether or not there were hip young vampires involved, we don't know, but people have indeed jumped or fallen off that bridge many times over the years. Several of those incidents led to lawsuits, one of which threatened to cost the city $1 million, while another set the Seaside Company back by an undisclosed sum.

All of which has led both parties to ask UP to maintain the walkway (and bridge) which has acted as a major "east meets west" transportation link since being built in 1904.

Given the history, many people assumed that prescriptive rights--in which documentation (such as historical photos) of the public using the walkway establishes our right to have it maintained as a thoroughfare--would reveal UP's dismantling trip to be but a hollow threat .

Wrong, says Councilmember Mike Rotkin, citing a 1996 law that explicitly exempts utility property from such historic access rights.

That said, the city, which has a huge interest in the walkway--it's a key component of the federally funded Santa Cruz Bike Path and Sanctuary Bay Trail--is planning to play its water card, instead.

As Rotkin explains, "A water main runs along the bridge and the city has no other way to access that pipe except via the walkway."

Which means the city should be able to use water funds (which are fee-based and so can be raised at will) to come up with its share of the estimated $150,000 annual costs of maintaining the bridge, which UP is reportedly proposing to split with the city and the Seaside Company, if both are willing.

Crediting fellow Councilmember Mark Primack for stalling the walkway's deconstruction, Rotkin says the city is now looking into a special ménage à trois insurance policy to split costs and risks.

Either way, removing the walkway clearly won't stop people from crossing the actual bridge. As if anticipating this, UP has already covered its legal butt by installing giant, ugly-ass trespassing signs.

City Attorney John Barisone notes that UP, which took the line over from Southern Pacific, appears to be following a maintenance schedule, which includes replacing ties and repairing crossings.

And dumping high liability situations, like vampire-attracting walkways, Nüz presumes.

"They probably want the city to assume liability and maintenance of the walkway as a condition for agreeing not to dismantle it, but we also think the Seaside Company has an interest, since its employees and patrons use it regularly," he says.

But while spokesperson John Robinson admits the Seaside Company has interest in a safe walkway, "as far as accepting economic liability is concerned, we just can't do that. The only entities that can are the city and Union Pacific, with us as an interested third party," he says.

Or as Kiefer Sutherland's vampire asks Jason Patric's Michael in the Lost Boys sequence that finds them racing motorbikes to the edge of a foggy cliff, "How far do you want to go, Michael?"

To find out, check out the special walkway/bike path City Council meeting, 7pm, Sept. 16, with UP's decision due Sept. 18.

Smoke Signals

One year after machine-gun toting DEA agents raided WAMM's garden at dawn, destroying the Alliance's 2002 medical marijuana crop, WAMM continues to challenge the notion that feds can invade medical gardens that have been deemed legal under state law.

Sure, Judge Jeremy Fogel of San Jose's federal District Court did acknowledge medical marijuana's benefits, but this was in the context of dismissing the lawsuit that seven WAMM members and the city and county brought against the DEA as a result of the 2002 raid.

As WAMM co-founder Valerie Corral put it, "It's tragic that this sympathy, compassion and recognition of medical marijuana's benefits were not given legal effect. Marijuana is medicine. It's time to stop treating patients like criminals."

As attorneys for WAMM plan to appeal Fogel's ruling, WAMM is throwing its first WAMMfest, a fundraiser and celebration featuring music, clothes, foods, glassware, jewelry, snacks--and of course, everything cannabis.

But Corral dismisses the notion that the fest will be a big smoke-out, noting that there will be a place where people will medicate, but it will be "strictly regulated, with only card-carrying members participating."

The WAMMfest happens Sunday, Sept. 14, 10am-5pm, San Lorenzo Park; 831.423.5413.

No Pussyfooting

Chances are you've seen Jeffrey Vance, even if you've never met him. He's the guy pulling off the one-legged balancing stunt in Darryl Ferruci's highfalutin mural outside Lulu Carpenter's.

Now comes word that Vance--a local resident, set designer and member of the Crash, Burn and Die dance troupe--is planning some very different footwork in Williams, Calif., where he's planning to run for Congress in a district that's predominantly Mexican-American, and which has been represented for seven terms by Republican Wally Herger.

"I deliberately went looking for a district that's in Republican hands and most vulnerable," says Vance, whose decision to run for Congress in the first place was triggered by the 2000 election, Sept. 11 fallout and legislative attempts to redistrict Democrats out of seats in Colorado and Texas, not to mention the California recall fiasco.

"It's combating-scoundrel time," says Vance, who briefly toyed with the idea of running as Jeffrey Dumpbush to get media coverage.

"But in no way did I want to be perceived as a jackass," says Vance, who has set up campaign HQs in "the strongest building" in Williams, which he's trying to convert from a "pigeon shit and bat guano-filled disaster site into a much needed community center."

To kick off Vance's campaign, Santa Cruz's only Afghan restaurant, Parwana, will host a benefit dinner, 5-7pm, Saturday, Sept. 13, and the Rio Theatre will show Mr. Smith Goes to Washington at 7pm, followed by a free screening of Unprecedented: The 2000 Election.

"Everyone should see Unprecedented, regardless of their party affiliation," says Vance. "It's a very disturbing documentary about what went down in Florida in 2000, and it is not pretty."
---
Nüz just loves juicy tips: Drop a line to 115 Cooper St, Santa Cruz, 95060, email us at , or call our hotline at 457.9000, ext 214.
---
[ Santa Cruz | Metroactive Central | Archives ]