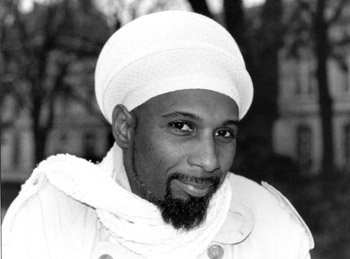 Sosa Say We: This man has a Latin Grammy nomination and a cool head. Don't you wish everyone did?

Havana It All

With a Latin Grammy nom, a globe-trotting tour schedule and no end of new projects, Cuban jazz artist Omar Sosa is living a charmed life

By Jesse Varela

DON'T BLAME Cuban pianist Omar Sosa if he doesn't get too worked up about being nominated for a Latin Grammy. It's just that with the recent birth of his son, Lonious Sosa, he's already got a lot to be excited about.

Still, the 37-year-old bandleader and composer admits he was surprised to find his latest record, Sentir, on the short list in the Best Latin Jazz Album category. In a field of five nominees that includes himself, Gonzalo Rubalcaba, Charlie Haden and others, it's anybody's guess who'll come out on top Sept. 18--only two days after he plays at the Kuumbwa--but he's not worrying.

"I haven't thought about it too much," says Sosa from his home in Barcelona, Spain. "It's always a struggle, but it's the spirits who guide and strengthen me. This is a humble offering that shows how musically we can all come together."

The music of Omar Sosa is a collage of imagined African sounds articulated with a percussive piano style that bears the influential stamp of Thelonius Monk. On Sentir, his fourth album to date, he ties together the African roots of Morocco, Venezuela, Cuba, Ecuador and the United States. A tapestry of ambient folk chants, spoken word and a waterfall of rhythms, it's a sound that dances with improvisational sensitivity and fury.

"For me, all music is relative to Mother Africa. Art has always been a guiding light from our ancestors, and nothing can stop its message," he says in Spanish.

A Songo in His Heart

Born in Camaguey, Cuba, Sosa attended a provincial music school as a child. In 1977, he was enrolled in the prestigious Escuela Nacional de Musica (National Music School) in Havana, where he majored in percussion. Because of a shortage of vibraphones and other mallet instruments, he gravitated to the piano. He taught percussion to schoolchildren in the 1980s in Manzanillo and Havana.

His first group, Tributo, formed in 1986 and led to tours in Angola, Nicaragua, Congo and Ethiopia on behalf of the Cuban government. In 1988, he was musical director for singer Vincente Feliu, but shortly after really hit his creative stride with the group XL Talla Extra, which he formed with singer Xiomara Laugart.

Fusing jazz and funk with the island nation's post-revolutionary beats like songo, Sosa's music has been a work in progress ever since. Moving to Ecuador in 1993, he taught in the Esmeraldas region on the Pacific Coast, where the ebony-wood marimba is the traditional instrument of the black colonies. He began crafting an Afro-Ecuadorian sound with singer Carmen Gonzalez, opening up a whole new dimension within his work. In 1995, he moved to Spain briefly before settling in east Oakland, where he lived until 2000.

"What I've lived in the Bay Area, I'll never forget. I have to return periodically just to drive on the freeway," he says. "Here in Spain there is no freeway. Barcelona moves within itself. You can feel the city without super streets."

No matter how much he might miss Bay Area traffic--and really now, who wouldn't--relocating to Europe has led to engagements at the JVC Festival in Paris, the Music Meeting in Holland, Womex in Berlin and the Blue Note in Tokyo. Yet he's still kept up several U.S. projects, including his work with Bay Area percussionist John Santos and a symphonic work commissioned by the Oakland Symphony for performance in January of 2003.

The downside of all this globe-trotting, however, is that the events of 9/11 have dramatically changed his working situation as he and his cast of world-traveled musicians now undergo strict scrutiny from U.S. officials.

"For these upcoming shows, we may not have [Cuban singer] Marta Galarraga, who has not received her visa yet. She's been in the U.S. twice this year, and the FBI may not grant her permission to return," says Sosa. "We'll have to wait and see. It will be sad if she doesn't make it."

Some of the music he'll be playing at the Kuumbwa will be from the Latin Grammy-approved new album, but he's also been writing for a new band he is developing in Europe called Mano Derecha, which translates to "right hand."

And, of course, there's also plenty to do with Lonious--named of course after Thelonious Monk--who was born July 4.

"I'm fascinated by him," says Sosa, "and on a my next solo piano album I'm going to record lullabies to help him sleep."
---
Omar Sosa performs Monday, Sept. 16, at 7 and 9pm at the Kuumbwa Jazz Center, 320-2 Cedar St., Santa Cruz. $17/adv. $19/door. 831.427.2227.
---
[ Santa Cruz | Metroactive Central | Archives ]