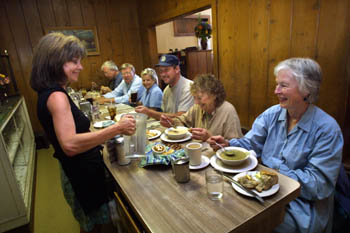 Photograph by George Sakkestad

Homestyle Comfort: Duarte's puts smiles on faces.

Under Western Skies

Duarte's in scenic, sleepy Pescadero still preserves an authentic taste of the panoramic North Coast

By Christina Waters

WHEN MY DAD was a boy, abalone was considered the luxury restaurant item. And here on the Central Coast, there was plenty of the succulent marine delicacy to go around. Well, that was then. Now, when connoisseurs see abalone on a menu, they either faint on the spot or jump in the car, which is exactly what we did last week after a friend told me about the scrumptious abalone she'd had at Duarte's.

I'll lay my cards on the table--preferably the round one in the corner of Duarte's main dining room. Almost anything constitutes a good excuse to drive up the coast to Pescadero, through the fields of gray-green artichoke to the old stagecoach tavern that is Duarte's. There, since 1894, folks have been able to sip something strong and ponder the universe.

Today, Duarte's lets you wax metaphysical over honest regional cookery, and yes, I am talking artichoke omelets and olallieberry pie.

We had a big event to celebrate, so we didn't let the hefty price tag ($45/full dinner) stop us from ordering fresh abalone. While we were at it, we ordered a shrimp-stuffed avocado ($8.50) and cream of green chile soup to go with great slabs of warm sourdough bread and glasses of chilled Chance Creek Sauvignon Blanc 2000 ($6.50).

Fog swirled through the dreamy canyons that embrace this tiny ranching community. Pescadero is my idea of Eden, and Duarte's is its Tree of Knowledge. No trend interferes with the Old West ambience (even the word "ambience" is wrong for a place this honest and homespun).

Worn wooden wainscoting, linoleum floors and bouquets of homegrown flowers welcome visitors from all over the world--or maybe from just up the road. They come for the nonthreatening cuisine that showcases the region, long on comfort items like mashed potatoes, artichoke pasta, lovely seafood and take-no-prisoners homemade pies. You'd think a pack of grandmothers worked in the Duarte's kitchen, while grandpa tended bar in the adjoining saloon.

A creamy soup, filled with the fresh perfume of green chiles, was bright with distinctive flavor--perfect for a foggy day. Another platter provided an emerald avocado overflowing with large shrimps slathered with curry, mayo, scallion and paprika dressing. On the side of the plate, an egg had been sliced and simply dusted with paprika. We were charmed by this delicious whimsy.

Entrees were brought by our smiling waitress, who especially liked the dish of artichoke ravioli I had ordered ($12). Crimson with a fresh tomato sauce swirled with cream, it involved succulent raviolis, stuffed with artichoke. To further guild this green lily, the sauce itself brimmed with hearts of artichoke and nuggets of fresh tomato. A terrific plate of pasta, it also continued the regional theme.

Alabaster and delicate, Jack's tender abalone steaks purred with their own sense of importance. Indeed, they were lovely in that 1950s way in which everything was lightly egged and lightly fried. A horseradish tartar sauce enhanced what tasted exactly like a veal scaloppini of the sea. Tender pale-green broccoli and a scoop of sturdy mashed potatoes completed this unpretentious, if costly, array. If you absolutely need abalone--there's a sandwich version for $22.50--Duarte's is your place.

But, ah, the pies. We struggled and somehow managed to save room for a shared slab--the word "slab" here is to be taken seriously--of fresh strawberry-rhubarb pie ($3.75). Enfolded in the arms of a delicate, ultraflaky crust was a filling of pungent, soft rhubarb and strawberries, barely sweetened. It was definitive pie that sent me straight back to my Gramma Gouin's dining room.

When you say your prayers tonight, include some thanks that there is a Duarte's--and that it's just up the road.
---
Duarte's Tavern
Address: 202 Stage Rd, Pescadero
Phone: 650.879.0464
Hours: 7am-9pm daily
Entrees: Reasonable
Ambience: *** Where the Old West keeps on tickin'
Cuisine: *** Not a trend in sight, just seriously fine, down-home, regional cooking
Service: *** None finer--helpful, warm and knowledgeable about the menu
Overall: Landmarks like Duarte's are worth their weight in gold
---
[ Santa Cruz | Metroactive Central | Archives ]